Posted on
Lake Holcombe takes the win against rival Cornell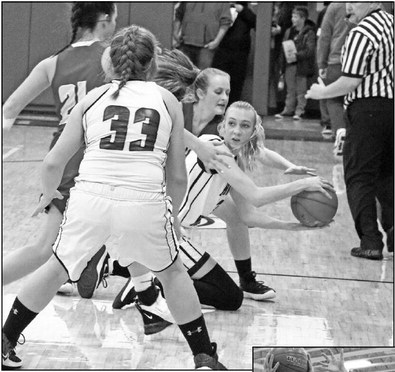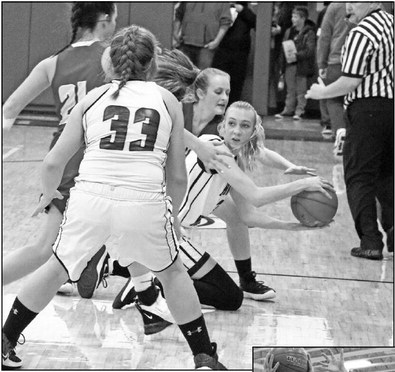 In a neighboring district battle, the Lake Holcombe and Cornell girls basketball teams clashed Dec. 3. Taking on their East Lakeland Conference opponents at home, Lake Holcombe got on the board first, but from then on, it was a back-and-forth contest.
It was a close game going into halftime, with Lake Holcombe up 24-18. Cornell came out hot and looked to take the lead, but it wasn't to be.
Both teams were plagued with foul trouble, but still managed to put points on the board. Cornell was within a few points with seven minutes left in the game, but the fouls caught up with them and Lake Holcombe pulled away for a 52-44 victory.
Leading the way, was junior Allison Golat-Hattamer for Lake Holcombe, who ended the night with a team high 20 points and going seven of 14 at the free throw line, as well as making two, three-point shots outside the arc.
"It was nice to see Allison back to her old self and playing tough like I know she can," said Lake Holcombe coach Jennifer Lechleitner. "She had a nice game, improving at the charity line."
Sophomore Brooke Lechleitner was a close second for the Lake Holcombe scoring leaders, with 19 points and a threepointer from long range "Brooke had some critical blocks and strong defense," said J. Lechleitner.
J. Lechleitner says freshman Justine Kane also stepped up her game and displayed true toughness under the hoop, finishing with 7 points.
"I know her offensive points didn't show it, but she was something to watch," said J. Lechleitner.
On Cornell's side, senior Bryanna Bonander led with 18 points.
"Post players Erin Crowell and Michaiah Galster were in foul trouble early in the game," said Cornell coach Dave Elliott. "Lake Holcombe took advantage by out rebounding us on both sides of the floor."
Despite the foul trouble, Galster recorded 11 points, while Crowell had 4 points. Picking up the slack, junior Izzy Clark chipped in with 8 points.
Free throws were another matter, as Cornell sank just nine of 25 while at the charity stripe.
"We have not been able to consistently score close to the basket," said Elliott.
The win moves Lake Holcombe to 2-0 on the season, while the loss drops Cornell to 0-3.
(To the left) Lake Holcombe sophomore Brook Lechleitner tries to get rid of the ball before Cornell junior Alyssa Helland snatches it away, as the teams met Dec. 3. Even with some foul trouble, Lake Holcombe came away the victor, earning a 5244 conference win. (Below) Erin Crowell, Cornell senior, goes up for a block Dec. 3, on Lake Holcombe sophomore Carly Vavra. In the away game, the Chiefs battled for dominance, but fell behind after foul trouble and ended with a 52-44 loss to their neighboring opponents.