Posted on
High-scoring Stars, Tigers skate past Raiders in first home games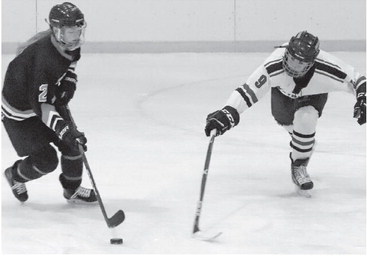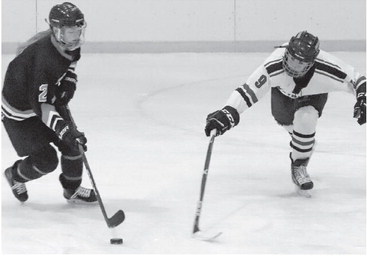 MEDFORD-RIB LAKE GIRLS HOCKEY
Back-to-back game nights and even single-day doubleheaders are the reality this season for the Medford-Rib Lake girls hockey team, who took two losses against strong competition in a twonight stand last week at the Simek Recreation Center. The Western Wisconsin Stars, a strong co-op consisting of players from Somerset, Amery, New Richmond, Osceola and St. Croix Falls, used a six-goal outburst in the second period to pull away from the weary Raiders 13-2 in game two of the back-to-back stretch on Friday night.
Erin Huerta and Ellie Brice both had hat tricks for the Stars, who improved to 2-2-1 for the season, while Tiffany Hantsbarger collected 12 saves in goal in the Wings' win.
The Raiders got two third-period goals from senior Emily Schafer, who increased her season total to 11.
"Our first line is doing a good job," head coach Jenna Wieting said. "They're getting us there. Emily is getting the goals but it's team effort. They're getting into the right spots for rebounds and assists."
The Raiders' offensive attack got better as the game went on, putting seven of its 14 shots on goal in the third period, which had a running clock the entire time.
Shots on goal weren't a problem for the Wings, who peppered Raider goalie Alex Nicks with 18 shots in the first period, scoring on four.
Huerta had the first two within the game's first two minutes. Lauren Gruber and Brice added goals at 8:12 and 10:45 to make it 4-0. Bailey Williams scored twice in the six-goal second period for the Stars. The first three goals were scored in the first 3:23 of the period, making it 7-0 and quickly putting the running clock into effect. Jamie Kulibert scored the Stars' final goal of the period and their first goal of the third at 5:07 to make it 11-0.
"Back-to-backs are tough, especially when you have 10 sets of legs and they have 20," Wieting said. "But the girls are doing a good job. They're still asking questions, working hard and having fun."
Schafer scored her goals at the 8:54 and 12:12 marks of the third period. Kyla Kennedy had an assist on the second one. She has five assists so far.
Nicks finished with 18 saves on 25 shots in 20:23 of net time. Freshman Saige Duesing finished up with some quality work, picking up 24 saves on 30 shots in 30:37.
The Raiders, now 0-5 overall, have their first doubleheader day on Saturday when they visit the Houghton-Hancock, Mich. Copper Country U19 team. The Raiders swept Copper Country for their two wins last season. Games are set to face off at 10:30 a.m. and 1:30 p.m. The team returns to the Simek Center Dec. 20 to face the Rhinelander-based Northern Edge co-op.
Tigers 11, Raiders 3
Schafer notched a hat trick and Duesing stopped her first-ever penalty shot to highlight Medford's 11-3 loss to the Black River Falls Co-op on Thursday night.
Schafer's first goal, assisted by Kennedy, tied the game at 1-1 just 3:54 in. But the Tigers got back-to-back goals from Reghan Yourell at 5:36 and 6:16 to take a 3-1 lead that they carried into the second period.
"We played a really good first period," Wieting said. "We told them to stay home (defensively), play it safe. We knew this was going to be a really fast team. They always are. They have a ton of girls. We were just trying to stay home. They did a really good job of that in the first period."
The Tigers blew out to a 7-1 lead in that second period before Schafer flicked in a shot into a small opening on the stick side of Tiger goalie Josie Mathison at 14:29. Freshman Alyssa Brandner was credited with her first high-school assist on the play. Schafer nearly got another goal with two seconds left in the period, but Mathison made the save on a breakaway chance.
Tigers Savannah Holcomb and Skylar Pierce scored goals to open the third period, but Schafer found another small opening inside the far post to get the Raiders within 9-3 with eight minutes left. Delaney Hraby notched her first varsity assist.
Wieting said shot placement has been a focus in practice and it seems to be paying off. The Raiders only had eight shots on goal but scored on three of them.
"Emily's doing a really good job," Wieting said. "We're practicing not hitting the chest hole because, obviously, there's not a hole there. Last year we had some struggles with that on breaks and aiming right there just at the middle of the net."
Nicks collected 38 saves on 45 shots through two periods. Duesing allowed four goals while making 13 saves in the third, the biggest of which came on a penalty shot by Elizabeth Jorgensen 4:07 in, which came after Hraby covered the puck in the crease for a delay of game penalty.
Duesing actually stopped Jorgensen twice. She had committed a violation on Jorgensen's first attempt when she left the crease before Jorgensen touched the puck at center ice. The play wasn't blown dead and Duesing made the save. On the second and legal attempt, she stoned the Tiger again.
"Alex was working really hard," Wieting said. "She was getting a lot of shots on her. We put Saige in and she did a good job. That was exciting with those two penalty shots. That was interesting. Never had one of those before when I was in a game. That was good to get her some ice time and some experience and she did well."
Yourell and Ellie Steinhoff had hat tricks for the Black River Falls Co-op, who improved to 1-3. One of the Tigers' losses is a 5-1 defeat to Western Wisconsin.