Posted on
Gymnasts get season off to a hot start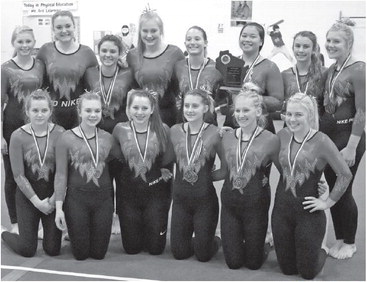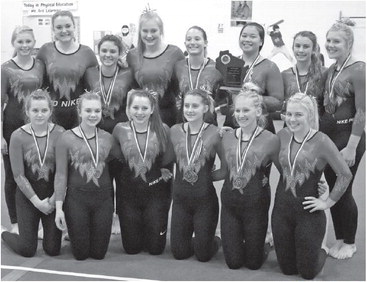 The Medford Raiders quickly validated their high expectations for the 2019-20 gymnastics season, nearly breaking two school records and easily winning their second annual Hot Cocoa Invitational Saturday morning at Medford Area Elementary School.
The most sought after school record for this group is the team score of 130.35, which was set at the 2004 WIAA Division 2 sectional. The Raiders came within 1.15 points of breaking it Saturday by scoring 129.2 points. They beat Great Northern Conference Small Division rivals Rhinelander (111.85), Chequamegon (105.05) and Mosinee (93.8) to win the meet, which got a bit smaller with Lakeland and Escanaba, Mich. pulling out in the past two weeks.
"Our team score today was 129.2," Medford head coach Steve Cain said. "Aside of the school record, I think that's the highest we've been. I don't think we've ever hit the 129 range."
"This is a really good start," Kara Hudak, the team's lone senior, said.
The other school record that nearly fell was the balance beam mark of 9.075, set by Megan Strama at the same 2004 sectional. Sophomore Brooklyn Bilz won the event Saturday with a 9.0.
"It jumped," Bilz said. "My skills got higher. I really had to push myself to get where I am because I was out the whole summer. To jump back in and throw in all those skills again was big."
Freshman Anna Wanke won the floor exercise, Makala Ulrich won the uneven bars where the Raiders took all five individual medals and Medford had the top four all-around gymnasts in Saturday's dominant effort. The Raiders also had individual winners in each JV event and were just a couple of JV vault spots away from filling out a complete lineup at both levels.
"We have enough people to add in if we need to," Bilz said. "Last year we did not."
"All the newbies are catching on real quick," Hudak said.
Bilz and Ulrich, both sophomores, picked up where they left off last year in all-around competition. Bilz won it with 33.175 total points, while Ulrich was third with 32.025 points. The additions of Wanke and Katelyn Malchow should make Medford awfully tough to beat. Wanke was second overall with 32.15 points and Malchow was fourth with 31.3.
The Raiders closed the meet with their highest-scoring event of the day, the floor exercise. They scored 33.95 points in the event, led by Wanke's winning score of 8.8. Bilz was second with an 8.675, Ulrich was third at 8.325 and Malchow was fourth at 8.15. Rhinelander's Lilli Bishop got the fifth-place medal at 7.975, while Raider freshman Avery Purdy had a solid debut score of 7.325.
"A lot of judges say it," Cain said. "They say that they like watching Medford's floor routines because they put so much creativity and presentation in them."
Medford's season-opening score of 32.55 on the balance beam was impressive. The first three gymnasts had nofall routines, starting with Bilz's near record, a second-place score of 8.35 from Ulrich and then a personal-best 7.8 from Hudak that was good for third place. "It was good," Hudak said. "I beat my personal record by 0.75. I've been working on those skills throughout high school so far, but this year I've actually been getting them."
Wanke added a fifth-place score of 7.4 and, Cain noted, she has a lot of potential considering two falls and some bobbles probably took at least a full point off her score. Malchow was seventh with her 7.25.
"Our beam rocked," Cain said.
Medford's starting score of 30.8 on the bars also was an eye opener.
"When have we ever seen a meet on bars where everybody is above a 7.0 and almost at an 8?" Cain said. The answer to that would be very rarely.
But that was the case Saturday as Ulrich looked sharp with her winning score of 7.85, Bilz followed with a 7.7, Malchow took third at 7.65, Wanke placed fourth at 7.6 and Purdy got fifth with an excellent opening score of 7.2.
The Raiders scored 31.9 points on vault, which was the one event team total from Saturday that is expected to go up considerably.
Chequamegon's Kristina Peterson won it at 8.5, while Wanke was second with an 8.35, Malchow took third at 8.25, Bilz earned a 7.8, Ulrich, who is keeping things simple to start as she returns from knee surgery, got a 7.5 and Hudak earned a 7.2.
"Brooklyn was slightly off on her tsuk," Cain said. "She hasn't done a ton of her tsuks. I didn't even know she was going to do it. She went for it today. I told the girls today you go for that stuff, see where you're at. Then you're going to know. Makala is going to come back around to doing her tsuk vault. We've been keeping things straight and simple so far. The stuff she did last year, we'll see halfway through how she looks."
In JV competition, Medford's Purdy and Kennedy Bilz tied for first on the vault with 8.0s and Kiarah Behling was third with a 7.5.
"We started out on vault for JV with scores that normally we would maybe see in the varsity meet," Cain said. "So that basically set the tone I thought."
Purdy won the beam with a 7.5, Olivia Krug was fourth at 5.9, Alisha Jochimsen was seventh with a 4.6, Kadia Gehrke tied for ninth with a 4.5 and Abbi Potocnik was 11th at 4.4.
"Everybody but Avery on beam for JV are all brand new, first meet ever," Cain said.
Lydia Sigmund won the floor competition with a 6.3, followed by Behling (5.6), Bilz (5.5), Krug (5.5) and Kylie Vasicek (4.0). Hudak took the bars with a 6.3, Sigmund was second with a personal-best 5.2 and Behling and Vasicek both got 3.9s.
Medford will see all of their GNC Small rivals plus others at Saturday's Rhinelander Snowflake Invitational, which starts at 10:30 a.m. The Raiders will be at Marshfield for a GNC crossover dual meet on Dec. 19.