Posted on
Gilman has to make up some ground after loss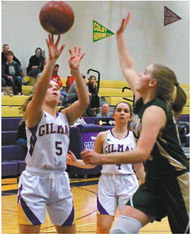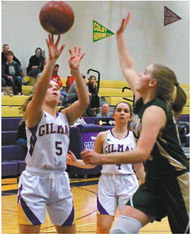 GILMAN GIRLS BASKETBALL
The Gilman girls basketball team got through their key four-game opening stretch of Eastern Cloverbelt Conference games knowing they can compete with the best teams the league has to offer.
Unfortunately, they finished the stretch with some ground to make up.
With a chance to forge an early-season logjam of five one-loss teams atop the standings Tuesday, the Pirates got behind early, struggled at times to take good care of the basketball and fell 53-50 to the Colby Hornets who, despite some key graduation losses from a year ago, are back to leading the conference early on at 4-0.
Gilman slid to 2-2 and will have work to do in January when they go on the road to Loyal, Neillsville and Colby in successive games in order to have a shot at being at the top at season's end.
"The girls played hard and hustled," head coach Tammy Weir said. "We just didn't have the shots fall that we needed and again forced the ball too much."
The Pirates turned the basketball over 19 times, offsetting the 18 turnovers they forced Colby into. They were a solid 11 of 16 (68.8%) from the free throw line but were a shade lower than they'd like to be from the field, making 18 of 43 two-point shots (41.9%) and just one of 12 from behind the 3-point arc to finish 19 of 55 overall (34.5%).
Colby hit seven of 16 from 3-point range, six of seven free throws and, while taking fewer shots, hit at a better percentage from two-point range, making 13 of 29 (44.8%).
The Pirates scored the game's first four points, then went cold and, at one point, trailed 23-13 in the first half before clawing back within 27-20 at the break. Gilman got within 29-28, 32-30 and 35-34 early in the second half, but the Hornets went on a crucial surge that put them back up by nine at 45-36 with 7:50 left and the Pirates just never quite got over that hump.
Emma Grunseth earned her second straight double-double for Gilman with 13 points and 10 rebounds while older sister Grace Grunseth had a team-high 14 points, three rebounds and two steals. Emma scored eight of her points in the second-half comeback effort, while Grace scored 10 of her points after halftime. Senior Emma Warner had a double-double as well with 10 points, 11 rebounds and two steals and hit Gilman's lone 3-pointer.
Aubrey Syryczuk had six points, four steals and two rebounds. Lydia Syryczuk had six points. Tatum Weir hit a free throw and had seven rebounds, two steals, two blocked shots and an assist.
Gilman had a 35-23 edge in rebounding.
Colby (4-1 overall) got 15 points, all on 3-pointers, from Lexi Krebsbach, and 11 points from all-conference guard Hailey Voelker.
Gilman will play Granton Friday at 7:30 p.m. in the back end of a boys/girls varsity doubleheader on the Bulldogs' home floor. The Pirates have a non-conference game at Thorp Tuesday at 7:30 p.m. and return to Eastern Cloverbelt play Dec. 19 at Columbus Catholic at 7:15 p.m.
Gilman 51, Neillsville 50
On Thursday, the Pirates used strong rebounding and free throw shooting to hang around and give themselves a chance and they cashed in with a secondhalf surge that stunned previously-unbeaten Neillsville 51-50.
Gilman beat the Warriors at home for the second straight season in a win that, at the time, put the Pirates in a three-way tie for second place in the Eastern Cloverbelt Conference behind Colby.
"The girls played great and we are starting to flow better as a team," Weir said. "We are looking forward to a great game Tuesday against Colby."
Gilman outscored Neillsville 16-5 from the free throw line and outrebounded the Warriors 42-26, including 15 offensive rebounds. Those factors helped them overcome 18 turnovers and gave them enough offense to be able to win it with their late run.
Gilman trailed the whole way until Gilman finally tied it at 44-44 with about six minutes to go. Neillsville led 34-26 at halftime. Gilman forced a turnover, leading to two Grace Grunseth free throws that gave the Pirates their first lead at 4644. Bella Opelt tied it for Neillsville, but Gilman senior Lydia Syryczuk came up with the game's biggest shot, drilling a 3-pointer to give the Pirates a 49-46 edge with two minutes to go.
Opelt and Grunseth traded buckets, then Opelt scored again to make it 51-50. The Pirates turned the ball over with 28 seconds left to give Neillsville one last shot at winning it. The game came down to an out-of-bounds play with seven seconds left. The Warriors missed the shot, Aubrey Syryczuk got the rebound and the Pirates had their second win of the season.
Sophomore Emma Grunseth had her biggest game as a Pirate, notching a 13-point, 14-rebound double-double. Her rebounds were evenly split on the offensive and defensive ends and she sank seven of 10 free throws. Grace Grunseth hit all four of her free throws and was four of seven from the field while scoring 12 points. She added four rebounds, three assists and two steals.
Warner scored eight points and added six rebounds and two assists. With a pair of 3s, Lydia Syryczuk contributed six points, five rebounds and five assists.
Aubrey Syryczuk had seven points and four rebounds. Madisyn James sank a 3-point shot and Tatum Weir had two points, two blocked shots and seven big rebounds. Mikayla Waichulis secured a rebound.
Neillsville struggled mightily from the outside, making just three of 26 3-point attempts. Gilman was three of 15. Both teams did well inside the arc as Gilman was 13 of 26 and Neillsville was 18 of 37.