Posted on
Defense does the job in home wins over Bucs and Red Robins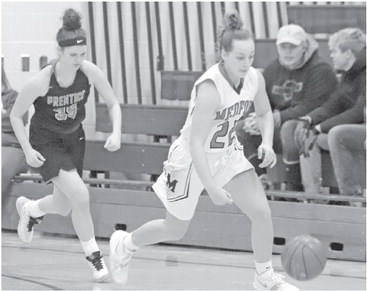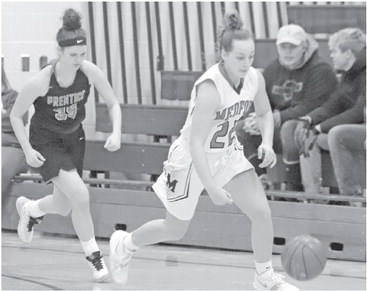 MEDFORD GIRLS BASKETBALL
Marissa Fronk had a big first half, Sierra Hanson had a big second half and Brynn Rau hit double figures for the first time this season while leading the Medford Raiders to a 56-42 non-conference win over Prentice Tuesday at Raider Hall.
Those were the offensive highlights, but Medford head coach Jessica Faude was more pleased with the defensive work the Raiders put in during the vic- tory.
The game plan was about containing Prentice's high-scoring senior guard Kaelyn Isaacson, who came into the game averaging 23 points per game in four contests this season and had 22 points against Medford last year in a game won 64-54 by the Raiders.
"We just didn't want to let her create separation," Faude said. "She does well with creating separation and pulling up for a jump shot. That's kind of her game and she can shoot the 3. They really work a lot off her and work off of getting her defender to get caught up in the screen. So everybody else needed to be aware of that, jumping that and making sure we don't lose the other players as well. It takes a lot of coordination because they screen a lot. She's a good ball player, a good athlete and I think we did a good job of talking, communicating as a team on defense."
Isaacson got her points, 22 of them to be exact, but she and the Buccaneers never got on the roll they needed to take over the game.
"I felt like we had really good energy on defense and really strong intensity," Faude said. "We're working a lot on our communication and I could hear girls out there talking, so it's nice to see some growth and see them working on things that we needed to from previous games and getting better."
Isaacson hit back-to-back 3s midway through the first half to give Prentice a 12-10 lead, but Medford answered with a 13-0 run that gave the Raiders the lead for good.
It started with a 3-pointer from Fronk. Rynn Ruesch scored on an offensive rebound and, after a series of four offensive rebounds on one possession, Fronk finally made Prentice pay with a 3-pointer from the top of the key that made it 18-12. Medford had 14 offensive rebounds in the win.
"Our hustle in the first half was good," Faude said. "We got many, many secondshot opportunities. A lot of offensive rebounds, a lot of good rebounds and just solid physical play."
Hanson hit a 3-pointer and assisted on an inside score from Autumn Krause to make it 23-12. The Bucs scored four quick points before Fronk scored inside, Rau got a steal and went the distance with 50 seconds left and then hit a triple with 13 seconds left for a 30-16 lead that was trimmed by two when Prentice's Kaitlyn Erickson scored just before the buzzer.
Fronk scored 12 points in the first half and finished with 17 for Medford. Hanson took over after that, scoring 13 of her 16 points in the second half, including a pair of 3s and five-of-six shooting from the free throw line. Rau added two more buckets for 11 points.
The Raiders closed out the game well, taking care of the ball and then, when the lane opened up, driving to the rack to score the clinching points. Rau scored off a late assist by Katie Brehm, Hanson made two free throws off an aggressive drive and Laurissa Klapatauskas finished things with a three-point play with 35.1 seconds left.
Klapatauskas and Ruesch scored four points each. Krause and Brehm scored two apiece. Rau had six rebounds and Brehm had five. Hanson and Ruesch each had four assists. Fronk had four steals.
The Raiders are now 4-1 overall heading into a key stretch of Great Northern Conference contests that starts tonight, Thursday, at Tomahawk. Next week is big with home games against Rhinelander Tuesday and Lakeland on Dec. 20. Rhinelander is led by Kenedy Van Zile, who is averaging 30 points in the Hodags' first four games, while Lakeland has freshman phenom Julianna Ouimette, who's averaging 26 points in her first five games.
"Rhinelander and Lakeland both have a player that kind of leads them," Faude said. "So this was a good test for us to start figuring out how you have to adjust a little bit to not lose other players but also adjust to their strengths." Medford 61, Antigo 32
Back in action for the first time since a lackluster loss at Wittenberg-Birnamwood on Nov. 26, the Raiders got back to looking more like themselves in a 61-32 win over Antigo Friday at Raider Hall in their Great Northern Conference opener.
Medford jumped ahead 22-2, doing a solid job of breaking down Antigo's zone defense and using their own defensive pressure to create scoring opportunities in transition in the first half.
"We were just intense with ball pressure," Faude said. "Everybody was in good defensive position, just hustling. You could see that they wanted to get stops and they forced a lot of turnovers, which was nice. It was good to get the ball into our hands and we finished well."
Hanson's steal and score to start the game was a sign of things to come. Riley McCann banked in a long two-point shot for Antigo to tie the game at 2-2, then the Raiders took off and were never threatened after that.
Brehm hit a baseline jumper, Hanson got another steal and score, banking one in high off the glass and Fronk scored six straight points. Krause buried a leftwing 3-pointer, Ruesch scored inside, Fronk drilled a 3-ball and Hanson got another shot to go to get Medford's early lead to 20. Fronk and Hanson later added 3-pointers to extend the lead to 34-11 by halftime.
"We executed better than we did against Wittenberg, definitely better than that," Faude said. "They were in a zone the majority of the time and I think we executed pretty well and got some nice shots. We got some nice outside shots to fall a little, got a couple 3s."
Medford outscored Antigo 27-21 in the second half, getting triples from Rau and Bryn Fronk and making nine of 16 free throws.
Marissa Fronk paced Medford with 15 points and six steals. Hanson scored all 11 of her points in the first half and added five rebounds and two steals. Krause scored a season-high nine points and had five rebounds. Ruesch scored seven points and had two rebounds and two assists.
Brehm and Rau scored five points apiece. Brehm grabbed five rebounds and Rau had three assists. Klapatauskas hit two of three shots from the field and scored four points while grabbing a teamhigh eight rebounds. She had two assists. Bryn Fronk finished with three points and Lydia Pernsteiner had a bucket and two rebounds.
"It was a good game for some of our younger girls to get some experience and feel some of that pressure a little bit," Faude said. "It's always good because you never know when they're going to have to come in and step in for somebody."
Lily Nicholson scored 12 points to lead the Red Robins, who fell to 0-2 in the GNC and 0-4 overall with the loss. Greta Parsons added eight.
Antigo turned the ball over 20 times. Medford outrebounded the Robins 37-26 and shot 42.9% from the field, compared to Antigo's 25%.