Posted on
Cadott rolling with wins on Gilmanton and Regis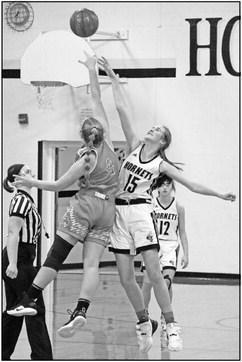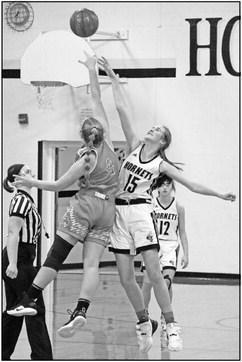 The Cadott girls basketball team's week was one of celebration, after not only winning a road game against Gilmanton, but capping off the week with a home win against a tough Regis squad. The victories move the Hornets to a 3-1 overall record.
Dec. 3 vs. Gilmanton non-conference (W 61-50)
Coming off a double overtime road win against Independence, Cadott squared off against Gilmanton, with the Hornets getting the ball into the post a lot on the host team Junior Jada Kowalczyk tallied 23 points to get the offense going, followed by fellow junior Mckenzie Prokupek with 9 points. Cadott also shot from deep, with Kowalczyk, seniors Abby Eiler and Jasmine Horvat, and junior Hailey Wellner, all nailing three-point shots.
Wellner also added 7 points to the scoreboard, while senior Paisley Kane ended with 5 points.
Cadott went into the half up 33-25 and finished out the night with a double-digit lead, earning a 61-50 road win.
"Our defense generated a lot of deflections and steals, and that really got us going," said coach Dave Hazuga.
Dec. 6 vs. Regis conference (W 51-40)
After a few days rest, it was Cadott's turn to host, this time against conference opponent Regis. The rim wasn't kind in the opening sequence, as neither team scored until almost seven minutes into the game.
Although he says their defense wasn't too good in the first half, Hazuga said the Hornets play with confidence and after shaking off the first half jitters, Cadott came out of halftime only down four. After that, Cadott refused to quit and racked up points against the powerhouse team.
Kowalczyk couldn't be stopped in the post, recording a team high 22 points. Senior Autumn Bremness hit two, three-pointers in the last four minutes of the game, after not making any of her shots prior to that.
Hazuga also credits everyone on both ends of the floor for making big plays.
Freshman Elly Eiler ended her night with 5 points, while junior Meadow Barone recorded 4 points, Prokupek added 3 and Kane also contributed 3 points.
"The biggest story line, is the fact that this is the first time we beat Regis in so long, nobody can find the exact date," said Hazuga. "It's been over 20 years."