Posted on
4-1 record puts Raiders on top at West; team routs Bulldogs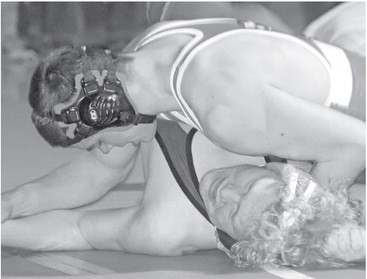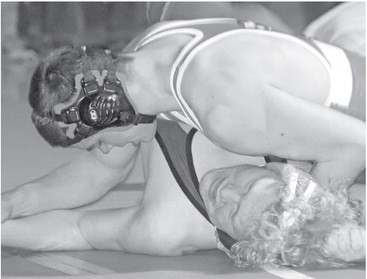 MEDFORD WRESTLING
A switch from the Ellsworth Invitational to the Wausau West Duals for this season's first weekend wrestling tournament paid dividends Saturday for the Medford Raiders, who emerged from five rounds of competition with the day's best record in a stacked eight-team tournament.
The Raiders went 4-1, beating four Division 1 squads and losing to Wittenberg- Birnamwood in the championship bracket.
Jake Rau went undefeated at 220 pounds as did Zeke Sigmund at 145 pounds and several wrestlers took only one loss.
"It was good wrestling, good competition," said Medford head coach Brandon Marcis, a Wausau West alum. "The dual-meet format was what we needed. We had gone to Ellsworth the past couple years, which is an individual tournament. This gave us the team dynamic. We had six duals during the week, so we spent the week in practice talking about the importance of wrestling as a team, picking up bonus points and getting pins when we can."
The Raiders rolled to a 3-0 record in round-robin pool competition to start the day, beating Tomah 51-23, Wausau West 43-31 and Sauk Prairie 57-21.
Against Tomah, Medford jumped out to a 30-6 lead by winning five straight matches by pin and then split the final bouts.
Freshman Blake Schilling was pinned by Tomah's Caleb Pollack in the 120-pound opener, but Eric Rehbein got the momentum started at 126 pounds by pinning Caden Griffin in 3:30. Carson Church pinned Braden Bemis in 3:09 at 132 pounds, Dane Higgins stuck Nate Boulton in 3:14 at 138 pounds, Sigmund took care of Logan Boulton in 3:10 at 145 pounds and Emett Grunwald needed just 1:42 to pin Thai Davis in the 152-pound match.
Later on, Clay Bowe pinned Jairon Pierce in 21 seconds at 182 pounds, Dal- ton Krug recovered from an early 2-0 and 4-2 deficits to Connor Perry in 3:34 at 182 pounds, Rau stuck Colby Von Haden 1:15 and Thaddeus Sigmund rode a secondperiod near fall to a 4-3 win over Landen Bloom at 106. Jake Brunner lost 11-5 to Sam Linzmeier at 160, Ty Sova lost 6-0 to Gavin Finch at 113 pounds, Hayden Johnson was pinned by Tomah's Thor Lass in 5:37, ending what had been a tight, backand- forth 170-pound match.
Medford again jumped out to a big lead against Wausau West, building advantages of 25-3 and 37-15 before settling for a 12-point win.
The Raiders earned a split in overtime matches in that dual. Higgins fell 10-8 to Gabriel Ramos before retiring for the day due to illness. But Brunner won what was a 3-3 match at 160 by taking down West's Reed Napiwocki and pinning him 19 seconds into overtime.
"Jake had a great tournament," Marcis said. "He was a great example of wrestling for the team. In overtime against the West wrestler, he takes him down, puts him on his back and pins him. He's a good example of senior leadership."
Church pinned Connor Calmes in 2:29, Zeke Sigmund pinned Carter Napiwocki in 2:30, Krug pinned Athan Somers in 3:42 and Thaddeus Sigmund got his first pin, sticking Gaven Lange in 5:09. Rau won by forfeit. Rehbein got an 18-5 major decision to start the dual over Jacob Pease and Grunwald beat Joseph Berens 13-6. Sova lost a 12-1 major decision to Gabriel Galana while Johnson and Bowe lost by pin.
The Raiders jumped ahead 33-6 against Sauk Prairie and closed out the dual with three straight victories to win comfortably.
Church got it started with a 19-second pin over Dylan Breunig. Luis Elizondo pinned Higgins' replacement, Eli Mahner, in 5:46, but Zeke Sigmund pinned Aidan Nelson in 19 seconds, Grunwald got a forfeit, Brunner beat Sam Vils 9-3 and Johnson and Bowe got forfeits to open up the lead.
Rau pinned Simon Patterson in 1:42, Sova got his first varsity pin in 39 seconds over Riley Minette and Schilling and Rehbein earned forfeits. Marcus Hankins pinned Krug in 3:17 and Colton Uselman was an 8-1 winner over Thaddeus Sigmund.
Medford and Tomah represented the pool in the championship bracket, while Stevens Point and Wittenberg-Birnamwood represented the other bracket, emerging by criteria over Holmen in a three-way tie.
Medford met Wittenberg-Birnamwood first and had a 21-18 lead with six matches left, but the Chargers used a forfeit at 285 pounds and five straight wins to seal their 41-27 win.
"Dane went home sick, so our lineup wasn't quite as strong as we would've liked, but it was a good dual, good competition. They're a great team," Marcis said. "Maybe we'll see them again in Madison."
The Raiders got an early forfeit win from Zeke Sigmund but trailed 12-6 when Johnson got Medford on track with a big third period that gave him a 7-3 win over Larken Betry and Bowe pinned Kyle Linke. After Krug was pinned, Rau stuck Mark Labarge in 20 seconds to give Medford its three-point edge.
Charger Damien Wudtke beat Thaddeus Sigmund 12-4 and Pierson Potrykus pinned Sova in 1:05. Dakotah Olson beat Schilling 8-0 and Chad Moegenburg edged Rehbein 3-0 before Church's forfeit win ended the dual. Mahner was pinned early on by Bryce Zoromski, Wyatt Esker used a third-period takedown to eke out a 4-2 win over Grunwald and Will Urquhart built a 9-3 lead through two periods and beat Brunner 9-6.
The final win over Stevens Point, however, gave Medford the championship trophy with its 4-1 record and it was dominant.
Zeke Sigmund got it started with a pin in 1:53 over Cooper Behnke, Grunwald broke a scoreless tie in the third period with an escape and takedown to beat Conner Seavers 3-0 and Brunner built up enough takedowns late to secure a 14-6 major decision over Preston Hove to put Medford up 13-0.
After Sam Molski pinned Johnson in 3:03, Bowe stuck Brett Johnston in 3:40, Dalton Krug pinned Josh Kolodziej in 51 seconds and Rau won a tough 3-0 match over Jaren Rhode, getting an escape and takedown in the third period. That made it 28-6.
"Jake just never got out of position and their guy never got close to scoring," Marcis said.
Thaddeus Sigmund took a forfeit and Sova pinned Gavin Stepan in 1:01 to extend the lead to 40-12. Rehbein added a 24-second pin over Kale Koth. Point got a pin from Justin Groshek over Blake Schilling, a 10-2 win for TJ Schierl over Mahner and a 7-4 win from Max Schierl over Church.
Medford opens Great Northern Conference competition today, Thursday, at home against Rhinelander. JV matches are set for 6:30 p.m., followed by the varsity at about 7 p.m. The Raiders head to the Eau Claire North Invitational Saturday.
Raiders 66, Bulldogs 12
Most of Medford's big names took the night off with forfeits, but there were some notable victories in the six contested matches during the Raiders' 66-12 season-opening win over Chetek-Weyerhaeuser/ Prairie Farm Thursday at Raider Hall.
The most exciting match was the last contested one of the night as Krug survived a near loss by pin in the opening period and then got his pin at the 3:28 mark over Anthony Voldberg in the 195-pound bout. "It was a hard match," Krug said. "He put his all out there. I put my all out there. There's nothing more you can say. It was a fun match. It was hard fought, tiring."
Voldberg caught Krug and got him to his back with a five-point takedown and near fall in the first period, but Krug narrowly avoided the pin and was able to get control of Voldberg's leg and earn a reversal before the period ended to get within 5-2.
"Dalton got a little out of position and thrown to his back, but he didn't give up," Marcis said. "He bridged him off. He was on his back for awhile, but he kept going and pulled through."
Krug took down Voldberg in the second period, got him cradled and won it.
"The main thing going through my mind at that point (in the first period) was just staying off my back, try to reverse him and try to get out of it," Krug said. "Once I got him down, I started getting him into that cradle. That's when I knew this was going to be over. When you're down right away, those are the best ones to come back and win."
Brunner drew a loud ovation from the crowd with his 47-second pin over Levi Chamberlain at 160 pounds. Bowe was the clear aggressor in his pin in 1:32 over Bryce Henning at 182 pounds and Church needed just 19 seconds to pin McKenzie Clemetson at 132 pounds.
Chetek's Kyle Jarmusic started the meet with a pin in 3:02 over Schilling at 120 pounds. It was a scoreless match up to that point. Senior William Peters pinned Johnson in 2:56 in the 170-pound match.
Forfeits went to Rehbein (126), Higgins (138), Zeke Sigmund (145), Grunwald (152), Rau (220), Thaddeus Sigmund (106) and Sova (113). Neither side had a 285-pound wrestler.
In JV action, Medford's Wyatt Johnson was a winner by pin in 1:52 and a 9-3 winner in two matches at 170 pounds, and Zack Mottle got pins in 1:57 and 1:23 in two matches at 152 pounds.