Posted on
Rockets will rely on strong backcourt play to challenge in ECC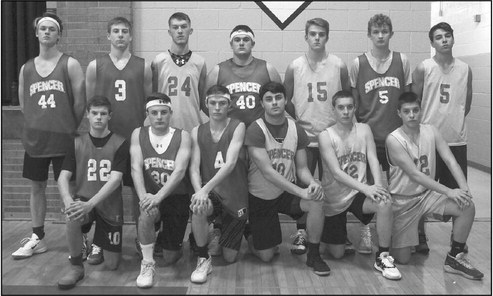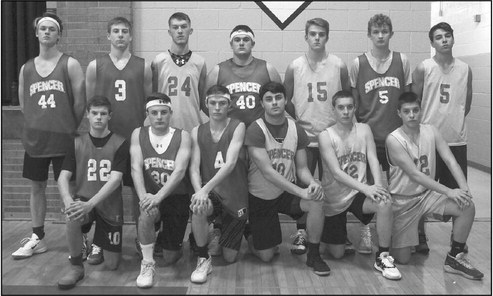 Prior to Dec. 6, it had been a long time since a Spencer boys basketball team had been able to knock off rival Marshfield Columbus. Consider that one checked off the Rockets' to-do list.
With 26 points from senior guard Austin Bacon and 21 from his backcourt running mate Brett Kasch, Spencer upended the defending Eastern Cloverbelt Conference champs 75-74 to jump out to a 2-0 start on the 2019-20 season. That will be the story most of the year, said Rocket head coach Clint Nieman, as guard play will be the obvious strength of this team. With senior Hayden Bauman also in the backcourt to provide extra scoring punch and defense, the Rockets will look to win this year from the outside in.
Spencer went 6-10 in the ECC last year in Nieman's first year as head coach, and posted an 8-16 overall mark. That team had Nate Karau in the post with his 8 points and 10 rebounds per game, and the Rockets will be looking for new players to pick up that load. Also lost to graduation were starters Trinity Larson and Jacob Schultz, so Nieman has his work cut out for him in rebuilding the Rockets.
It helps a lot to have Bacon and Kasch, who showed against Columbus what they can do. Bacon hit all seven of his free-throw attempts down the stretch as he pressured the defense.
"He's just a gutty player," the coach said. "He's a pretty crafty player around the basket."
Kasch and Bauman can also create scoring opportunities, and can shoot the rock if defenses don't respect them.
"Those three guys in the backcourt, all three of them are pretty dynamic players," Nieman said.
In the paint, the outlook will be different this season in Spencer. Karau was a physical player who often pulled down double-digit rebounds and was there to clean up on the offensive glass and get second-chance points.
This year, Nieman will rely on several players who have not been in a Rocket uniform for a while. They include seniors Cody Vircks and Gavid Kilty and junior Tyson McDonald. They are all physical, too, the coach said, but are re-adjusting to the team after missing a few years since last going out.
"We've got a pretty good platoon of guys in there," Nieman said.
One thing he doesn't have is height. His inside guys are all in the 6-foot range, with no true center-type player.
"I've got a lot of forwards. I've got like seven of them," Nieman said.
As such, Spencer will count on its guard play.
"I'm trying to rely more on guys on the perimeter and getting them to drive," Nieman said. "We want to work the ball around and get the defense moving and find the open guy."
While a 2-0 start to the season is nice, Nieman said it may take some time for this version of the Rockets to come together. Players such as Vircks and Kilty and McDonald played in the past, but did not come out every season, and now they're trying to gel as a team as seniors.
"We've got a few guys out that haven't played in a few years," the coach said. "We kind of have to recapture the teamwork these kids had when they were growing up. They're very familiar with each other, but they haven't played competitively on the court. It's taking a little bit to get everbody back on the same page."
Spencer proved by beating Columbus that it can compete with the upper echelon teams of the ECC. Columbus has lost several star players to graduation but will be competitive again, and Neillsville is the favorite to take the title this year.
If Spencer's guards can continue to carry the team while the frontcourt players learn their roles, the Rockets should be able to move up from their sixth-place finish a year ago.
"I would expect to be somewhere near the top of the conference at the end of the season," Nieman said.
The Rockets were to play Abbotsford in a non-conference game on Dec. 10 and will return to ECC action on Dec. 12 at Owen-Withee.
DEAN LESAR/STAFF PHOTO