Posted on
Rocket wrestling team heavy on newcomers this season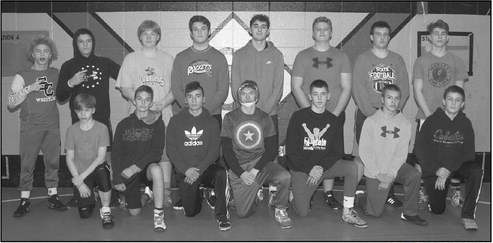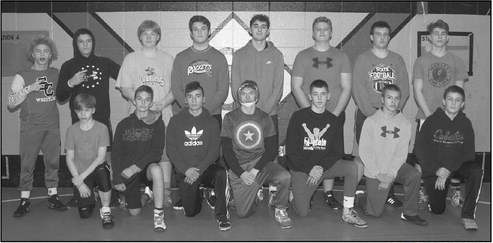 The Spencer-Columbus wrestling practice gym has gained some new wall decorations in the past few years, namely, the four WIAA Division 3 individual state champion weight bracket charts earned by 2-time titlists Hunter Luepke and Logan Zschernitz. While their legacies loom large in Rocket wrestling history, those two guys are gone now, and the team working under head coach Jake Zschernitz this season looks much different than it has in recent seasons.
This will not be a team that competes strongly in dual meets, Coach Zschernitz said, but it does have a few wrestlers who can win on any given day and have solid shots at trips to Madison come February. The team is green, the coach said, both in age and varsity mat experience.
Last year's Rocket season ended in celebratory style in Madison with Logan Zschernitz capping an undefeated senior season with his second straight 285-pound state title. Luepke did the same thing in 2018, giving the Rocket program back-to-back 2-time state champs.
Two of this year's Spencer-Columbus wrestlers were also in Madison last February. Senior Ashton Ackman and sophomore Treyton Ackman are both back for new seasons after qualifying for spots at state a year ago. They're each primed for another run at state, the coach said.
Senior Leo Rodriguez, a 2019 sectional qualifier, also returns. The Ackman brothers and Rodriguez will fill the 113-120-126 pound weight classes, while the rest of the weights will be manned by relative newcomers.
"Other than that, there's not a lot of experience," Coach Zschernitz said. "It's definitely a young group."
Freshman Ty Woodkey will fill the 106-pound class and sophomore Kage Carlson looks to take the 132-pound slot. That will give the Rockets a solid lineup in the lower weights, but things change as the weights increase.
"We're bunched up in the lighter weights," Zschernitz said. "From there up, it's kind of scattered. We've got a few kids (in heavier weight classes) trying it for the first time."
Zschernitz expects the Rockets will fill 10 of the 14 weights on a given night. Some of the wrestlers who should fill out the lineup at the heavier weights are second-year wrestlers Sawyer Kilty and Connor Luedtke, and first-year man Austin Grubofski.
In addition to Logan Zschernitz, Spencer-Columbus also lost varsity regulars Carson Hildebrandt, Tanner Kleinschmidt and Jake Dick to graduation. Those guys may not have been state champs, but they gave the Rockets a roster that could hold its own against many teams in dual meets. That probably won't be the case this year. Coach Zschernitz said he has pulled the team out of some dual meet action and opted for more individual tournaments this season. That will allow wrestlers to focus more on their individual growth rather than on securing team points. "We're trying to do more individually. We're trying to focus on individual success," the coach said. "we're just helping the new guys learn and hopefully they can contribute in a couple of years." Zschernitz expects Cadott and Neillsville Greenwood-Loyal will be the Cloverbelt Conference favorites this year. Spencer-Columbus may not contend at the league meet this year, but that doesn't mean it won't make some noise.
"As a team, we're probably not going to win it, but we have the ability to have three, maybe four conference champs," Zschernitz said.
Even though the general age in the Spencer wrestling practice gym is down, the numbers are good. There are 15 varsity wrestlers and 25 middle school kids in there every afternoon, so the future could be bright.
"There's good young kids in the middle school," Zschernitz said. "We've got a big jump (in numbers). We don't know why it happened, but we're glad that it did."
The Rockets' first action of the season came on Dec. 7 at a tournament at Royall High School. Spencer-Columbus has its first dual meet on Dec. 12 at Stanley-Boyd and will be at the Eau Claire North tournament on Dec. 14. Its first home meet will be on Dec. 20 against Athens.
DEAN LESAR/STAFF PHOTO