Posted on
Greenwood press-break bucket is difference in 59-57 win at Loyal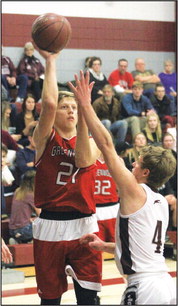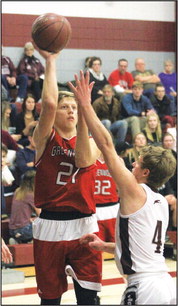 Greenwood senior guard Treyton Thomas didn't score often in the Indians' 59-57 Eastern Cloverbelt Conference win at Loyal on Dec. 6, but when he did, it mattered.
Thomas' slashing layup against fullcourt pressure in the waning moments of the ECC opener for the two rivals was the game-winner, with the Greyhounds unable to get off a final shot for the possible tie or victory. Thomas scored just four points for Greenwood, but his aggressive drive to the hoop just after Kole Bogdonovich's scoretying 3-pointer with 10 seconds left in the game caught the Loyal defense off guard.
On the game-winning play, Thomas took an in-bounds pass near half court against Loyal's press, then drove hard toward the lane. Loyal's two deep defenders leaned outside to prevent Thomas from passing to the side, so he drove straight to the basket to bank home the score.
Loyal got the ball for a final chance with 5 seconds left, but Greenwood knocked the ball away on the inbounds pass intended for Bogdonovich.
Neither team led by double digits at anytime in the game, and the score was within one or two possessions most of the way. Greenwood owned the biggest lead of the night at 18-9 midway through the first half,but Loyal guard Daymian Baird scored seven points in a 5-minute span late in the half to make it a 27-23 Indian lead at intermission.
Loyal went on an 11-0 run early in the second half as Baird and Bogdonovich each scored twice. Caleb Chirhart's short jumper at the 12:07 mark gave Loyal its biggest lead at 36-29.
But back came Greenwood, on a pair of Westin Schmitz free throws and Cooper Bredlau's 3-pointer after Greenwood got a second chance with an offensive rebound. Bogdonovich drilled a 3-pointer with 8:29 left to put Loyal ahead by a pair, until Thomas scored his only other hoop of the night in transition to tie it at 39-39.
Bredlau's runner in the lane and a Schmitz 3-pointer at the 2:50 mark put Greenwood ahead 54-47. Bogdonovich hit two free throws after Loyal kept a possession alive with an offensive board, and Jacob Baumgartner finished a fast break to bring Loyal back to within 54-51 with 2:04 to play Nathan Revier then popped a 3-pointer for Greenwood from the corner, only to have Bogdonovich answer with a trey on Loyal's next possession.
Ahead by three with 90 seconds to go, Greenwood spread the floor and ran the clock down to 53 seconds before calling time-out. With 41 seconds to go, Loyal sent Thomas to the line for a bonus throw. He missed the front end.
Bogdonovich was off the mark on a game-tying 3-point attempt with 24 seconds to go, but Greenwood turned over the ball in transition after the rebound. Loyal then took a time-out with 16 ticks left. On the in-bounds play, Bogdonovich took the pass, dribbled to the right wing, and nailed a tying 3-pointer with 10 seconds to go.
That set Greenwood up in a full-court situation with 9.3 seconds to play. On the in-bounds, Thomas broke back toward mid-court, took the pass, and went hard to the hole for the game-winner.
Schmitz paced Greenwood with 23 points as he knocked down four 3-pointers. Bredlau and Revier scored 11 points each for Greenwood.
Bogdonovich dumped in a game-high 29 points. He hit five 3-pointers and was 6-9 at the free-throw line. Baird added 16 points.
Loyal 60 Gilman 49
Bogdonovich poured in 31 points on 16- 21 shooting from the free-throw line as Loyal opened its ECC season with a road win at Gilman on Dec. 3. The Greyhounds outscored the Pirates 22-7 from the line as Gilman was called for 28 fouls and two starters fouled out. Baird and Trevyn Wilke each scored nine points for Loyal.
Greenwood 73 Stanley-Boyd 70
The Indians opened their 2019-20 season with a close non-conference home win over the Orioles.
Bredlau led Greenwood with 23 points and was a perfect 10-10 on free throws. As a team, Greenwood hit 17 of 22 free throws while Stanley-Boyd was just as sharp at 14-17.
Greenwood had a balanced scoring night with four players in double figures. Austen Humke had a 13-point night that included three 3-pointers in the first half, Thomas scored 12 points, Schmitz added 11, and Revier had nine.
DEAN LESAR/STAFF PHOTO