Posted on
Granton boys can't keep pace with Independence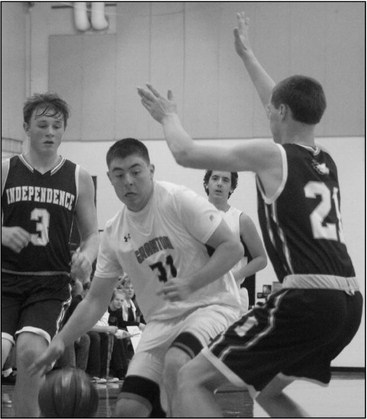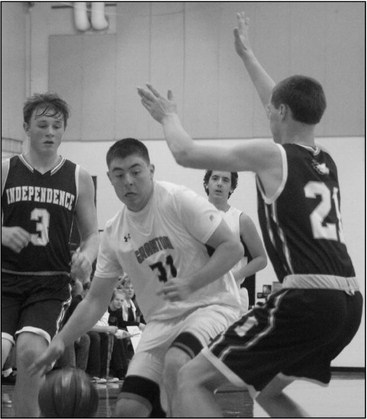 The Granton boys started out strong in their non-conference game against Independence at home on Dec. 5, keeping scoring low and close. That closeness ended about halfway through the first half of the game, when the Indees began to benefit from free-throw opportunities and mistakes on offense, taking a 92-52 win at the game's end.
Up until the 11:00 mark of the first half, the Bulldogs were able to keep the game within five points with a firm defense around the net that kept scoring down and a few offensive opportunities that came their way. Granton's first points were made by Pierre Fourny and Noah McConkey, who nailed a three-pointer.
It was at that point that the fouls began, giving Independence plenty of free throws. Over the next three minutes, the Indees got five such opportunities, going 6-for-9 in that span to lead by double Granton's score at 18-9.
The Indees continued to add points, getting two shots in almost back-to-back fashion and another basket in before Hunter Vine threw in a three-pointer to get the Bulldogs up to 12. The Indees made their own pair of three-pointers afterwards, shot in another two layups and went 1-for-2 in a free throw attempt.
The first foul Granton was able to benefit from came at the 4:39 mark, when McConkey went 2-for-2. He also made a layup just moments later and with about three minutes left brought the team up to 18 points with another basket.
The last couple minutes of the first half were filled with freethrow opportunities for both sides as occurrences of fouls increased. Independence was 7-for-11 on six free-throw opportunities and also scored two other baskets in the last minutes of the half. Granton also scored, with Mc-Conkey going 2-for-2 and Randy Mendoza going 1-for-2 on their free-throw attempts and Brandon Jakobi scoring two baskets, leaving the game at 49-25.
Jakobi got the Bulldogs off to a good start in the second half with a 1-for-2 free throw shot at the 17:02 mark. Almost immediately afterwards, two more scores came in for Granton from Vine and Mc-Conkey to bring them up to 30 points.
With an isolated three-pointer coming from Independence to break up Granton's scoring streak, the Bulldogs went right back at it with another pair of scores from Vine and McConkey. It was then that the Indees regained some of their lost steam and began once again to benefit from fouls. In the second half, Independence was 5-for-10 on free throws and as the half went on, made numerous stops on defense that contributed in back-to-back scores.
On the Bulldogs' side, the team scored an additional 18 in the second half, all made by Jakobi and McConkey. Between the two of them, Jakobi was 1-for-3 at the line in the second half and put up eight points and McConkey was 4-for-4 and made two other baskets, one of which was a three-pointer.
McConkey led the Granton boys in points, scoring 28 for the team, including two three-pointers and eight free throws on 11 attempts. Jakobi was the team's next highest scorer with 14 points.
CHEYENNE THOMAS/STAFF PHOTO