Posted on
Geiger joins 1,000-point club as Loyal rolls over Greenwood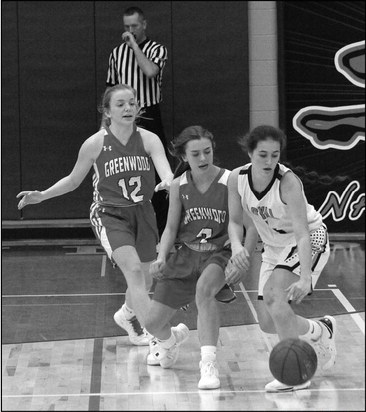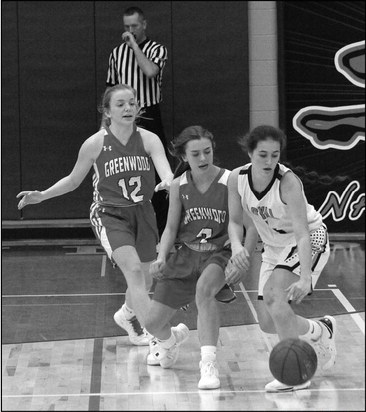 When Loyal senior point guard Remi Geiger knocked down a 3-pointer with 3:38 to go in the first half of the Greyhounds' Dec. 5 home game against Greenwood, Loyal fans were ready. Out came the "1,000" signs in droves in the stands as the crowd rose to its feet to applaud the latest member of the Loyal basketball 1,000 Point Club. A starter since the begininning of her freshman year, Geiger has been the model of consistency for the Greyhound girls team. She was the point guard on the 2017 Division 4 state championship team and has led the team in scoring in the past few years. She now joins her mother, Keli, and her brother, Ryan, as players in Loyal hoops history to reach the quadruplefi gure mark.
Geiger's 23 points were more than enough to lead Loyal to a 67-41 win over Greenwood in the Dec. 5 Eastern Cloverbelt Conference contest. She was 5-5 on 3-pointers in the game and 6-9 at the freethrow line as Loyal improved its ECC re cord to 2-1 and its overall mark to 4-1. Greenwood fell to 0-2 in league play.
The outcome of the game was never really in doubt, as Loyal surged to a 24-4 lead midway through the first half. Greenwood was able to play relatively evenly for the rest of the night, but could not dig out of the huge early hole. The score was 47-20 at halftime.
Loyal connected on 40 percent of its shots from the floor and hit eight of 21 from 3-point range. The Greyhounds also got 13 points from the freethrow line, on 18 attempts.
Bailey Bravener added 11 points for Loyal, Katlyn Lindner scored 10 and Savannah Schley and Kayla Bremmer each contributed eight.
Greenwood managed a 30 percent shooting night, but misfired on 13 of 16 tries from 3-point rang e. T he Indians were 10-25 from the line.
Celine Wuethrich was the lone Indian in double figures with 10 points. Mesa Rasmussen added nine points and Kia Abel scored eight.
DEAN LESAR/STAFF PHOTO