Posted on
Colby boys stop Blackhawks, fall to 'Jays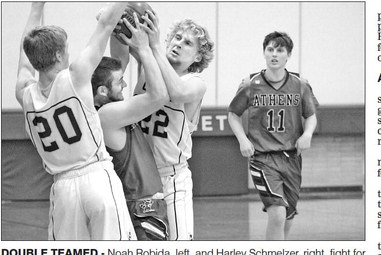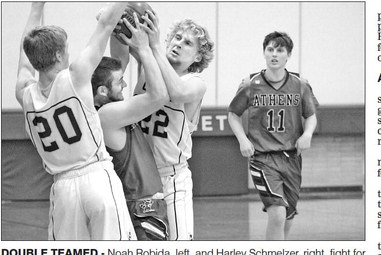 The Colby Hornets picked up their first victory of the season, toppling the Owen-Withee Blackhawks at home Friday, Dec. 6., but could not duplicate the result on Tuesday, falling to in a non-conference home game to the Athens Bluejays 60-43.
57-49
The Hornets earned their Eastern Cloverbelt victory of the season as they took down the Owen-Withee Blackhawks 5749, moving 1-1 in league play.
The Hornets' defense was nearly impenetrable in the first half, giving up just six made field goals as Colby held Owen-Withee to just 17 points in the first frame.
Harley Schmelzer and Richard Streveler each hit from Down Town for a trey. Mason Schmutzler and Isaac Karl got on board in the first half as well, and Colby took a 23-17 lead into the break.
The second half saw each team up the tempo and intensity on offense. The Blackhawks rode the hot hands of PJ Heggemeier and Austin Rose to keep the game close. The two Blackhawk players combined for 16 points in the final frame, and guided Owen-Withee to 32 second half points.
It wasn't enough, as Colby saw three players finish in double figures, with Schmelzer and Streveler and Karl providing most of the firepower on Friday.
Karl scored four times, and Streveler knocked down a three to keep Colby ahead. Streveler, just a sophomore, showed excellent composure as he was almost automatic with his free throws, cashing in on five of seven trips at the charity stripe.
Colby's' defense continued to do its job, as Heggemeier and Rose were the only players from Owen-Withee to finish in double figures.
Schmelzer, Schmutzler and Connor Jeske supplied more points as Colby stayed in front, adding 34 points in the second half to keep their lead.
Schmelzer led all players with 15 points. Streveler and Karl added 13 and 12 points. Schmutzler scored eight points. Roman Schmitt and Connor Jeske had four points apiece. Noah Robida added one point.
Athens, 60-43
The Hornets played well for long stretches during their non-conference game with the Athens Bluejays, but cold shooting and turnovers dashed their chance for an upset over the eighth ranked 'Jays on Tuesday night.
Athens had an early lead but the Hornets' defense began to cause problems for Athens with its press and traps.
Colby pulled to within four at 27-23, but the 'Jays put on a brief run to close out the half at 32-23. The two teams traded shots in the second half. Athens stayed in front, but Colby gave dogged pursuit.
With just under five minutes to play, the Hornets made their last charge, with another three from Streveler making it a six point game at 47-41.
From there, the 'Jays began to feed the ball inside, and Athens went on a 13-2 run in the closing minutes to pull away.
Harley Schmelzer led Colby with 14 points. Roman Schmitt and Connor Jeske eached scored seven points. Streveler added six points. Isaac Karl tallied four points, Noah Robida recorded three points and Mason Schmutzler rounded Colby's scorers out with two points.