Posted on
'WE KNOW WHAT'S POSSIBLE'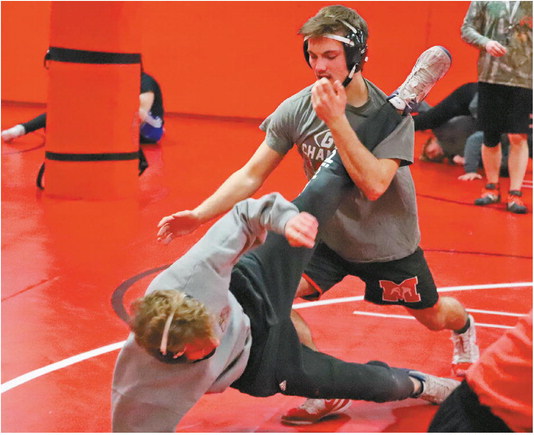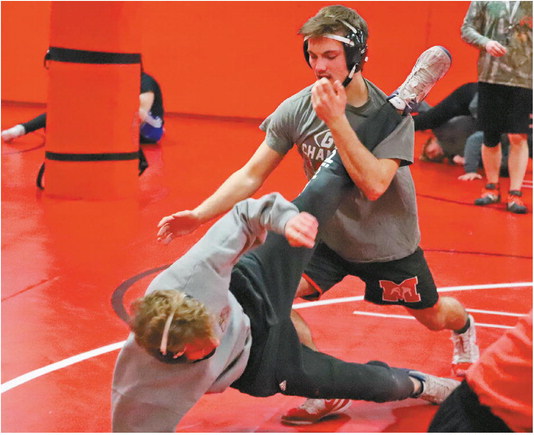 MEDFORD WRESTLING PREVIEW
Raiders aiming even higher in 2019-20
The Medford wrestlers will be under the spotlight for the first time in their 2019-20 season tonight, Thursday, when they host Chetek-Weyerhaeuser/Prairie Farm in a non-conference dual meet at Raider Hall.
They want and expect that spotlight to remain on them for the next three months.
As the new season begins, there is little doubt this potentially is the strongest team the Raiders have had under fourth-year head coach Brandon Marcis. With several key pieces back from Medford's first regional championship team since 2005, including three multiyear state qualifiers and a state champion in senior Jake Rau, and an infusion of young talent filling gaps in the lightweight end of the lineup, the Raiders feel no goal is out of reach.
How it all ends up will depend on the day-to-day approach, which was the mantra the Raiders successfully followed last year and remains central to this year's thinking as well.
"We're all about commitment to the team not compliance to a bunch of rules," Marcis said Tuesday. "We have a goal that we want to accomplish and we're going to take it one day at a time in everything that we do whether it's on the mat or off the mat. We want to make sure that we're committed to our cause of getting as far as we can as a team because we know we have a great opportunity this year. We have a lot of talent. It's just about taking it one day at a time, one match at a time, staying healthy, staying eligible, living right."
By winning last year's regional championship and competing in the WIAA Division 2 team sectional, the goal of getting the team to state and competing for a team state title is something that now feels possible.
"We want guys to buy into the commitment to the team and to work toward our goals," Marcis said. "We don't want it to be like, 'I have to go to practice' or 'I have to come in early' or all these have tos. It's 'I get to.' I get the opportunity because we know what's possible."
An experienced, decorated and deep senior class headlines the 25-man roster. No one got more headlines last February than Rau, who capped off a 35-2 season by beating Jackson Linsmeier of Valders 4-2 in the WIAA Division 2 state championship match at 220 pounds. He is Medford's first state champion since 2004 and getting the chance to repeat is something he relishes.
"He's set some goals," Marcis said. "He wants to do it right. He did have a little knee surgery that he's coming back from, but that's looking good. He was full contact for soccer. I don't think that will be an issue at all. So that's good. He's looking healthy and he's leading by example. When we're at practice, he's wrestling hard."
Three-time state qualifier Dane Higgins, who finished sixth last year at 132 pounds, and two-time qualifier Zeke Sigmund return at 138 pounds and 145 pounds respectively. Higgins was 28-10 last year, while Sigmund went 27-7. Both are shooting for big finishes to their careers.
"We just have to keep working every day to get where we need to be," Marcis said.
Senior Eric Rehbein at 126 pounds and junior Emett Grunwald at 152 pounds return after missing state at their respective weight classes by one place. Senior Clay Bowe fills the 182-pound spot after qualifying for last year's sectional at 170. Junior Hayden Johnson drops down to 170 after reaching last year's sectional at 182.
Experienced wrestlers looking for breakout seasons include senior Jake Brunner at 160 pounds and junior Carson Church at 132. Brunner was a Great Northern Conference runner-up and a sectional qualifier two years ago at 113 pounds. As he grew last year, he just unfortunately found himself without a spot. "I know he's hungry because he kinda missed out on varsity last year just being in the meat grinder with a bunch of guys," Marcis said of Brunner. "He's looking tough, wrestling good and I think wrestling a little bigger weight class will be good for him just because he has the style of a middle to upper weight wrestler so I think that's going to work out well for him."
Church was another wrestler who had a hard time finding a consistent spot in the lineup last year, but he won some big matches when he got time.
"He's another guy who puts in the time in the off-season," Marcis said. "We have high goals to get down to Madison.
Junior Dalton Krug returns at 195 pounds after a 16-17 sophomore season that included a third-place regional finish.
Thaddeus Sigmund fills the 106-pound weight class and highlights the freshman class.
"He's a freshman who's been wrestling for awhile," Marcis said. "He's Zeke's little brother. He's got a lot of wrestling knowledge and experience. At 113 we have Ty Sova and Matt Gebert. Ty is pretty tough. He's been wrestling for awhile. Matt's got a great attitude, he's learning every day.
Those guys are pushing each other in practice so that's good to see. At 120 we have Blake Schilling.
He's also a freshman.
He's just battling."
Wrestlers not to be forgotten who could step in depending on injuries and matchups include Kayden Dassow and Eli Mahner at 126 pounds, Zack Mottle at 145, Oscar Hinderliter and Dalton Waide at 152 and Wyatt Johnson at 160.
Higgins, Zeke Sigmund, Bowe and Rau are all returning Great Northern Conference champions, while Rehbein, Grunwald and Mahner were honorable mention wrestlers in the GNC last winter. "It was a boost for our team and our team morale," Marcis said of the newcomers. "You get some new guys in there. Our juniors and seniors have been wrestling to- gether in the same room since they were little kids. They get this new group of guys to come in where these older guys can step into a mentorship role and show them how things work. Plus we get to fill more spots. It adds to the experience for everybody."
As for the competition Medford will face this year, it's simply a given that there will be good teams and good wrestlers faced each night and each weekend. Medford won a close race in the GNC last year over Tomahawk and Antigo. Saturday's Wausau West Invitational starts a string of several top-notch invitationals the Raiders will be a part of. Neillsville-Greenwood- Loyal is expected to give the Raiders a run at the regional meet and no one has to be reminded how good Ellsworth has been for years when it's time for sectional competition.
"We're going to worry about what we're doing," Marcis said. "We're going to worry about one day at a time and we don't want to be reactive to other teams or other wrestlers. We want them reacting to us. So that's kind of our philosophy and how we do things. We want people worrying about us we don't want to worry about them. We're always looking forward, we're never looking back and we'll see what happens."