Posted on
Season sure to be a learning experience for Medford curlers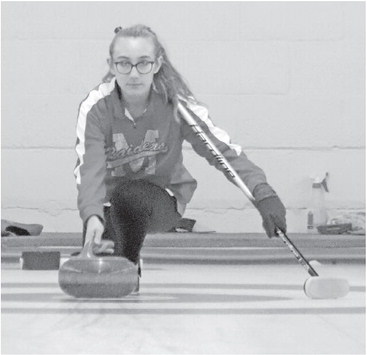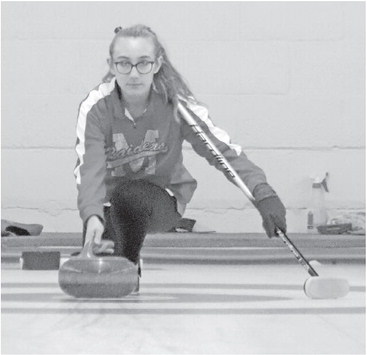 MEDFORD CURLING
To say Medford's high school curling teams are young this season might be an understatement.
After losing five letter winners between the girls and boys teams and four more JV boys to graduation, the Raiders began the 2019-20 season Tuesday with four boys and six girls in varsity losses to visiting D.C. Everest at the Medford Curling Club.
The girls team fell behind 9-0 through four ends, mainly due to Everest's four-point second end, before settling down in an eventual 10-1 defeat.
Head coach Stu Amundson has senior Karina Herrada serving as the team's skip to start the season. Herrada was a letter winner a year ago as a first-year curler, while playing on the varsity squad with the departed Sarah Thums and Avery Apfelbeck.
According to Amundson, Herrada has picked up the game quickly, asks questions and will gain confidence in calling the game as she gains experience.
Sophomore Karlee Westrich starts the year as the team's third. She already has two years of experience in the program, having been called up in eighth grade to fill a JV spot and then taking a varsity spot last year as a freshman.
Senior Sarah Dake started Tuesday's match as the lead and sophomore Lyza Brandner was the team's second. Both were JV team members last winter. Junior Jill Mahner took over for Brandner midway through the match and sophomore Anya Apfelbeck took over for Dake. Amundson said he'll be getting all six girls ice time through a rotation process as it stands now.
The boys start the year with an extremely inexperienced crew of four players, who hung in there early on in Tuesday's opener before D.C. Everest pulled away for a 10-1 win.
Sophomore Dalton Casar, after one year with the JV team, starts the season as the team's skip. Junior Tanner Cliver and freshman Brett Lundy are first-year curlers who filled the second and lead spots on Tuesday. The third spot was filled by Alex Wilson, who, like Westrich two years ago, is an eighth grad- er giving the team its fourth player.
Both teams will certainly learn a lot and improve a lot as they navigate this year's schedule against Medford's North Division rivals this season. The Raiders will play their traditional home-andaway matchups with Wausau East and West, Marshfield who Medford visits today, Thursday, for 3 p.m. contests, D.C. Everest, Stevens Point and Mosinee.
The Raiders will try their luck against some of the other strong teams the state has to offer at the two-day Tietge Bonspiel in Wausau Jan. 3-4. So far, the annual Battle of the Brooms matches with Portage are not on the schedule, but Amundson said the teams are still trying to find a date that may work for both programs.
The Wausau Curling Center will again host the two-day Wisconsin High School State Championships Feb. 14-15.