Posted on
Redmen hang with Raiders, Bucs at times in Marawood losses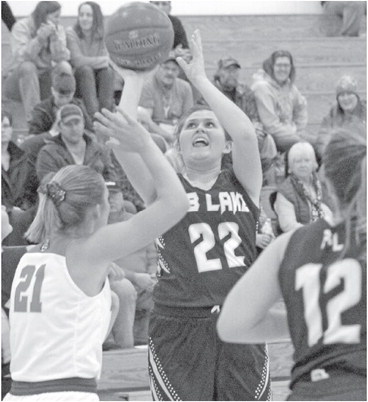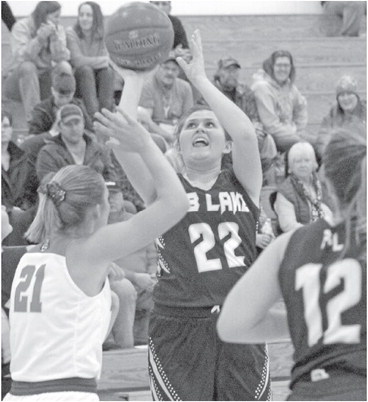 RIB LAKE GIRLS BASKETBALL
Rib Lake's hustle kept Monday's Marawood Conference crossover game close through halftime, but Marathon's defensive intensity wore the Lady Redmen down in the second half and allowed the Red Raiders to pull away for a 51-24 victory.
The offensive output wasn't particularly pretty for either team in the first half. Rib Lake made up for its shooting woes by making things happen with offensive rebounding, steals and drawing fouls with aggressive moves to the basket.
The Redmen fell behind 11-3 about 10 minutes into the half and it stayed that way for three more minutes before free throws by Savana Radtke with 4:59 left cut it to six. Nellie Hopkins answered a Bradyn Free bucket with a jumper and then a steal and score to pull the Redmen within 13-9.
After Marathon went on a quick 9-0 blitz, Molly Heiser scored on an offensive putback, Lauren Pelnis got a steal that led to a Radtke hoop and Heiser got another second-chance hoop with 40 seconds left that pulled the Redmen within 22-15 and put them in striking distance heading into the second half.
"I hope fans realize that we are playing hard," Rib Lake head coach Mike Wudi said after his young team fell to 0-3 in Marawood games and 0-4 overall. The team was playing its first game without sophomore guard Rebekah Strobach, who had played well the past two games but is going to miss some time with an ankle injury. "The kids know they're battling."
Marathon's ball pressure, however, got a little tighter in the second half and started forcing more turnovers and the Red Raiders simply started hitting shots to quickly put the game away.
Allison Wokatsch hit a 3-pointer to get Marathon's lead back to double digits at 28-16 with 14:16 and Anna Cleven followed with three straight buckets. A Free putback and a free throw by Wo- katsch capped a 15-1 run to open that half that made it 37-16 and put the game out of reach, though Radtke did her best to keep Rib Lake in it by scoring nine of her 14 points in the second half. In fact, she scored all of Rib Lake's second-half points.
Hopkins and Heiser finished with four points apiece and Mackenzie Weinzatl added an early hoop for the Redmen.
Free scored 10 of her game-high 16 points for Marathon (2-0) in the first half. Wokatsch added 12 points and Cleven had 11.
This was the first of six crossover games Rib Lake will play against Marawood South teams. The next one comes Friday when the Redmen play at Edgar at 5:45 p.m. in game one of a girls/boys varsity doubleheader. "Every game against the South is going to be tough," Wudi said.
At 7:15 p.m. on Tuesday, the Redmen will host a Phillips team that is off to a strong 2-0 start in Marawood North play.
Prentice 48, Rib Lake 31
Playing the defending Marawood North champions and one of the conference's top players on their home floor Nov. 26, the Lady Redmen did some good things but ultimately didn't have enough firepower in a 48-31 loss to Prentice.
The Redmen were nearly outscored by Prentice's standout senior guard Kaelyn Isaacson, who scored 29 points in her team's win –– 15 in the first half and 14 in the second half. She made 12 of 22 shots from the field, including four of 10 from 3-point range.
"Isaacson is a real nice player and in spite of our best efforts, she still had a big night," Wudi said. "Typical for her this season so far."
Rib Lake, who trailed 25-12 at halftime, got a nice night from Weinzatl, who scored 11 points and grabbed seven rebounds while hitting five of eight shots from the field. She scored nine of her points in the second half.
Strobach made two of three 3-point shots and finished with eight points. Pelnis had five points, 10 rebounds and two steals. Radtke had a team-high 11 rebounds to go with two points.
Rib Lake did a nice job overall rebounding, pulling in 39 compared to Prentice's 28.
"We played hard and held them in check offensively for a long time," Wudi said. "We rebounded well, limiting Prentice many times to one shot. Too many turnovers and unforced errors were our undoing. Once we learn to take care of the ball we will be much improved."
Rib Lake turned the ball over 31 times in the loss and forced Prentice into only nine.
Reagan Reinhardt made a 3-point shot and had three rebounds. Tia Bube scored two points. Jolee Gehrke had six rebounds and two assists.
Rib Lake made 13 of 40 shots (32.5%) overall from the field and Weinzatl made the team's only free throw of the night.
Kaitlyn Erickson scored eight points for Prentice, who was 20 of 66 (30.3%) overall from the field.