Posted on
Redmen easily take care of business in first two games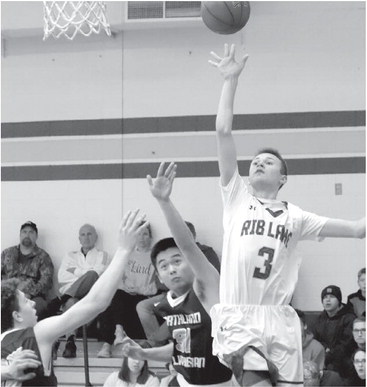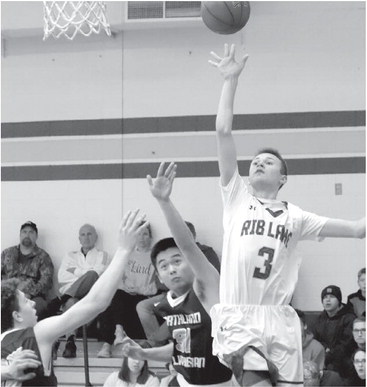 RIB LAKE BOYS BASKETBALL
The Rib Lake Redmen did what heavy favorites are supposed to do in their first two games of the new boys basketball season.
The Redmen improved to 2-0 on Tuesday, taking a commanding first-half lead for the second straight game and cruising to a 73-50 win over Chequamegon in the Marawood North opener for both squads.
The "big four" of Rib Lake's senior class took center stage with Levi Ewan and Nick Gerstberger scoring 18 points apiece, Devyn Vlach scoring 17 and Steven Petkau adding 11. Gerstberger notched his second straight double-double by pulling down 11 rebounds and he had two blocked shots. Ewan added seven assists, five steals, four rebounds and a blocked shot.
Vlach continued to lead Rib Lake from the outside, knocking down five of 11 3-point shots while adding seven rebounds, two assists, two steals and two blocked shots. Petkau missed a doubledouble by one rebound and had two assists and a steal.
Petkau, Ewan, Vlach and Gerstberger all had nine points in the first half and Vlach had eight with a pair of 3s as the Redmen built a 40-21 halftime lead. Vlach nailed three more 3s and had nine points, while Gerstberger and Ewan also had nine points in the second half, where the Redmen outscored the Screaming Eagles 33-29.
Ryan Patrick scored five points and had three rebounds in the win. Logan Blomberg added two points and two assists and Brock Thiede had a bucket, two rebounds and two steals before fouling out. Trey Klemann had three rebounds and an assist in nine minutes.
The Redmen didn't shoot quite as well as they did in their opener against Northland Lutheran. They were solid inside the 3-point arc, making 20 of 39 shots. Outside of Vlach, Rib Lake was cold from long range, making just eight of 32 3-point tries for an overall shooting percentage of 39.4%. Chequamegon was 21 of 59 overall from the field (35.6%), making 17 of 46 twos and four of 13 triples.
Rib Lake was nine of 14 at the free throw line, while the Eagles were four of six. The Redmen were again dominant on the glass, pulling down 46 total rebounds compared to Chequamegon's 34. Chequamegon turned the ball over 18 times and Rib Lake had 14 turnovers.
Chequamegon (0-1) got 13 points from its 6-5 sophomore Tanner Meier, eight of which came in the second half, and nine points apiece from Bret Beil (three 3-pointers) and Kevin Chao.
Rib Lake will head to Edgar Friday for their first Marawood Conference crossover of the season. That game will be the back end of a girls/boys doubleheader and will be Edgar's first of the season after the Wildcats' state football run. Rib Lake travels to Tomahawk Tuesday for a non-conference battle with the Hatchets and then travels to North rival Prentice on Dec. 13.
Redmen 84, Wildcats 40
Rib Lake head coach Carrie Ewan said the day before the Nov. 26 opener that she wanted to see her team shoot the ball with confidence this season. The Redmen did just that the next night, burying Northland Lutheran with an early barrage of 3-pointers in an 84-40 non-conference blowout.
Ten of Rib Lake's 13 made 3s in the win came in the first half when it blew out to a 32-6 lead in the game's first 10 minutes and a 54-22 bulge at the break.
The Redmen wound up shooting 49.3% overall from the field, including 21 of 35 from two-point range and 13 of 34 from long range in the easy win.
Levi Ewan hit 11 of 22 shots from the field, including five of 12 from downtown to lead all scorers with 29 points, while Vlach sank four 3-pointers in the first half and finished five of 11 from behind the arc while scoring 19 points. Petkau and Gerstberger also hit double figures with 12 and 10 points respectively. Gerstberger's 12 rebounds gave him a doubledouble.
Ewan just missed a triple-double as he added 10 rebounds and nine assists. Rib Lake had 15 assists, moving the ball well and unselfi shly throughout.
Northland Lutheran actually got the game's first points on a hoop by Gabe Gavinski and was within 6-4 on Gavinski's second hoop before Rib Lake went on an absolute tear. Vlach went backdoor and scored off an Ewan assist, Petkau's push led to an Ewan lay-in and Petkau and Ewan drilled back-to-back 3s for a 16-4 lead, forcing Northland Lutheran to call timeout just 4:49 into the game.
Ewan scored again, Vlach drained a triple and Ewan sank a 3 off a Petkau assist and Gerstberger scored in the paint to end the 20-0 run with a 26-4 lead. But trifectas from Ewan and Blomberg got Rib Lake rolling again. Vlach hit back-toback 3s and that was followed by Blomberg's second bomb from outside the arc to make it 44-11 with four minutes still left in the half.
Rib Lake started the second half with a 12-0 run that made it 66-22. The lead got as high as 52 at 79-27 when Ewan hit backto- back 3-point shots around the 11-minute mark.
Blomberg and Patrick scored six points apiece and Patrick had nine rebounds. Thiede added two points and two steals. Vlach had eight rebounds and two assists. Petkau and Klemann both had four rebounds.
Auggie Gavinski led Northland Lutheran with 17 points, including a trio of 3-pointers. Gabe Gavinski finished with 14. Northland Lutheran shot just 21.7% overall from the field, making six of 28 twos and four of 18 3-point shots. Rib Lake outrebounded the Wildcats 54-26.