Posted on
Evergreens outscore Raiders in fast-paced first game of season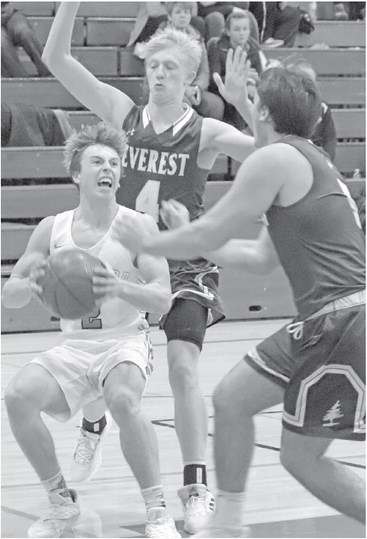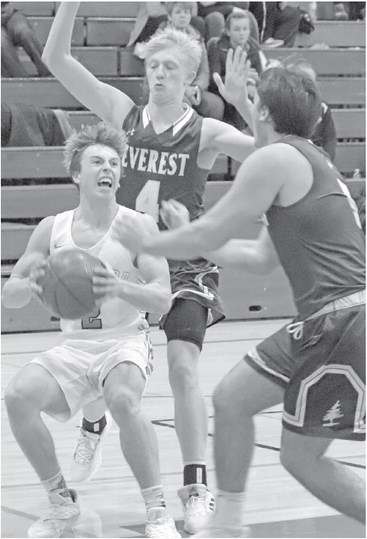 MEDORD BOYS BASKETBALL
Medford did enough good things to maintain belief it'll have a fine season, but D.C. Everest showed the Raiders there's still plenty to perfect in its 81-70 win in Tuesday's season opener for both teams at Raider Hall.
The Evergreens got the Raiders to turn the ball over 20 times and broke down their defense too easily at times while shooting 56.3% from the field and never trailing in the game. The Raiders pulled things together well enough to threaten the Evergreens at several points in a fast-paced and intense gameone battle, but the visitors hit a big shot or made a big defensive stop each time to curb Medford's momentum.
"We didn't do what we needed to do on the defensive end and what we kind of pride ourselves on," Medford head coach Ryan Brown said. "I thought we had possessions where we ran really good defense and kept the ball on a side and forced contested shots. Then, too many times we were just a little out of position and they did a good job of skipping the ball and moving things."
The Evergreens put three players in double figures, led by Bryan Halambeck's 21 points. Cade Sivertson scored 19 points, including four 3-pointers, all of which seemed to come at big moments. Alec Stuedemann added 17 points, 11 of which came in the first half.
The Raiders got a game-high 34 points from Peyton Kuhn, which is a new varsity career high for the junior. Ironically, his season-high last year was 27, also against D.C. Everest.
Kuhn scored 11 of Medford's first 12 points. The Raiders trailed 16-6 and 1810 before Kuhn's reverse lay-in, a Logan Baumgartner steal and score and a Doug Way hoop off a Cooper Wild assist got them back within 18-16 midway through the first half. Way scored again off a Kuhn assist to make it 20-18, then Everest went on a 13-4 surge to go back up by double digits at 33-22. It was 37-30 at halftime.
Medford's best offensive stretch came at the start of the second half. Kuhn and Justin Sullivan sandwiched 3-pointers around a Halambeck trey, then Kuhn scored inside off a Sullivan assist. Way scored inside to even things at 40-40 and Kuhn's driving shot later tied it at 42-42. The teams went back and forth but Everest always maintained the lead, which was 47-46 when the Evergreens went on a 9-0 surge that made it 56-46 and the Raiders never broke the two-possession barrier the rest of the way, getting only as close as six at 67-61 and 69-63 following buckets by Kuhn, who scored 19 secondhalf points.
"We had too many turnovers against their little three-quarter court press," Brown said. "I didn't think we ran really good offense in the first half, but in the second half we came out and set our screens, kept our spacing and got some nice cuts for backdoors and layups. We attacked better, so I was happy with our offense in the second half. It just comes down to when you play good teams and it gets late in the game you have to get stops. We maybe tried to do a little too much on the defensive end and they did a good job of attacking and then finishing and making their free throws."
Sullivan scored 13 second-half points and finished with 16 for the Raiders. Way scored eight and Baumgartner scored six. John McMurry added three points, Ty Baker had two and Brady Hupf hit a first-half free throw.
Medford shot a solid 50% from the field, hitting 24 of 48 shots overall, including six of 13 3-point tries. Everest though made 20 of 28 two-point shots and seven of 20 long-range shots and was a strong 20 of 25 from the free throw line. Medford was 16 of 27 at the stripe.
Medford outrebounded the Evergreens 27-26, led by the six boards Baker and Kuhn each collected. Kuhn had three steals and two assists. Sullivan and Way each had three assists, while Wild and Baker had two each. Way and Sullivan both had four rebounds.
"I thought offensively overall we did a good job of not pressing and forcing a bunch of bad shots," Brown said. "Defensively is where we have to be solid. Maybe we have to tone it back a little bit and just play solid and realize that's how we're going to win games."
Medford jumps into Great Northern Conference play Friday when it visits Antigo for a 7:15 p.m. tip time. The Raiders then go to Marathon Tuesday for a non-conference tilt before hosting Tomahawk on Dec. 13.