Posted on
Cornell-Gilman takes individual focus as participation numbers remain low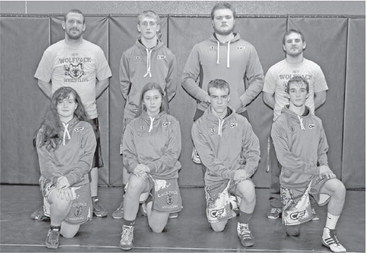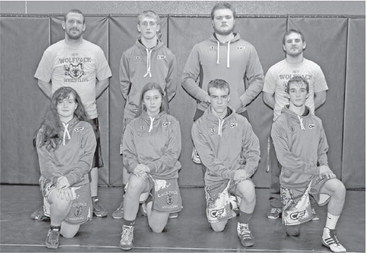 WOLFPACK WRESTLING PREVIEW
Like many of their small-school counterparts, dwindling numbers continue to be something the Cornell-Gilman Wolfpack will deal with during the 2019-20 season.
Starting the season with just six wrestlers, the Wolfpack's focus will have to be on individual improvement and success. The good news for seventh-year head coach Greg Sonnnetag and second-year assistant Justin Fredrickson is they believe they have wrestlers who will make some noise this winter.
"We hope to reach each athlete's individual goals and ultimately would like to have someone reach individual state tournament. We lost a couple of solid seniors and a couple kids to open enrollment, which will be tough to recoup from."
The most obvious loss was Spencer Kraus, one of two Wolfpack wrestlers to make it to the WIAA Division 3 state tournament at the Kohl Center in Madison last year. Kraus, who was 36-7 last year, the sectional runner-up and the Lakeland Conference champion at 160 pounds, and his sophomore brother Brooks (17-17 last year at 106 pounds), moved to Athens, where they are now attending high school. Two-time state qualifier Sam Pickerign graduated after a decorated prep career that saw him fin- ish with 119 wins.
That leaves the team's top leadership role with senior Ethan Person of Gilman, a three-time letter winner who has placed fourth in the last two Lakeland Conference meets, last year at 113 pounds and two years ago at 106 pounds. He hopes to follow in the footsteps of his brother Zach, who had things all come together for his senior year two years ago and made it to state.
Person is slated to start this year in the 120-pound weight class.
"He is a senior who understands expectations and leads by example," Sonnentag said.
Next on the list for varsity experience is sophomore Julian Krizan of Gilman, who jumped on board during the season a year ago and wound up faring pretty well, going 11-10 overall with a fifthplace regional finish at 152 pounds and a fourth-place finish in the conference meet that the Wolfpack hosted last February in Gilman.
The next member of the Person family should be a solid addition. Braeden Person, who has come up through the youth wrestling ranks, looks to fill the 138-pound spot.
Senior newcomer Andrew Olson of Cornell will give it a try at heavyweight. The team also welcomes two freshman females, Kalley Krizan of Gilman and Ali Blodgett of Cornell.
"We have some individuals with high expectations and we have a couple new to the sport," Sonnentag said. "Overall, I hope to have each wrestler maintain an above .500 winning percentage at their level."
The low numbers will make it tough to win dual meets, which there are more of this year after a reshuffling of the Lakeland Conference. Individually, though, the Wolfpack will try to make their mark at several familiar tournaments such as the season-opening Barron Invitational on Dec. 14, the Auburndale Invite on Dec. 21, the two-day Northern Badger Invitational at River Falls Dec. 27-28 and January meets at Cadott, Ladysmith and St. Croix Falls.
With the departures of Cameron and St. Croix Falls to the Heart O' North Conference, the eight remaining teams in East and West divisions of the Lakeland Conference have now joined forces to create a new dual-meet format for the regular season. They will all wrestle each other, with half of the teams each wrestling in an end-of-season quad to complete the round robin. Cornell-Gilman will join the Luck Co-op, Clear Lake and Flambeau at the Clear Lake Quad on Jan. 31, while Bruce, Unity, Turtle Lake-Clayton and Shell Lake will be at Bruce on Jan. 30.
The teams will all be at Flambeau on Feb. 8 for the individual conference championships. Cornell-Gilman finished seventh in last year's conference meet and 1-3 in the East Lakeland duals. Shell Lake was East's dual-meet champion, while St. Croix Falls was the runaway overall winnner at the Lakeland meet. Sonnentag pegged the Luck Co-op as the team to beat this year.
The Wolfpack's road to state has a new look as well. Cornell-Gilman will still start out at the Cadott regional on Feb. 15, but the rest of that field looks a lot different –– and likely tougher –– with Marawood Conference powers Stratford, Edgar and Athens among the teams in the mix.
Edgar will host the sectional meet on Feb. 22.
"We are low in numbers, but the athletes we have are determined and ready to work every day," Sonnentag said. "Each wrestler should get plenty of one-on-one with the coaches."
The Courier Sentinel provided information for this preview.