Posted on
'Jays facing some adversity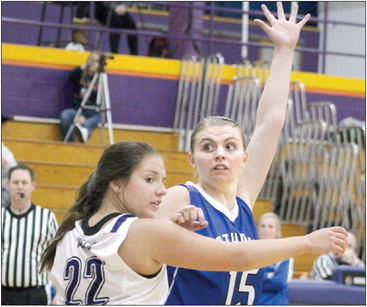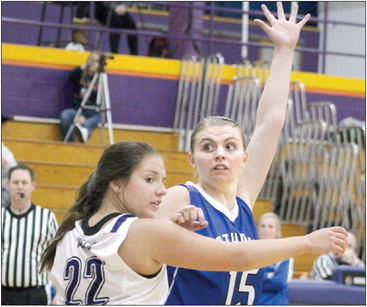 Coach says her players need to trust each other
By Casey Krautkramer
It's difficult for a new basketball coach at either a high school or college to immediately guide a team to a winning record.
Mike Krzyzewski "Coach K" of Duke has the most coaching victories in NCAA Division 1 men's basketball history, but things weren't so rosy at the beginning of his head coaching tenure, as his first two teams had a combined 21-34 record.
Kyncaide Diedrich, the new Athens varsity head girl's basketball coach, is facing similar obstacles this season as "Coach K" did in building his college men's basketball program at Duke. Athens won its season-opening game, 44-37 against Abbotsford at home on Nov. 21. Since then, Athens has suffered losses to Phillips, 69-59, at home on Nov. 26 and against Ladysmith, 59-16, on the road Monday.
The Bluejays were plagued by committing several turnovers against aan undefeated Lumberjills' team. When an Athens player stole the ball, the team would immediately give the ball back to Ladysmith, which would convert the turnover into points. Diedrich explained how Athens could rectify its issue turning the ball over so much in games, before the team faces yet another undefeated squad in Wausau Newman this Friday.
"Things we need to focus on are meeting our passes and being strong with the ball," Diedrich said. "I think our players need to trust each other more on the basketball court, because I feel there's a lot of mistrust out there. I had our players take small deep breaths during timeouts; I think they need a little reminder to just breath, especially since we are a young and inexperienced team this season."
Athens faced a 34-7 halftime deficit to Ladysmith, but to its credit, the Bluejays continued to play hard the entire game. For example, sophomore forward Elizabeth Van Rixel was fouled on her shot after grabbing a rebound. She sank one of two free-throw attempts to lead Athens with seven points against Ladysmith.
Beaming Bluejay
Diedrich has established a "Beaming Bluejay" award, which seniors Allison Wolf and Abigail Olson have received thus far this season.
"The girls who work hard in practice are pushing the starting players to do better, therefore this award is just something to recognize them and let them know us coaches are noticing them," she said.
Athens boys throttle Abby
The Athens boys basketball team easily won its season opener, 79-44, against Abbotsford on Tuesday at home. Senior Cameron Ford poured in a game-high 30 points and Cooper Diedrich added 24 for Athens.
Tiger girls achieve first win
Stratford's girls basketball team was victorious against Tomah, 51-45, in Monday's non-conference away game. Breanna Ackley scored a game-high 19 points to help the Tigers improve their record to 1-1 this season.
The team lost its season-opening game, 54-36, at Wausau Newman on Nov. 26. Ackley again paced the Tigers with 13 points in the loss.