Posted on
Raiders hope to benefit from experienced, veteran roster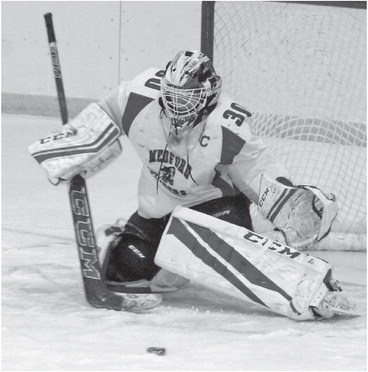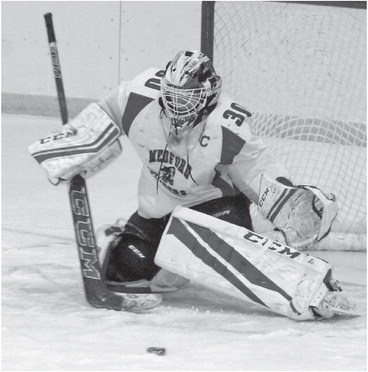 MEDFORD BOYS HOCKEY PREVIEW
The Medford Raiders begin the new hockey season with a roster heavy on experienced underclassmen and, arguably, better depth than recent years.
New head coach Galen Searles and second-year assistant Jesse Kreiner hope they can get those pieces to fit in the right places and give the Raiders a jolt after a couple seasons where wins proved difficult to get.
The 20-man roster starting this year features six seniors who return as letter winners, five juniors are back from last year and three sophomores who contributed a year ago. The freshman class is also adding a couple of potentially-strong contributors, adding to the excitement to start the new season.
For Searles, who moves up to high school coaching after several years leading teams in the youth ranks, having this kind of depth is something he's enjoying getting used to. He also said the physical strength and maturity of having an older team also stands out in practice.
"From the coaching part of it, I've never been privileged to have this many solid skaters all together because in youth hockey, you just have two ages at one time," Searles said Monday.
After officially starting practice on Nov. 11, the Raiders got the season started Tuesday night with a non-conference game at Shawano. The game took place after The Star News' early holiday deadline for this week. Medford's next game and its home opener is set for Friday, Dec. 6 at 5 p.m. against the Merrill Co-op at the Simek Recreation Center.
Searles felt the Raiders made a steady progression through the first two weeks of practices. Unlike past years, where practice times often flipped back and forth with the girls team, the Raiders have been consistently going early in the morning, which has allowed the players to settle into a routine. Focusing on a lot of individual skill work, conditioning and eventually more team work in those first two weeks, the coaches were anxious to see what it looks like now that games are about to begin.
"One thing we like to do is break them up into small groups and work more on their skills in practice," Searles said. "A lot of times they can get more done that way than with everyone just being in one group. We have been hitting the conditioning hard, so hopefully that's good right off the bat. I do a lot of research and always have a practice plan. We'll work on a set of skills one day and then it's a progressive plan from there. The next day we'll do the same drill but modify that and build off it."
Offensive lines and defensive pairings started to come together last week. Searles is excited about Medford's defensive potential.
It starts with senior goaltender AJ Adleman, who had an .880 save percentage in 21 starts last winter when he compiled nearly 850 saves in his first season as the full-time starter.
"He is a relentless worker," Searles said. "He's always working to try to get better. I expect he'll have a great season. Hopefully we'll have a strong group in front of him to help him do his job."
The solid core of five defensemen who will see the most time to start the year includes seniors Dalton Hraby and Austin Waldhart, juniors Logan Searles and Warryck Leonhardt and freshman Miles Searles. Logan Searles earned honorable mention in the Great Northern Conference as a freshman as a defenseman and had three goals and 10 assists last year. Hraby, Waldhart and Leonhardt are multi-year letter winners while Miles Searles has come up through the youth ranks and is ready to contribute.
"Hopefully they can keep the puck away from the front of the net," coach Searles said.
Offensively, the Raiders have some production to replace with the graduations of last year's leading scorers Charlie Branstetter and Alex Carstensen. Juniors Colton Gowey and Carter Pernsteiner and sophomore Brayden Machon will get the first shot as the Raiders' top scoring line. Pernsteiner had seven goals last year before being lost to injury late in the season, while Gowey had three goals and six assists while missing some early time to injury and Machon scored two goals and had two assists in his freshman season.
The second line has plenty of hockey experience and the potential to add some scoring punch with senior Kyle Petrick, freshman Connor Gowey and junior Blaine Seidl. The coaches feel there is enough depth to fill a third line that will be able to hold its own when it's on the ice, giving the first two lines breathers.
Passing among the forwards has been the earlyseason emphasis, according to Searles.
"We want to keep the puck moving rather than having a single guy taking it up the ice," he said. "With some of the solid teams we're going to play, you're not going to be able to just have one guy skate it up. It has to be a team effort. The puck moves faster when you're passing it. So we've been really focusing on our passing."
Adding to this year's depth are returning seniors Conner Carbaugh and Brody Brunner, junior newcomer Alex Gilbertson, returning sophomores Colbe Bull and Ben Brunner and freshman Jake Noland. Foreign exchange students Marvin Abram from Switzerland and Taksaphol Wongsaen from Thailand are also giving the sport a try.
Everyone is hoping it all adds up to a season that will be better than Medford's 3-19 that included an 0-7 record in Great Northern Conference round-robin play, three losses in the GNC tournament and a tough 4-3 loss to the Altoona Co-op in a game Medford led 3-0 in the third period in the first round of WIAA tournament play.
Two of last year's wins came against the Chequamegon Co-op, who the Raiders will see twice in a quick span between Jan. 23 and 31. The other came against the Viroqua Co-op, who Medford visits on Dec. 28.
The second annual GNC tournament starts with first-round games on Tuesday, Feb. 4. Round two is Feb. 11 and Northland Pines will host the placement games on Saturday, Feb. 15.
Northland Pines is the defending tournament and overall conference champion. The Eagles were a perfect 10-0 in league games, while Waupaca was second in the round-robin games and the tournament.
This year also marks the debut of a two-division WIAA tournament. There are 32 teams in Division 2. The Raiders are in an eight-team sectional bracket that still has perennially strong programs like Superior, Hayward, New Richmond, Rice Lake and the Amery Co-op. But the Raiders won't have any chance of seeing big-city powers like Eau Claire Memorial and North or Chippewa Falls like years past.