Posted on
Motivated by last season, Redmen aim for bigger and better year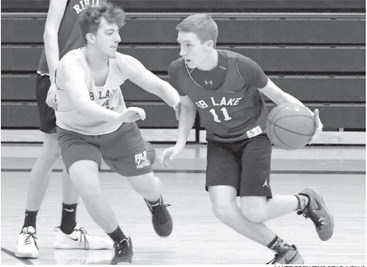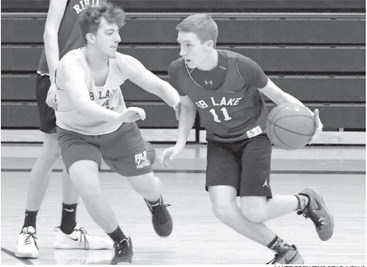 There are a lot of boys basketball teams who would take a second-place finish in their conference and advancement to a WIAA regional final round.
The Rib Lake Redmen of 2018-19 were not one of those teams.
With most players returning from the previous year's Marawood North and WIAA Division 5 regional championship squad, the Redmen entered last winter with high hopes. But they were upset by Abbotsford on opening night and they'd probably tell you they never really got to the level of play they thought they could get to in a 16-8 season that ended last March with a 50-43 regional final loss to visiting Athens.
Fast forward to now and there appears to be a more relaxed yet confident and focused vibe within the 2019-20 squad, which was scheduled to open the new season Tuesday with a non-conference game against Northland Lutheran. The game took place after The Star News' early holiday deadline. That vibe starts at the top where secondyear head coach Carrie Ewan said, without a doubt, she feels more comfortable in the position.
"I think their confidence is better than what it was last year going into this," Ewan said as the team wrapped up its Monday practice. "I think they feel better about the way practices have been going. Maybe just having me have that year in also has helped. Maybe they were a little bit nervous about how it was going to go. We're excited to get into this (Tuesday night)."
The team is led by the four-member senior class of Levi Ewan, Nick Gerstberger, Steven Petkau and Devyn Vlach, who have been teammates since elementary school and are determined to end their run the right way.
"We were ready to get back in the gym the day after that last game (last year)," Gerstberger said.
Eight months later, the seniors still feel they came up short of expectations. But they are intent on channeling that disappointment the right way.
"That is going to motivate us a lot," Vlach said.
"That has motivated us all year," Levi Ewan said. "I think that's helped us a lot this year."
"That's definitely been our biggest motivation this year," Petkau said.
"We still talk about it probably almost every day," Ewan said.
"We don't want to, but we do," Petkau said.
Their gym-rat mentality was evident again this summer with weekly league play, four tournaments attended, weight lifting and, as Gerstberger said, "just getting as many guys together as we can to play basketball."
"They've been motivated all year long and working hard," Carrie Ewan said. "A lot of them hit the gym this year, were lifting weights and running. They're playing and shooting all the time. We actually did a lot more things this year as a team (in the summer). In the past, a lot of times these guys would play on an AAU team or something and we'd get scattered out. But this year, we focused more on getting everybody involved and got into a lot of team tournaments. We're hoping that benefits everybody."
Juniors Ryan Patrick and Brock Thiede figure to make major contributions to the varsity team this season. Sophomore guard Logan Blomberg could be a key piece to the puzzle as well, and sophomore Trey Klemann will see some time too while splitting minutes with the JV. Freshman Michael Borchardt and junior Matthew Siroin could get varsity minutes too.
"Logan has really stepped up and improved over the summer greatly," Carrie Ewan said. "Brock has done a great job. He was a big player last year for the JV. He's just a hustler, he's a smart ball player. So we're looking for some good things out of him. Ryan, we actually pulled him up and he stepped in during a few games and really helped us out on the inside when our big guys got in foul trouble or when Zane (Schreiner) was out with an injury. We're not real deep on the bench, but I think the guys we got are tough. They're focused and they work hard. I can't say that they don't give their all in practice."
Ewan and Gerstberger start their fourth varsity seasons as the players each Rib Lake opponent will squarely focus on. Ewan, the 2017-18 Marawood North Player of the Year and a twotime first-team All-North pick, averaged 16.9 points, 4.5 assists, 3.1 rebounds and 2.2 steals per game a year ago. Gerstberger, averaged 14 points and 8.3 rebounds per game in the post, but also is a capable passer as his 2.5 assists per game showed and he can hit the occasional 3-pointer as well.
But the contributions Petkau and Vlach will make will be just as important to this year's success.
Vlach started his year with a bang by hitting a dozen 3-point shots in the second half of the team's scrimmages Thursday with Gillett and host Three Lake. He hit 30 trifectas last year, which ranked second on team.
"Definitely I'm going to have to step up," Vlach said. "(Last year's minutes) really helped me."
Petkau has had a sizable role for two years and that should expand this year. He averaged 8.9 points, 5.5 rebounds and 2.5 steals per game last year.
"Devyn put in a lot of time and has done so much shooting," Carrie Ewan said. He made 12 threes at that scrimmage. We expect a lot of good things out of him this year from the outside. He's a great outside shooter. Steven Petkau, he's an inside/outside player. He can do it all. He's so long and so tall. He can do a lot with that size and he can play a little guard if we need him to. His shot has really improved from the outside as well.
"So it's not just one guy that you have to stop or two guys," she added. "We have a lot of guys for teams to try to stop. Hopefully that takes a little pressure off of Levi. He's the guy who's been face guarded in the past and harassed. Nick still plays big on the inside, works really hard. He's very determined."
If there is one area coaches and players alike want to see get better, it's on the defensive end. So far, that emphasis seems to be producing the desired results.
"Our defense has improved a ton over last year," Levi Ewan said. "In summer league, our team defense was really good. "We were just harassing teams, rotating really well," Gerstberger said. Rib Lake is a contender in this year's Marawood North race, but they aren't expecting a title to come easily. Athens, who won two of three meetings last year, isn't going away and Prentice still has two Marawood North award winners from a year ago in Peyton Enders and Trent Heikkinen. Abbotsford has one of the league's top returning players in junior Cade Faber and despite some heavy graduation losses, including Player of the Year Austin Edwards, Carrie Ewan said Phillips is still very well-coached and had some good-looking JV players last year who could step up. The six crossover matchups with Marawood South teams, which count as conference games, are something Rib Lake is looking forward to as well. "The South is crazy strong, so we look forward to play that," Carrie Ewan said. "Those are good challenges for us. We're fortunate to play those teams in the South all season long just to see that strength and those good teams before we head into the tournament."
The tournament run will have a different look as the WIAA switched Rib Lake and Athens to the northeastern Division 5 sectional, whose defending champion is Columbus Catholic.
"We have to give it all we got. No regrets," Petkau said.
"We want to go out on a high note," Gerstberger said. "We've been playing with each other forever. We just play good basketball together. We know what each other is going to do. It's fun to play with your friends."
"It has to be one game at a time, but we're capable of doing everything," Levi Ewan said. "We don't want to predict anything. But we know what we can do."