Posted on
RAIDERS BELIEVE THEY'LL CONTEND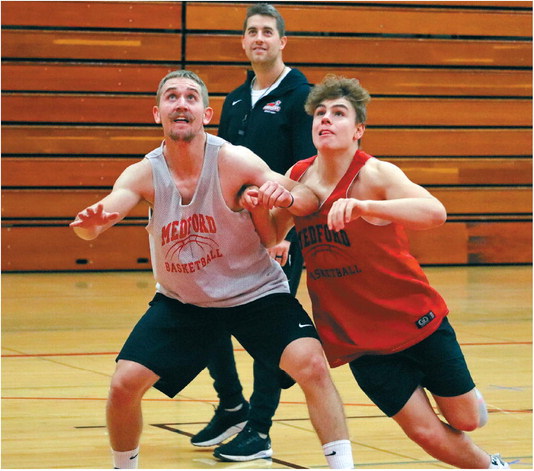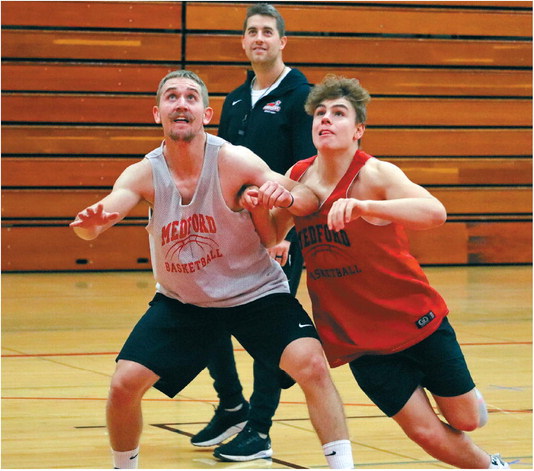 MEDFORD BOYS BASKETBALL PREVIEW
Depth, experience fuel optimistic outlook
In the 2016-17 boys basketball season, the Medford Raiders made the jump from 10 wins the previous season to 20 wins and gave their fans a memorable ride to Great Northern Conference championship and WIAA Division 2 regional championships.
Head coach Ryan Brown certainly isn't making any bold predictions after one week of practice or trying to closely compare that squad to his current one.
But there is a similarity that does stand out to him as the journey for the 2019-20 team begins. This is an experienced team that, between its junior and senior classes, has reached the physical maturity required to make a significant jump after winning –– you guessed it –– 10 games a year ago.
"We've got a lot of guys who can physically play now," Brown said Friday as the team reached the end of its demanding first week of two-a-day practices. "You saw it with that 2016-'17 group from their junior year to their senior year. They're so much physically better. They just see the floor better. The game has just slowed down. Our sophomores to juniors are the same way."
After a 1-7 start to last season, the Raiders slowly but surely improved a year ago and wound up tying Antigo for second place in the Great Northern Conference at 7-5. Though they never quite got back to .500 overall after winning their opening game and finished 10-14, momentum and confidence built in the second half and it continued over the summer, creating a team that Brown and his staff is excited about.
Fans will get their first chance to see it Tuesday, Dec. 3 when the Raiders host D.C. Everest in non-conference play at Raider Hall at 7:15 p.m. Conference play starts Dec. 6 at Antigo.
Medford brings back nine letter winners from last year's squad, though junior Nate Retterath won't be able to play this season as he recovers from a football knee injury. They add some solid prospects from last year's JV team and get a freshman addition in Logan Baumgartner who has shown the potential to be a significant contributor.
It adds up to a team Brown sees as being quite deep and capable of using several different combinations to take advantage of whatever matchups opponents present.
"It will be fun," Brown said. "I think we'll have a successful season if we do the little things and play as a team. So far that's looked really good this week. We're sharing the basketball, helping each other out on defense and encouraging each other. We're really looking for that. That's going to be the key to our season, how we play as a team and how we support each other."
The seven-man senior class includes GNC honorable mentionees from a year ago Justin Sullivan and Doug Way, along with two-year letter winner John McMurry, returning letter winners Onyi Ekwueme and Mason Rudolph as well as Cooper Wild and Dylan Wickersheim.
In the junior class, Peyton Kuhn returns as a focal point of Medford's attack after his All-GNC sophomore season, while Brady Hupf and Ty Baker are players to watch and Owen Wipf may contribute. Sophomore guard Joey Sullivan and Baumgartner round out the squad.
Defensively, the Raiders will continue to pressure from end to end and try to make things as uncomfortable as possible for opposing ball handlers. That's a strength of guards like Ekwueme and Justin Sullivan, who both averaged over a steal per game last winter.
Brown noted while this is still not the tallest team around, it possesses some of the best size the Raiders have had in some time with Way, Hupf and Baumgartner all getting up toward 6-2 and several of the guards being in the 5-10 to 6-1 range.
The play of Way and Hupf in the post will be keys to Medford's success.
"It will be fun to see lots of different combinations, combinations where we don't have Brady or Doug in or combinations where we have both of them in. We'll have combinations where we just have one of them in. We'll have a lot of different looks we can show teams. But Brady and Doug have really learned. We call them engineers. We say, 'you're the engineers of the offense. How you screen to open up somebody and then to get yourself in the post is big.' I thought we started to get pretty good at that last year." Also from an offensive standpoint, Kuhn averaged nearly 17 points per game a year ago and was easily the team's top 3-point shooter. Brown said his game should evolve in his third varsity season, but he should have help in the outside shooting department from players like Rudolph, possibly both
Sullivans, Baker, Baumgartner and others.
"I think Peyton's going to be attacking more," Brown said. "We're trying to get him and John McMurry and some of those guys to post up in our offense too because they're going to get smaller players. I think Peyton's hopefully going to continue to grow and develop his game. He's going to get a lot of the attention, but I think we're so much better all around him."
Baker made a name for himself on the varsity last year with his sheer hustle. "He might be the guy that's finishing the game because defensively when you need a stop, he will get a stop and he can shoot it really well," Brown said. "That's what people don't know about him. We're trying to get him to shoot it more. He's a guy who's good in practice, but he's great in games. He's going to beat you down the floor 10 out of 10 times and he's going to get every loose ball."
The Raiders will need that kind of all-around effort from everyone to get where they want to be against a challenging schedule. In the GNC, Mosinee is the defending champ and brings back Player of the Year Luke Spink and All-GNC first-teamer Cyle Kowalski from a team that went 12-0. Rhinelander and Antigo, as always should be tough. Lakeland can never be discounted and Northland Pines brings back a Player of the Year candidate of its own in Ryan Peterson.
Outside the GNC, Medford will take on Division 1 squads from D.C. Everest, Chippewa Falls and Wausau West. The Raiders will attend Shawano's Sun Drop Invitational Dec. 26-27 and face Green Bay Southwest and always-good Seymour. In Wisconsin Dells on Jan. 11, they'll face North Scott, Iowa a team that was a state semifinalist last year.
The end of the year brings a big change as the WIAA flipped Medford to the western end of the Division 2 sectional. Instead of facing familiar GNC and Wisconsin Valley Conference teams in regional play, Medford may have to go through monsters like La Crosse Central, Onalaska, Holmen, River Falls or Rice Lake just to get to the sectional final. Brown was not initially happy to see that change and he expects Medford to be at a disadvantage at the seeding meeting because of a lack of common opponents. But he and the team have accepted it and Medford has already scheduled games next year against La Crosse Central, La Crosse Logan and River Falls.
"It is fun because it will give us a chance to play different teams," he said. "I think our style is different so we might surprise some teams that don't get to see us. I think the kids are excited for opportunities to go try to play an Onalaska or a Central.
"This year all comes down to if we buy in 100%," Brown added. "Last year we slowly got there. It's got to be for the team, not individually. It has to be about every possession playing the defensive end not just thinking we're going to outscore teams. Maybe in some ways that's true that we can outscore teams, but when you get down to it, when you want to win big games, it comes to what you do defensively."