Posted on
Pirates get out to a quick start, destroy Rockets in opener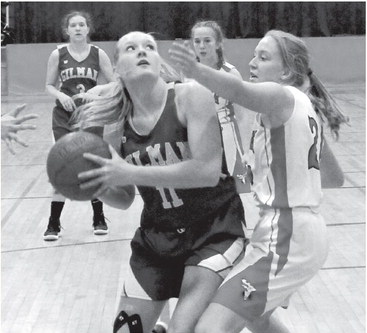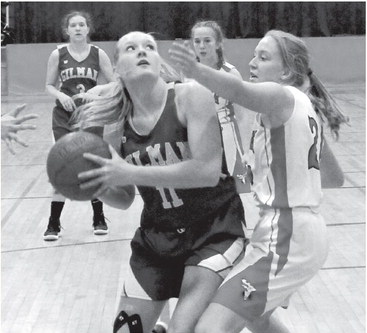 GILMAN GIRLS BASKETBALL
The Gilman Pirates started fast and set a strong tone for the 2019-20 girls basketball season on Friday in a 62-25 rout of host Spencer in the Eastern Cloverbelt Conference opener for both teams.
The Pirates tore out to a 23-2 lead in the first six minutes and led 47-9 to start the second half while sailing to victory in their season debut. The Rockets fell to 1-1 overall.
"We came out strong," Gilman head coach Tammy Weir said. "I really feel that our starting five players this year are the strongest Gilman has seen in quite some time. And with the opportunity's that the subs are going to see this year, we are going to have some great depth as the year goes on."
The first-half jump that starters Emma Warner, Grace Grunseth, Emma Grunseth, Lydia Syryczuk and Aubrey Syryczuk gave the Pirates assured there would be ample second-half playing time for the varsity subs in this one.
The Pirates shot well, hitting 25 of 54 shots overall from the field (46.3%), including 20 of 43 on two-point shots and five of 11 from 3-point range. They forced 18 Spencer turnovers and turned several of those into points.
"We outrebounded Spencer 33-19 and kept our turnovers (12) low," Weir said. "We really need to stay around the 10-12 turnovers this year and we are looking to score 60 points per game. With our defense, this will get us the winning season we are looking for."
Grace Grunseth made six of eight shots from the field and finished with 12 points, five rebounds, four assists and two steals. The other half of Gilman's one-two senior punch, Emma Warner, had 12 points on five-of-10 shooting from the field and added six rebounds and two assists. Senior Lydia Syryczuk was three of six in 3-point shooting and scored 11 points, adding four rebounds, two assists and two steals.
"Our captains really lead this team and are doing a great job on and off the court," Weir said. "I am so proud of them."
Sophomore Emma Grunseth had a solid all-around showing with nine points, five rebounds, two assists and two steals.
Freshman Tatum Weir debuted with 10 points while making four of five shots from the field and four rebounds.
Madisyn James had four points and three rebounds off the bench. Aubrey Syryczuk had a bucket and a team-high five assists. Ava Gunderson scored a second- half bucket.
Weir said Gilman does need to improve on its 50% shooting from the free throw line (seven of 14).
Spencer was just 11 of 43 overall from the field (25.6%) and three of eight from the foul line. Heavyn Kind led the Rockets with six points.
Gilman hosted Loyal on Tuesday and will host Neillsville in a big early-season Eastern Cloverbelt clash at 7:15 p.m. on Thursday, Dec. 5.