Posted on
Local high school student athletes end their fall sports season on a high note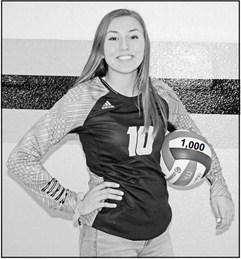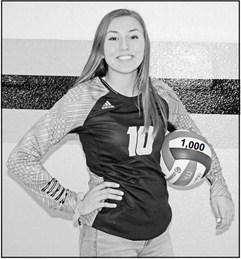 1,000
1,000
1,000
The fall high school sports season is a wrap, but for four area student athletes, their accomplishments are what dreams are made of.
After playing varsity volleyball for Cadott for two years, senior Abby Eiler reached a milestone Oct. 22, against Nekoosa in the first round of the WIAA playoffs. There, among her home crowd, Eiler went over 1,000 assists in her high school career.
"I knew I was close, because the coaches keep stats and I figured out where I was at," said Eiler. "I felt so proud when I reached 1,000, because all my hard work finally paid off, and I reached my goal and got 1,000."
The Hornets won that game, giving Eiler another shot to add more assists to her record, finishing her high school playing career with 1,028.
"I am very thankful for all of my teammates and coaches," said Eiler, "who pushed me every day in practice, to reach my potential and get to 1,000 assists."
It was a great end to the 2019 football season for senior Brady Spaeth, as, in his last game as a Hornet, he went over the 1,000 yard rushing mark. The last game fell at home, Oct. 18, where Spaeth ended his high school career with 1,229 rushing yards.
It was the last time Spaeth, or anyone on his team, will play in the Cloverbelt Conference, as the Cadott football program moves to the Dunn-St. Croix Conference, as part of the WIAA's statewide conference re-alignment plan.
To finish off the Hornets' time in the Cloverbelt, Spaeth made sure he left the conference with something to remember him by, as he was also the leading rusher conferencewide, which is no easy feat, given the competition.
"I think it's awesome, being able to rush that many yards," said Spaeth. "It's been a while since we had a 1,000 yard rusher."
Player of the Year
For junior Tate Sauerwein, he accomplished three big things this football season, capping off a good year for his co-oped Knights team. Sauerwein caused his coach, Troy Story, to hand him an award Nov. 4, that brings a laugh.
To throw off the youth, Story began by handing Sauerwein a small plumber's helper, which signified the junior's habit of saying words that might not be acceptable. But, it was all a cover, as Sauerwein's award actually came in the form of the Lakeland Conference Offensive Player of the Year.
"Honestly, I had no clue, but when he said that, I was super happy about it," said Sauerwein. "With the work I did, I think it paid off."
Sauerwein also went over 1,000 yards rushing this season, reaching that mark Oct. 18, on the road against Grantsburg. He ended the season with 1,071 yards, a big change from his sophomore year, where he only had several hundred yards as a second string player, and was named to the All-Region team.
While his parents pay for his gym membership and talk football with him all the time, Sauerwein says the work he puts in rests on his shoulders.
"The work I did for it (football), it's nice seeing your work pay off, but I always want to be getting better, so next season, 1,000 isn't good enough for me," said Sauerwein. "I want to go to the next level or even the level past that, next season."
Bryanna Bonander • Cornell
Although basketball is her favorite sport, nonetheless, volleyball is something senior Bryanna Bonander is good at, as evidenced by this year's post-season. Bonander was named as the Lakeland Conference Player of the Year Nov. 5, something she says she never imagined in her wildest dreams.
"Volleyball's never really been my sport, so I was not expecting it at all," said Bonander.
Bonander played all four years on varsity, starting at right side her freshman year, then changing to setter and right side her sophomore year. Her junior and senior years were spent as setter and middle hitter.
"Probably the middle, my hitting was the best this year," said Bonander.
Even though she was surprised to receive the conference coaches' voted award, Bonander says she is very happy it worked out that way and is glad she has always worked hard at her three sports.
"It (Player of the Year) meant a lot to me, because, being a three-sport athlete and being good at all three, is always something I've kind of strived for ever since I was a kid," said Bonander. "That's something I hold very close to me, is being able to accomplish things in sports."
Brady Spaeth • Cadott
Tate Sauerwein • Lake Holcombe