Posted on
First North wins slips out of Rib Lake's grasp in 43-41 defeat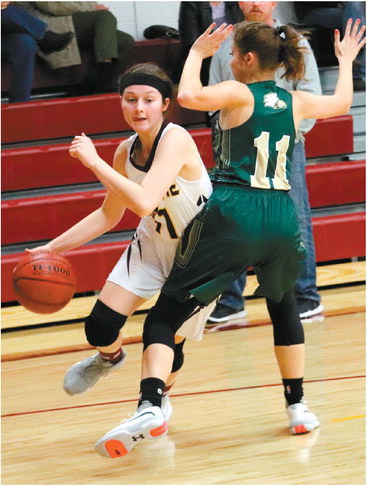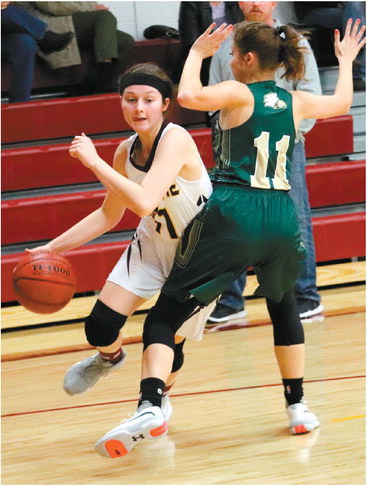 RIB LAKE GIRLS BASKETBALL
There were plenty of teachable moments Thursday night, moments Mike Wudi is sure his Rib Lake girls basketball team will learn from.
Unfortunately, there were just a few too many of those moments that allowed Chequamegon to get out of town with a 43-41 win over the Lady Redmen in the teams' Marawood North opener for 201920.
Rib Lake led throughout the first half, building a lead as high as 12, but Chequamegon built some momentum toward the end of the half and carried that over into the second half, quickly taking the lead. That lead traded hands a couple of times before the Screaming Eagles took the lead for good with just under seven minutes left and held off Rib Lake's late attempts to snatch it back.
The Screaming Eagles won their second close game in three days to go to 2-0, while the Redmen fell to 0-2 overall.
"It's just an accumulation of so many little things we just have to work on," Wudi said afterwards. "We're a work in progress, but we'll get better. I just like the vibe of this group."
The downsides to the loss were Rib Lake's woeful free throw shooting (three of 15) and too many missed opportunities to score from close range.
The positives, though, were a doubledouble from Savana Radtke, more offensive aggression and a notable drop in turnovers from Rib Lake's 57-21 loss to Columbus Catholic two days earlier.
"Savana is playing hard," Wudi said of Radtke, who scored 11 points and grabbed 12 rebounds in the loss. Senior Mackenzie Weinzatl wasn't far behind, scoring 10 points and pulling down seven rebounds.
Defensively, Rib Lake put the clamps on Chequamegon through the first 14 minutes. Radtke opened the scoring with a 3-pointer, while Rebekah Strobach and Lauren Pelnis added treys of their own. Weinzatl's score off a baseline inbound play and a free throw by Pelnis gave Rib Lake an 18-6 advantage with 6:05 left in the first half. Jolee Gehrke drove the baseline and drew a foul, making one of two frees to make it 19-9 with 3:41 left.
"We took it to the hole tonight," Wudi said. "On Tuesday we were standing on the perimeter just afraid to attack. There were opportunities. We worked on attacking the rim (Wednesday) night."
The Redmen went cold after that and the Eagles crept back in it, getting a hoop from Jovinelle Miguel off an offensive rebound and a 3-pointer from Josi Orr with 10 seconds left to pull within 19-14.
Chequamegon then opened the second half with a 10-3 surge, capped by another Orr 3-pointer, to take its first lead at 24-22 with 14:15 left in the game.
The Redmen answered, getting a Molly Heiser hoop off a press break to tie it. Strobach sandwiched two makes around a Weinzatl score and then sank her second triple of the night to give the Redmen a 33-26 lead with just under 12 minutes left.
Chequamegon didn't quit and started to get numerous second and third chances by attacking the offensive boards. A putback by Shea Mineau gave them the lead and Orr's third 3-pointer of the night with 6:19 left capped an 11-0 run that put the visitors up 37-33.
Jeanna Scanlon added a free throw at the 5:22 mark before Rib Lake started chipping away again. Radtke scored twice to cut the deficit to 40-37 and Weinzatl put back a missed 3 by Pelnis to make it 41-39 with 1:20 left. The Redmen forced a turnover and got the Screaming Eagles to miss four free throws in the final minute, but Orr finally put the game on ice with two free throws with 7.3 seconds left. Weinzatl's bucket at the buzzer could only close the gap to two.
Strobach gave the Redmen a nice second- half spark and joined the seniors as a double-digit scorer with 10 points. Pelnis scored seven, Heiser scored two and Gehrke had a point. Pelnis had six rebounds and four steals. Radtke had four steals. Gehrke had four rebounds.
Orr led all scorers with 17 points, while Lainie Heizler added 10 points for Chequamegon.
Rib Lake was at Prentice Tuesday. The defending Marawood North champs dropped their league opener Thursday 79-74 in overtime at Phillips. The Redmen host Marathon Monday at 7:15 p.m.
"We're going to be better," Wudi said. "We've got some quality matchups coming up. It's going to be a baptism by fire. But we're going to learn. This team will practice hard. Our whole big thing is are you better than you were last night?"