Posted on
Plenty of new names and faces as Pirates tip off new hoops season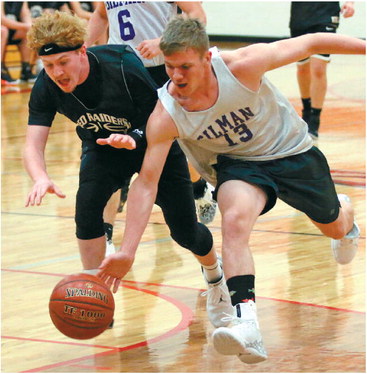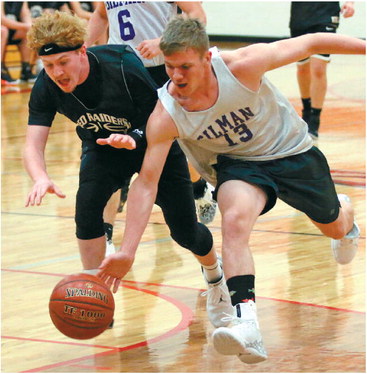 GILMAN BOYS BASKETBALL PREVIEW
In his first season as head coach, Wade Hendricks was able to rely on four strong seniors and a trio of solid juniors in leading the Gilman Pirates to a 13-10 record and their best boys basketball season since 2010-11.
With those four seniors no longer available, Hendricks and the Pirates figure to experience a larger learning curve this winter in their quest to remain in the upper half of the Eastern Cloverbelt Conference standings.
This year's Pirates bring back just two major contributors from last year's varsity in senior guards Blake Wisocky and Ethan Grunseth. Ankle surgery is likely going to knock out senior center Joe Olson.
Fortunately, two junior additions have arrived and should offer immediate help. The rest of the "stepping up" to fill the gaps left by the graduations of firstteam All-ECC performer Aaron Nagel, honorable mentionees Dallas Skabroud and Torgor Crick and multi-year starter Trevor Schmitt falls on players who did most of their work at the JV level.
Gilman's first test came Monday night at Bruce, where the Pirates scrimmaged the host Red Raiders, Cadott and Lake Holcombe.
"It went OK," Hendricks said. "We have a lot of things we have to fix and a lot of new players playing on the varsity."
The scrimmage session followed a full week of practice and offered plenty of correctable teaching points heading into Gilman's season, conference and home opener, set for Tuesday, Dec. 3 against the Loyal Greyhounds. That will be followed by a major test Dec. 5 at Neillsville, the team Hendricks views as the favorite in this year's conference race.
Grunseth is Gilman's top returning scorer and ball handler. He averaged 5.4 points, 3.4 rebounds, 2.8 assists and a steal per game in his junior season and made 15 3-point shots. Wisocky also hit 15 3-pointers and averaged 1.9 rebounds per game off the bench.
They both step into much larger starting roles as seniors.
"They'll be our leaders on the court," Hendricks said. "With Dallas, Aaron, Trevor and Torgor gone, they'll definitely need to take leadership roles. They're kind of quiet guys. But hopefully they will step up."
Jordan Goebel is the team's third senior. He's a guard who Hendricks hopes will add some shooting strength after playing at JV level last winter.
Connor Mravik, Isaac Wininger, Grant McFadden and Hunter Tischer are juniors who also primarily saw JV action last year, but got a handful of varsity minutes. Hendricks said Mravik and Wininger, in particular, are looking to make varsity jumps.
Additions in the junior class that Hendricks said will definitely help out the team this year are Peyton Heiman, who has moved from Neillsville into the Gilman district and Andrew Hecker.
Heiman got some varsity experience with Neillsville a year ago. He adds a post presence for the Pirates but also can shoot a bit from the outside. Hecker is a shooter, ball handler and leaper as evidenced by the dunk he put down Monday in Bruce.
Heiman and Hecker both are lefthanded shooters, as is Goebel, giving Gilman three lefties on the varsity roster.
Hendricks mentioned sophomore post Zack Marion as another candidate for potential varsity minutes. Offensively, Gilman isn't blessed with a ton of size, but has a handful of players who can knock down shots. One of the keys, especially early in the season with the team's relative inexperience, will be how well the Pirates can handle the basketball, particularly against pressure defenses.
"Ethan is a really good ball handler," Hendricks said. "We'll need him to step up because of the people we lost. He'll play the point guard position most of the time. Andrew is pretty good. Peyton has good ball skills in the post. Connor is using his left hand more."
The first week of practices showed some rough offensive edges that Hendricks said can be smoothed in time.
"We still struggle just with a lot of guys being new and then trusting and understanding what we're doing,' he said. "Guys will flow and cut and then all of sudden we're unbalanced with three guys on one side of the court and nobody in the middle. That's the kind of stuff we're still working on and spacing the floor and figuring out where we need to be to get shots."
The scrimmage Monday showed some of the early kinks to work out defensively, mainly remembering help responsibilities and backside rotations. Hendricks said he would like to use a mixture of man-to-man and zone defenses and install a couple of presses.
"I've been trying to put in some packline things a little bit, dropping below guys and then helping and doubling to try to get the ball out of the post," he said. If it all comes together, the Pirates hope to make a run toward equaling their 9-6 ECC record of a year ago, which put them in fourth place in the nine-team league. Columbus Catholic won the conference last year with a 16-0 record and made it all the way to the WIAA Division 5 state championship game last March. The Dons, though, graduated five All-ECC award winners and will have some holes to plug.
Neillsville (13-3 last year) brings back two firstteam All-ECC players, senior Alex King, the 2018-19 Player of the Year, and junior point guard Braden Trunkel.
"King is tall and long and he can shoot," Hendricks said. "Trunkel is a great point guard and shooter."
Loyal was 10-6 in league play last and brings back All-ECC second-teamer Kole Bogdonovich. Spencer brings back second-teamer Austin Bacon, who scored 30 points in the Rockets' early-season win over Gilman last December.
Hendricks said the Pirates proved some doubters wrong last year and he's hoping this team can find ways to do that as well.
"It'd be nice to host a playoff game again, like we did last year for the first since 2012," he said.