Posted on
New Granton boys coaches want to change Bulldog mindset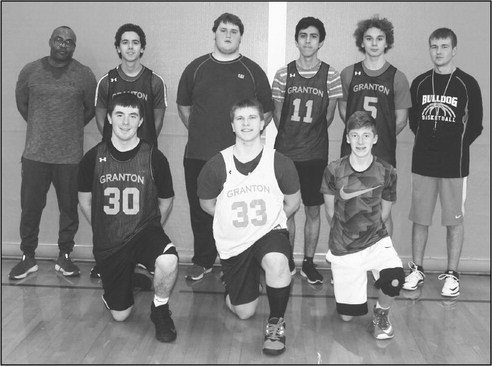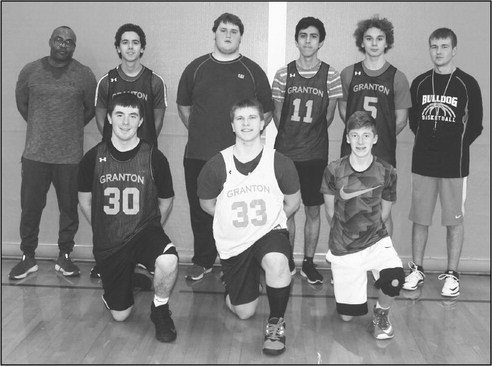 Change will be the norm this season for the Granton boys basketball team. With new leadership, new drills and a new mindset for the players, the team hopes to switch things up, as well as get some wins and more community support.
Head coach Omar Young and assistant coach Matthew Tyler will be guiding the Bulldogs this year as first-time basketball coaches. Though Young and Tyler haven't coached basketball before, Young said he has some coaching experience that he brings to the position while Tyler has experience as a former player from the Granton basketball team.
"This is my first time coaching, but I bring life skills," said Young. "I coached professionally, corporate coaching, and I believe there are skill sets with coaching that still apply."
"I played when I was in high school and helped out a little bit last year," said Tyler about his experience. "This will be a little uphill battle, it's my third year out of high school, but I know some of the stuff and will be bringing some things back."
The coaches will be leading a team of 10 players this year. Half of the team is made up of seniors: Noah McConkey and Hunter Vine, who played last year, and Alejandro Mendoza, Pierre Foorny and Marco di Toma. With no juniors on the team, the sophomores Brandon Jakobi and Wyatt Carver will be carrying a bit more responsibility this year. The Bulldogs also have three freshmen in Alex Gardner, Cameron Wood and Diego Mendoza.
With so many new faces, even from among the senior group, Tyler and Young said the team's first priority will be to establish some cohesion and shared understanding of the game between the players. That will require a return to the basics as a team, but they said such a build-up is necessary to make sure everyone is on the same page and is aware of their teammates' strengths and weaknesses.
"We have to start somewhere, so we start at the basics. A lot of kids are new, so we're starting them all with the same stuff, elementary, and advance from there. We'll start implementing more complicated drills and aspects of offense and defense then put the pieces together to get a product," said Tyler "We're starting from the basics and not getting ahead of ourselves. Yes, this may be second grade stuff, but we're building from the ground up."
Even though practice has just started, Tyler and Young said the seniors on the team have already begun to take on the leadership role from among their peers. Their work among their teammates has been very helpful to their new coaches, who are still learning and adjusting to leading the team.
"We're really thankful for our seniors, they have really stepped up and shown team leadership," said Young.
"We're leaning on some of the seniors this year," added Tyler. "Being first year coaches, we learn more from them than other coaches, we make sure we're in this together, no one falls behind."
The cohesion of the players will be an important strength for the team during the season. As a small group, Young said the players have to use any advantage they can to become a stronger team. This means that they will be looking for types of plays that will benefit a small group, and rotation of all the players will be used. "With small numbers, I think we'll do a little with rotating, learn from our mistakes and find ways we work pretty well together to get stops on defense," said Young. "We struggle with stops on defense. Finding the right plays that go well for our team is important. Our team is not every team, the key is to keep fresh legs on the court and try to play everybody."
Attitude is another area the coaches want to improve. Talking about Granton's recent history in sports, Tyler and Young said they have noticed the general student population at the school often expects to lose during sports competitions. This is something they don't want the students to be thinking anymore and want to wipe the slate of the past clean and focus on the present.
"We don't think about it," said Young. "The best part of taking over is, if we bring home five wins, we're superstars. We can't look at the past too much, we apply the basics, but we're writing a new chapter for Granton. We give them the mindset of winning and get the boys to expect to win."
"A change of attitude and environment is needed. It's more than just basketball," added Tyler. "We want to change the mindset … We want to flip the script and play good ball and get a few Ws. Every game is a new season. It's 0-0 at the start of each game, the scoreboard says 0-0. We win every half, come back from our mistakes and get a win. Get back in the game, and whether it's a win or loss, we learn."
As part of the coach's strategy to change the attitude of the players, Young said he wants more support from the community during games. Both he and Tyler said they have noticed nearly empty stands from Granton fans at far too many home games, while the opposing side has a large crowd to cheer them on. In order to boost the Bulldogs' confidence and show that they are supported, Young said the community needs to come and cheer them on.
"We want positive support from the community. We want the stands full of cheering people to come out and support us and in turn, we want to put on a good show and give 100 percent," he said. "We want positive community support, we want to bring everyone here. If that means all 300 people in town come out, that's great."
The Granton boys will play their first game at Spencer on Dec. 3 and their next game at home against Independence on Dec. 5.
CHEYENNE THOMAS/STAFF PHOTO