Posted on
Loyal has 'interesting' mix of returning players and new faces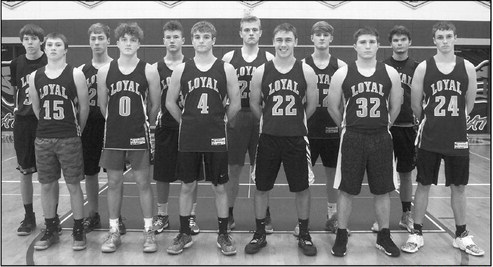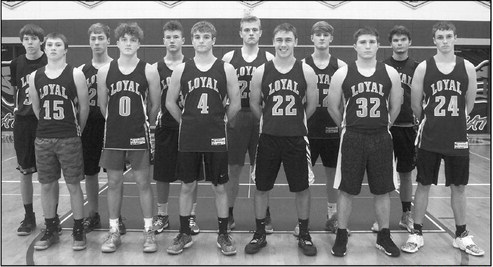 Loyal head boys basketball coach Dean Bogdonovich uses the word "interesting" when talking about the expectations for the Greyhounds' 2019-20 season. He has a seasoned backcourt with two returning senior starters, and some fresh faces with which to work, but in the post, that's where it gets intriguing. Slated to lead the way there are two seniors who have been wrestling in recent winters, and Bogdonovich is unsure how quickly they can develop their hoops skills.
The Greyhounds are coming off an 11-13 season in which they went 10-6 in the Eastern Cloverbelt Conference to finish third. That team had seniors Quinn Brussow, Zach Zimmerman, Charlie Larson and Skylar Ruggles, a quartet that accounted for about half of the 2018-19 offense. This year's squad will likely have to rely on perimeter shooting for points, at least until the post players develop and the younger players mature.
Returning for their senior seasons are all-conference second team guard Kole Bogdonovich and his backcourt running mate Trevyn Wilke. Bogdonovich scored 14.2 points a game a year ago and Wilke added 8.7, and they will be the main offensive cogs. Kole Bogdonovich played AAU ball over the summer and has improved his shot and overall game, and Wilke returns as the defensive stopper and will get more chances to score this season.
"Trevyn has always been very strong on defense. We'll just have to expect him to pick up his offense a little more," said Coach Bogdonovich.
Loyal last year had the luxury of length with Zimmerman, Larson and Ruggles, but they're all alumni now. Replacing them this season will be a pair of football players and ex-wrestlers in Jacob Baumgartner and Colby Toufar. Baumgartner is 6'2" so he gives Loyal some size in the middle, while Toufar is a stocky, strong player who can clear out space for rebounds and set strong picks and screens. That will give Loyal a new dimension.
"We are going to be more physical this year," the coach said. "We're just hoping some of the guys find a little touch."
A key addition for Loyal this year could be senior Caleb Chirhart, who open-enrolled in from Thorp. He's a versatile player, the coach said, who can add another outside shot as well as drive to the hoop. Plus, he gives the Greyhounds more senior leadership.
"Caleb is going to start. He's going to help lead our team," Coach Bogdonovich said. "He's going to help lead Kole and Trevyn."
Loyal also gets some returning experience from juniors Daymian Baird, Matthew Szymanski and Brody Miller. They all saw some varsity minutes last year and Baird developed into an outside shooting threat.
"He's looking pretty good," the coach said. "He's working a lot on driving and finishing." Rounding out the varsity roster will be junior Brady Robida, sophomores Kaiden Hagen and Kaden Olson, and freshman Drew Stieglitz. They'll be splitting time between the JV and varsity teams on game nights. With the unique mix of returnees and the new guys on the roster, Coach Bogdonovich said "interesting" would be a good term to estimate the team's potential. With Baumgartner and Toufar, whom Bogdonovich coached in junior high, he has to mold them into players who can fill roles and not try to do too much. "I just told them, 'You know what you do well. Know your shot selection. Do what you do best and do it well.'" The Loyal coach knows what he has in Kole Bogdonovich and Wilke and some of the others who saw varsity time last year, but the new look and physicality of this team could make for an intriguing season. Coach Bogdonovich thinks Loyal could be better than some might think.
"I think adding these new players just put us in a different level of basketball this year," he said.
Coach Bogdonovich expects Neillsville to be the team to beat this year. Marshfield Columbus, last year's ECC champs, lost a lot to graduation but will be competitive. He also expects Colby to be better and Greenwood has some talent returning.
After finishing in third place the past two seasons, Coach Bogdonovich expects a mid-pack finish this year. Outside shooting will have to be a strength, and the team's cohesiveness looks to be another.
"The players all get along very, very well together," the coach said. "Most of them played football together."
DEAN LESAR/STAFF PHOTO