Posted on
Hornets earn back-to-back wins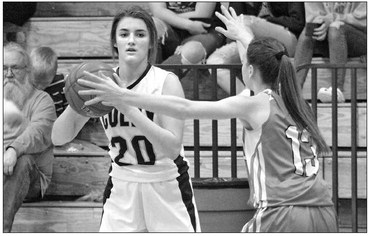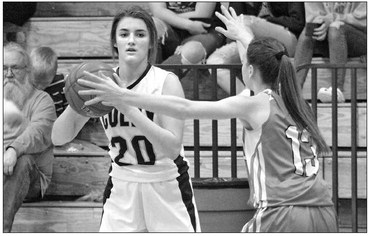 The Colby Hornets girls basketball team opened a new season with a pair of wins and one loss as they improve to 2-1 on the year, and 2-0 in the Eastern Cloverbelt.
Colby lost one to Medford on Tuesday, Nov. 19, but won the other two, both against Eastern Cloverbelt rivals. Colby defeated Greenwood on Friday, Nov. 21, at home, and then got a huge victory on the road over the Columbus Catholic Dons on Tuesday, Nov. 26.
44-40
The Hornets showed a bit of rust in their game at the start of the season, falling on the road to Division 2 Medford in their season opener.
The Red Raiders benefited from the Hornets' turnovers, fouls and indecisive play on offense. In spite of the team's troubles, Colby held an early lead at the break, but could not maintain it in the second half, as they fell 44-40 in their season opener.
By the time the game was over, the Hornets had lost three players to fouls, with Hailey Voelker, Lexi Underwood and Emma Peavey all picking up five, allowing the Red Raiders to shoot 18 free throws.
All of this can be chalked up to the new look team that returning head coach Randy Rau is working with after multiple starters and contributors graduated from a Hornets squad that won back to back Eastern Cloverbelt titles and went 25-1 en route to a first ever state tournament appearance.
Even as the offense struggled on Tuesday, Colby's defense was on point, holding Medford to under 20 points in the first half, taking a 22-17 advantage into the locker room.
Emma Peavey had a big second half, scoring all eight of her points in the final frame. Voelker was the only other Hornet to score more than one basket, but with both players fouling out, followed by Underwood's fifth and final foul, the Red Raiders escaped with their four point victory.
Underwood scored a team high 11 points, and Voelker had a double-double, with 10 points and 13 rebounds. Peavey and Lexi Krebsbach scored eight points apiece. Kersten Wiese had two points and two assists and Olivia Vollrath chipped in with one point and two blocks.
Greenwood, 63-44
The Hornets shook off their loss to Medford with a decisive victory against an overmatched and overpowered Greenwood Indians team on Thursday.
Colby controlled the game from start to finish, and it was the first half that set the tempo as the Hornets raced out to an early 21-5 start.
Senior Hailey Voelker got the party going with the 5'9" forward scoring inside and at the charity stripe, picking up 12 points in the first half.
Lexi Krebsbach showed off a deft shot, dropping a triple and connecting from midrange as she added 10 points. After struggling to find its offensive rhythm two days before, the Hornets had no problem sharing the wealth as six different players scored, giving Colby a 42-17 advantage going into the locker room.
From there, head coach Randy Rau subbed in some of his younger players, and the Indians made some noise, outscoring the Hornets 27-21, but the lead was never truly in doubt as eight different Hornets finished with their names in the scorer's column.
Voelker had a big night in limited action, scoring a game high 19 points to go with 11 boards for back to back doubledoubles.
Krebsbach had a breakout performance, dropping a new career high 17 points, including connecting from three twice. Olivia Vollrath just missed a double- double, pulling down 11 rebounds - six offensive - and scoring eight points.
Emma Peavey added seven points, Lexi Underwood had five, Brooke Suckow picked up three and Kya Viegut and Kersten Wiese rounded things out with two points.
It was the perfect response Krebsbach said after falling to Medford at the start of the week.
"It feels really good, we needed it to get our season going," Krebsbach said. "We tried to get rid of all the turnovers and take care of the ball more."
She, along with her teammates, are hoping to carry that form over after the break, and through the rest of the season as she and her fellow seniors Hailey Voelker and Kersten Wiese shoulder the role as leaders on the court.
"Watching the girls last year really helped," Krebsbach said. "They showed a lot of leadership to us, now us seniors have to take over and carry that down to the rest of the girls."
Columbus Catholic, 55-49
The Hornets earned a momentum building victory on Tuesday as Colby took down Columbus Catholic for the fourth consecutive time.
The game was in doubt in the early minutes, with Colby falling behind by ten at 5-15, but a quick time out allowed Colby to regroup, and the Hornets snapped off a 12-2 run to earn a 19-17 lead.
The Dons got a free throw at the end to take a 22-21 lead at halftime, but in the second half, it was the Hailey Voelker show. After being held to just six points in the first half, Voelker erupted for 21 points, splashing multiple triples and mid-range jumpers.
The Hornets opened on a 19-9 run to take a 42-31 lead, but fouls allowed the Dons to stay in the hunt, and slowly chip into Colby's lead.
Junior Lexi Underwood was huge in the second half, scoring several triples, but her biggest basket came near the end of regulation. Voelker fouled out and Columbus cut the lead down to 51-46, but a steal and reverse lay-up by Underwood gave the Hornets breathing room, and Colby milked the clock and scored their second straight win.
Voelker led all players with 27 points and five steals, followed by Underwood with 14 and Emma Peavey with six points and 10 rebounds and five assists.
Olivia Vollrath, Kersten Wiese, Trista Meyer and Lexi Krebsbach all scored two points apiece.