Posted on
Greenwood has lots of new faces on 2019-20 boys basketball roster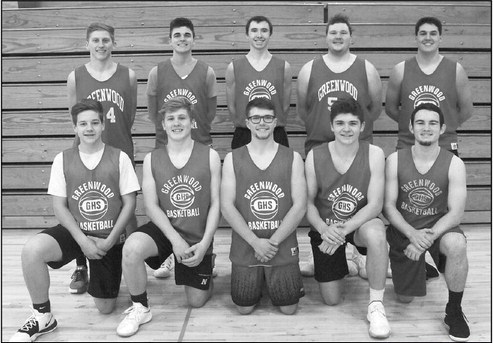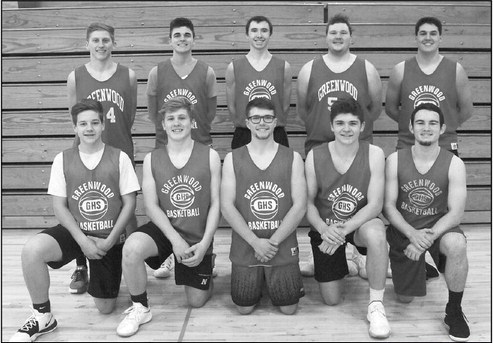 Last year, Greenwood head basketball coach Brad Helsten had a wealth of senior experience with which to work. In 2019-20, not so much.
The team the third-year head coach is preparing for another season has just two seniors, to go with a mostly unproven roster of younger players who can hopefully turn a successful junior varsity season a year ago into the same thing at the varsity level. Greenwood lost somewhere around 85 percent of last year's scoring to graduation, so it will be imperative for new players to take a step forward.
Two key players returning from last year are senior Treyton Thomas and junior Cooper Bredlau. Bredlau started along with the now departed Tragen Bogdonovich, Cole Zimbauer, Alex Zimbauer and Trenton Klabon, and he will be counted upon to lead at both ends of the court. Also lost to graduation were Walker Suda, Bryce Walde and Casey Susa, and that core of seniors ate up most of the varsity minutes in 2018-19.
Thomas will be tending to the ball handling duties along with junior Nathan Revier. Bredlau will be the swing man who plays where needed, while juniors Westin Schmitz and Austen Humke fill out the rest of Helsten's tentative early season starting lineup. After that, juniors Dakota Clark and Jonah Hinker will get minutes in the post, and junior Quintin Myers will see action in the backcourt. Freshman Rogan Travis played a lot of ball over the summer, Helsten said, and could be a factor on the varsity as the season rolls along.
Greenwood posted a 6-16 overall record last year and went 5-11 to finish eighth in the Eastern Cloverbelt Conference. Bogdonovich was the team's leading scorer and rebounder.
Helsten realizes he has a largely inexperienced team to develop this year, but he doesn't figure he's alone. Most of the other ECC schools also saw heavy graduation losses.
"I think the conference lost a significant amount of varsity players, as well," he said. "It's going to be interesting to see what other teams bring to the table."
With Thomas and Myers the only seniors on the Indian roster this year, Helsten said he will look to players like Bredlau to take on more than just an added scoring/defensive load. He has players who can step into those shoes.
"Leadership has no grade. I'm a firm believer in that," Helsten said.
Helsten has confidence in Thomas and Revier handling the basketball, and Bredlau has those skills, too. Most of the players coming up this year were key factors on a 2018-19 junior varsity team that lost only four games, so Helsten sees potential for that success to translate to the varsity game.
"I build it around the rest of the guys who filled in sparingly for us last year," he said. "They had a successful JV season. There's something to build on there."
Greenwood will run the same basic sets again this year. Now in the third year under Helsten's brand of basketball, the players are familiar with their roles.
"I think the kids are acclimated to our offense," Helsten said. "We can move the ball and get some good looks. I think we can do quite a bit of different things we didn't do last year."
One difference Helsten said he needs to see this season is more patience in the half-court set. The players have to work the plays until the open shot comes.
"We're really looking for quality possessions," he said. "We want ball rotation and post touches. Last year we pulled the trigger on too many shots. We need to have more quality possessions."
Helsten expects the team shooting percentage will go up if the players wait for good opportunities. That will be important if the team wants to rise in the standings.
"Our shooting has to improve. That's one of our goals this year," Helsten said. "Across the board, inside and out."
Speaking of boards, Greenwood will rebound by committee this year. It has decent height and length, but no dominant big guy to clean the glass consistently.
"We can collectively rebound. We can't count on one guy to get 15 a game," Helsten said.
Depending on how some of the young players develop, Helsten said he hopes to be able to go to his bench more this year. Last year he went only six or maybe seven deep in his rotation, but that situation should be better now.
"I like our depth," he said. "Last year at times it wasn't there as far as the scoring aspect goes."
Again, the development of players new to the varsity scene will determine how far Greenwood goes this season. He has proven commodities in Bredlau and Thomas, but after that, time will tell. Helsten is hoping for rapid maturation, as the season starts on Dec. 3 against Stanley-Boyd, with the ECC opener at Loyal on Dec. 6.
"Last year we had a slow start to the season. Hopefully we learn from that," he said.
An intangible Greenwood has on its side so far is a positive attitude and a competitive atmosphere in which players are trying to prove they deserve varsity playing time. While Helsten realizes this group has only two seniors, and a strong group of juniors and underclassmen with potential to develop, he wants to see the most he can out of the Indians in 2019-20.
"We're playing for this year. We need to develop and move forward," he said.
DEAN LESAR/STAFF PHOTO