Posted on
Daughter takes over for mother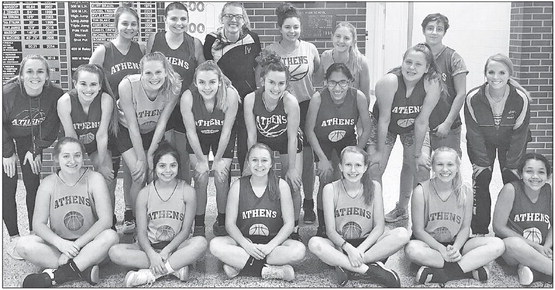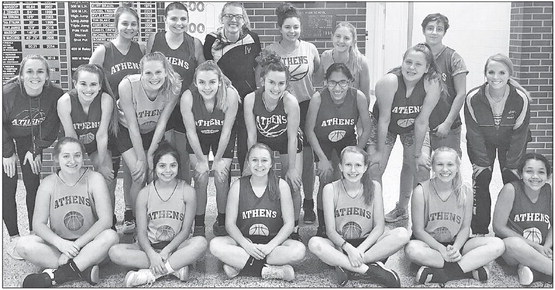 GIRLS BASKETBALL SPORTS PREVIEW
Eldest Diedrich child is coaching the Athens team
Four years ago Kyncaide Diedrich was a senior on the Athens varsity girls basketball team. Now she is the team's head coach in place of her mother, Danielle, who resigned after last season.
Kyncaide scored 1,523 points in her Athens basketball career before graduating in 2015. She then amassed 1,269 points during her four years playing for UW-Stout, which places her fifth on the college's alltime scoring list.
Her former high school girl's basketball teammate, Emily (Czech) Roesler, is her Athens varsity assistant and junior varsity coach this season.
Kyncaide relishes the opportunity to coach the Bluejays girl's basketball team this season.
"I feel very honored to be taking over for my mom as the Athens girl's basketball coach," she said. "She is such a role model in my life, so being able to follow in her shoes and continue to share our love for the game with the team is awesome. I am also very blessed to have her to guide both Emily and I in this process.
"My mother was one of the people who encouraged me to apply for this girl's basketball head coaching position, and I had to jump on the opportunity. Not everyone can say they took over coaching for their mom. The only problem we have found is the team can't call me Coach Diedrich because that will always be my parents."
Her father, Craig Diedrich, was her Athens varsity softball head coach in high school. Kyncaide is searching for scorers on her Blujeays girl's basketball team this season to replace her younger sister, Kenadi, who graduated high school last spring after scoring 1,523 points in her career.
"Kenadi did a lot of the team's scoring last year, so we need the team to step up and fill that scoring role Kenadi played on the team," Kyncaide said. "We have so many girls capable of scoring in different ways, and that is exciting to see as a coach, but we just have to build their confidence so they believe it too."
Athens finished last season with a 14-8 record after a 39-38 loss to Wisconsin Rapids Assumption in a WIAA Division 5 re- gional semifinal road game. Top returning players on Athens' team this season are senior center Abigail Van Rixel, senior point guard Paula Lira and junior forward Crystal Dearth. The Bluejays' top newcomers who should contribute to the team's success on the court this season are senior Allison Wolf, senior guard Abigail Olson and junior guard Kaitlyn Riehle.
"My starting lineup right now is Paula Lira, Kaitlyn Riehle, Abigail Olson, Crystal Dearth and Allison Wolf," Kyncaide said. "We do have some height and strength with our post players this year, but we are also very quick at our guard positions. Overall, I am pleased with how diverse our team is and I can't wait to put it all together and win some games. Our senior center, Abby Van Rixel, is currently battling an injury but we hope to have her back as soon as possible, and she is hungry to make her senior year her best season yet."
Athens girl's basketball coaches Kyncaide and Emily played on the Bluejays' back-to-back Marawood North Conference championship teams in the 2013-14 and 2014-15 seasons under former head coach Angela Totzke, who now teaches in Edgar and is the Wildcats girl's basketball junior varsity coach and head varsity softball coach.
"In order for us to compete for the conference championship this season, the girls need to believe in themselves," Kyncaide said. "Having athletic abilities is helpful, but mentality and attitude goes a long way, especially in this sport. I tell the team every day we will only be as good as we want to be. If we want to work to be good, we will be very good and surprise a lot of teams in our conference this season.
"Our players' work ethic is amazing, and if we can keep the excitement and passion for the sport throughout the season, I believe we will accomplish a lot of our goals. We need to start setting a tone and an expectation for the younger players, and a great way for us to start doing this is by winning games and getting people to fall in love with basketball again."
Kyncaide is taking the plethora of experience she possesses as a high school and college basketball player and using what she's learned to become a good Athens varsity girl's basketball head coach.
"After playing college basketball, you really view the game differently," she said. "There is so much that I learned by playing at UW-Stout, and I want to share my knowledge of the sport with my Athens girl's basketball team this season. There are a lot of new things I am throwing at the girls this season, which can be overwhelming, especially when we have limited practices before our first conference game. But, I think the girls really respect and trust what I have to say, and that is great to have as a coach. They are eager to learn new things and are committed to working hard everyday.
"I also have so much passion for basketball, and by coaching I have the opportunity to share this with my team every day. It is important to show excitement and passion for the sport as a coach, because this feeds off onto the players. I am very lucky to have the team I do because of the players' excitement and commitment to basketball."
Kyncaide is currently student teaching in Colby, before she graduates from UWStout in December with an education degree. Upon graduating from college, she plans to work as a substitute teacher with the hopes of gaining a long-term substitute position. Kyncaide also hopes her Athens varsity girl's basketball team could find itself in a battle for the Marawood North Conference title this season, but she said it certainly wouldn't be easy.
"I have a good feeling there will be a few teams fighting for a conference title this year," she said. "Prentice has always had a strong program, and I believe it will be a contender even though they have a new coach. Phillips has a solid group of returners coming back this season, so I could see it being successful this year. I plan to be competitive with these teams this season, in hopes of being in the running for the conference championship. We lost some key players from last year's team, but we are also returning a good chunk of players this season. We have new players who bring a lot of energy and desire to help our team succeed."