Posted on
Three upperclassmen set to lead; sophomores fill key roles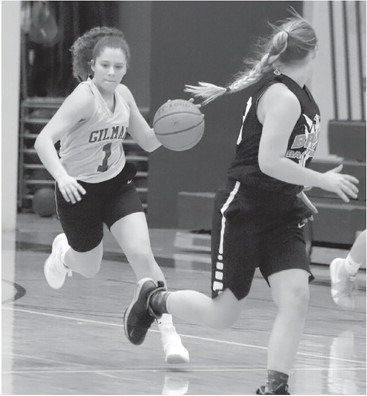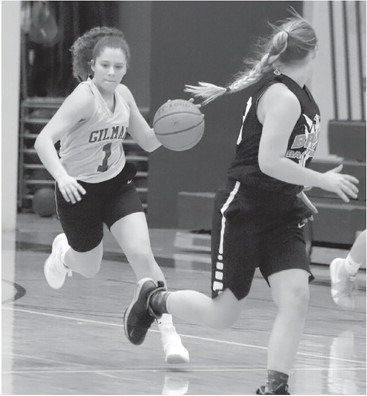 MEDFORD GIRLS BASKETBALL PREVIEW
With a girls basketball varsity roster consisting of just two seniors and one junior, there's little question where the leadership will need to come from this season for the Medford Raiders.
Third-year head coach Jessica Faude is confident Sierra Hanson, Brynn Rau and Marissa Fronk are up for that task.
It will be a season of growth for the Raiders (12-9 last year), who listed five sophomores and two freshmen on their opening-day roster Tuesday. The team will make mistakes, but it will also learn and improve as the season progresses.
And, if Tuesday's 44-40 non-conference win over Colby is any indication, the upperclassmen are ready to provide the steadying hand necessary to guide the youngsters through the ups and downs of a long basketball season.
"I see big things for them, just with their leadership and keeping the whole team together in some of these tough games where in the past we would get ourselves rattled," Faude said of her leaders after Tuesday's win.
This will be an interesting season for the Raiders, who start the year with 23 players in the entire program but will still try to maintain teams at three levels. That is complicated right now by a JV2 coaching vacancy.
While youth dominates the program's roster, the Raiders have no intentions of backing down from anyone, particularly at the varsity level.
"They're a good group of girls, similar to last year," Faude said. "Just good kids, hard working. They come into practice wanting to work and have positive attitudes. Hopefully over two, three months that will stay. I think they're encouraged by how we ended the season last year, other than the tournament game. We got some big wins against Lakeland and Mosinee. I think that helped them see the potential that they have, even though it is a different team. We still have five girls that were on the team last year. I think they have big goals for themselves."
The Raiders are certainly not devoid of varsity experience. Hanson and Fronk return after earning second-team All-Great Northern Conference honors last winter. Hanson is in line to letter in the sport for the fourth time. Rau is a twotime letter winner and returning starter. Sophomore forward Rynn Ruesch earned honorable mention in the conference last season and sophomore center Katie Brehm looks to build off the spot duty she saw at the varsity level last season.
Those five were the opening-night starters.
Sophomores Autumn Krause, Laurissa Klapatauskas and Lydia Pernsteiner all got minutes off the bench Tuesday in their varsity debuts. Freshmen Bryn Fronk and Martha Miller got all their minutes Tuesday at the JV level but suited up with the varsity and have been practicing with them.
"There are so many girls that are so even," Faude said. "They have their strengths and their weaknesses. We're seeing how they fit into the mix. They're all such coachable girls."
As for the varsity leaders, Fronk is the team's returning leading scorer after averaging 9.8 points per game last year, Hanson averaged 7.6 points per game and Rau averaged 6.9 points while shooting 35% from 3-point range.
"Marissa, I see her just taking over that point guard position," Faude said. "She's confident and she attacks strong to the basket. You can definitely see over the off-season that she has worked and worked and worked to just build on those skills and help her be strong in the guard spot."
Fronk had a game-high 17 points in Tuesday's opener.
"Brynn gives me a little bit of everything," Faude said. "She's solid. She knows when she needs to be physical and strong. She also doesn't get rattled. She keeps herself composed."
Then there's Hanson, who had 14 points in Tuesday's win and set a tone defensively, especially in the second half.
"I'm looking to see her just come into her own and being smart with that basketball, being a leader on the court," Faude said. "In past years, she maybe didn't make the best decisions or attack at the right times. Tonight, she knew when that opportunity was there, you could just see she's just more composed, more sure of herself. I see her being big both offensively and defensively (this year)."
"This game for me, it was kind of like, what is our team going to be like?" Hanson said Tuesday. "We're only getting better from here, so that's super exciting to see what the year has for us."
"Coach (Scott) Wildberg has been saying, we're going to get better because it's not like we're all seniors and we're already playing our best basketball," Rau said. "We're all going to get better as it goes on."
Faude and Wildberg are banking on the team being solid defensively. Despite a bit of a short bench, Faude said she hopes the Raiders are able to use fullcourt pressure to their advantage, especially considering the quickness and tenacity they have at the guard positions. Fronk averaged three steals and Hanson averaged 2.2 per game last year.
All three of the upperclassmen also posted solid rebounding numbers and Hanson averaged 3.8 assists per game.
"I think I've learned over the past couple of years, we do a little bit better when we push the pressure on defense, keep our intensity up on defense, but we play more composed when we're working our offense," Faude said. "When I first started, I thought I wanted to run and gun, get it up the floor. But with these girls that we have, it just seems like we do better if we get set in our offense, work it around and let those options open." Ruesch and Brehm should be among those options. Ruesch got noticed by GNC coaches last winter after averaging 6.7 points and a team-high 7.7 rebounds per outing. "I want to see them step up a little bit, see them get more comfortable in there spots a little bit," Faude said. "We hope to see them build on their moves in the post and seeing the court. They're young yet. Toward the end of the season, I want to see them dominate that paint." The Rhinelander Hodags come into the season as the team to beat in the Great Northern Conference. They were a perfect 12-0 in league play last winter and return the league's most explosive offensive player, senior guard Kenedy Van Zile. Lakeland (9-3) had won the league title the previous two years and remains a threat with senior All GNC guard Abby Parris leading the way and a strong freshman, Julianna Ouimette potentially giving them more punch. Medford was 8-4 in league play last year, just ahead of 7-5 Mosinee, who Faude expects will be tough to beat as well. Mosinee (Scott McKellips), along with Antigo (Carla Wissbroecker) and Tomahawk (Garth Gerstenberger), have new coaches this year, though Gerstenberger has coached the Hatchets before.
The Raiders' non-conference foes are the same as a year ago, but the team's potential post-season opponents will be new. Medford was moved to the western side of the WIAA Division 2 sectional this year and will be battling for seeding position against teams from the Mississippi Valley and Big Rivers conferences.
"It's just like starting over," Faude said. "The hardest part is I just don't know about those teams at all."