Posted on
Rib Lake's basketball roster takes on a much younger look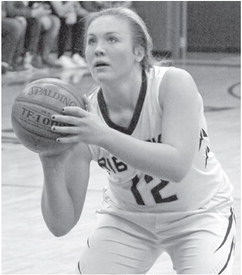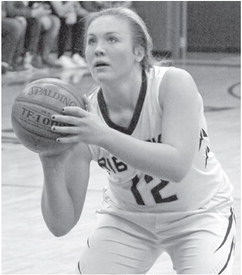 RIB LAKE GIRLS BASKETBALL PREVIEW
For the second straight girls basketball season, the Rib Lake Lady Redmen will start out looking to fill holes left behind by a relatively-large senior class for a Division 5 program.
Last year, the Redmen filled those holes with seniors. This season, Rib Lake will be considerably younger.
Just two seniors are back from last year's varsity club and two sophomores who drew limited minutes fill out what remains from the 2018-19 team. From there, figuring out how the 2019-20 varsity roster and its playingtime rotations will work is going to take some time for sixth-year head coach Mike Wudi and his second-year assistant Brian Abel.
The team completed its first week of practice last week, which included a scrimmage session at Spencer on Thursday, and played in its first game Tuesday, a 5721 non-conference loss to visiting Columbus Catholic.
The Marawood Conference is wasting no time getting league play started this season. Rib Lake hosts Chequamegon tonight, Thursday, at 6:30 p.m. and visits defending North Division champion Prentice Tuesday at 7:15 p.m.
"We had a typical first week," Wudi said Monday. "We showed a lot of rough edges and worked on conditioning. Things like that. But I like the vibe. It's a very coachable group of girls. We're just extremely young. Enthusiasm is high. This is a hard-working group and I want to believe they're a little bit hungry. Last year was a bit frustrating. I think these girls want to be better than that."
Rib Lake is coming off a disappointing 2-20 season in 2018-19 that included a 1-15 Marawood Conference record. The team tied Chequamegon for fifth place in the six-team North Division.
Wudi readily admits a big step forward in the standings is going to be hard to achieve, but that's not really the focus for the coaches nor the players at this early point. Everyone involved knows the current focus is centered on getting better as they go and it's going to be a process.
"We know we're going to face some challenges," Wudi said. "The big thing is they can't get frustrated. The early part of our schedule is pretty loaded before Christmas."
In that first stretch of eight games between Nov. 19 and Dec. 17, Rib Lake will play four of their five Mara- wood North rivals, with Abbotsford being the lone exception, as well as Marawood crossovers against Marathon and Edgar and solid Division 5 non-conference teams from Columbus Catholic and Owen-Withee.
Wudi said coaches and players alike will learn a lot in that stretch. Rib Lake then has a three-week break, which will hopefully allow them to evaluate where they're at and how best to attack the final 14 regularseason games in January and February and then the post-season, which starts on Feb. 25.
The varsity experience lies with senior forwards Savana Radtke and Mackenzie Weinzatl.
Radtke ranked second on the team last year in total points with 147 and third on the team with a 6.7 points per game scoring average. She led Rib Lake by averaging 6.5 rebounds per game. Weinzatl came off the bench and contributed 2.1 points and 3.2 rebounds per game.
Sophomores Lauren Pelnis and Reagan Reinhardt earned some spot minutes, often late in games. They'll start the year as core varsity players. From there, things are rather uncertain.
Senja Koch and Taylor Meier round out the senior class after spending last season at the JV level. Junior Nellie Hopkins adds some height at 5-7 and could be in the mix. Jolee Gehrke is another junior seeking a role. Sophomores Wudi is looking at for potential varsity roles include Molly Heiser, Emily Rodman and Rebekah Strobach, all JV players a year ago, and Tia Bube, a strong athlete who did not play basketball last winter.
In all, there are 17 players out for basketball, which should comfortably allow for Rib Lake to field two teams. Wudi said the JV team finished just under .500 last winter, so it did experience some success.
"The seniors in the first week of practice did a nice job of getting everyone going," Wudi said. "There was a strong work ethic and practice ethic. There was a focus there. I think these younger kids have a strong focus too."
Key areas that hurt Rib Lake most last season were its struggles to handle the ball against pressure and its field goal percentage, which languished at about 25% all year along. Wudi has no doubts the team will learn quickly where it stands in terms of handling the basketball. He's sure most teams will spring full-court pressure on them to see if they can handle it.
The Redmen rebounded well and played some solid defense at times a year ago. The team's defensive identity this year is another aspect of the game Wudi said would be "a work in progress."
The coaches are hoping that the team quickly develops a play-hard, work-hard mentality no matter that the scoreboard says. If it does that, fans will notice the team noticeably getting better as the season progresses.
"The biggest thing is for the girls to improve," Wudi said. "We've talked about that in the first week of practice. Patience is going to be the key buzzword. Brian and I have talked about that. Hopefully we'll see a lot of improvement between November and February. We're going to have some growing pains."
In the Marawood North, there is some curiosity to see how three of the six teams respond to coaching changes. Ally Meserole moves up from her assistant position and replaces Logan Rosemeyer, who held the head job for just one season in Abbotsford. Former Athens star Kyncaide Diedrich takes over at her alma mater for Danielle Diedrich and Cal Kraegenbrink has replaced Randy Jones for the Prentice team that is the favorite to repeat as league champions.
Wudi views Phillips as a team on the rise behind their all-conference players sophomore Jada Eggebrecht and junior Rachel Callow.
Also something to watch, the WIAA moved Rib Lake to a different sectional this season. The Redmen have moved from Division 5's northwest quadrant to the northeast quadrant, which features teams from the Central Wisconsin, Northern Lakes, Marawood and Marinette and Oconto conferences.