Posted on
Pirates believe they're capable of some big things this season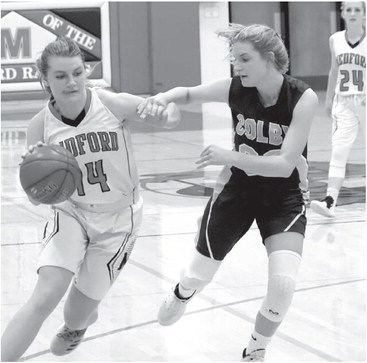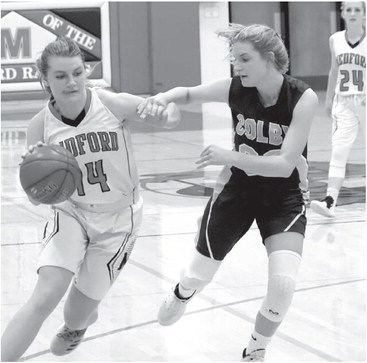 GILMAN GIRLS BASKETBALL PREVIEW
In the past calendar year, the Gilman Pirates have ended lengthy Cloverbelt Conference championship droughts in the sports of softball and volleyball.
Could a breakthrough in girls basketball be next?
Second-year head coach Tammy Weir and assistant Candice Grunseth believe the ability is there to be a contender as the new season gets underway. They just hope the Pirates don't wait too long to pull it all together.
Gilman opens the 2019-20 season Friday with an Eastern Cloverbelt Conference contest at Spencer and then gets the first of two three-game stretches they'll have this season against Loyal, Neillsville and Colby, three of the conference's upper-division teams of a year ago who are projected to be there again this winter.
Last year, the Pirates pulled out a dramatic early-season 36-34 win over Neillsville but then went 0-5 the rest of the way against those teams and also got swept by another annual ECC contender Owen-Withee while finishing 7-8 in league play and 12-10 overall.
More often than not, seasons are judged by how you finish more than how you start. But the Pirates sure wouldn't mind a fast start this time around when they host Loyal Tuesday at 7:15 p.m., Neillsville on Dec. 5 and Colby on Dec. 10. They'll face those teams in succession on the road Jan. 17-28.
"We are capable of doing a lot this year," Weir said Monday after the Pirates completed successful scrimmage sessions against Athens and Bruce. "We are capable of being conference champions. We are capable of getting past regionals, being regional champs and getting into the sectionals. It's definitely there for the taking. They're going to have to be on every night and work hard."
In Weir's first season as Gilman's head coach, the Pirates aimed to set an aggressive tone, pushing the pace on offense, pressuring hard on defense and winning the rebounding battle in most games they played.
Those things aren't expected to change this year. The key may be finding those couple of girls who take the biggest step forward to give Gilman enough depth to keep that aggression going for a full 36 minutes night in and night out. Gilman lost just one player to graduation, post Amanda Wisocky, so there are options to choose from the 17 players out for basketball this season.
"If we can get to where we have eight to 10 strong players, then we can run and run and not worry," Weir said.
The team's foundation lies with the senior class of Emma Warner, Grace Grunseth, Lydia Syryczuk and Mikayla Waichulis. Grunseth and Warner were second-team All-ECC selections last winter and are primed for big senior years as well.
Warner took a big step forward last year, averaging 17.5 points, 8.7 rebounds and 1.1 assists per game and had a run in the second half of the season where she scored at least 19 points in nine of 12 games. That included two 30-plus point performances.
Grunseth enters her fourth varsity season, coming off a 2018-19 campaign where she averaged 16.6 points, six rebounds, 3.3 assists and 2.6 steals in 20 games played.
"Grace, Lydia, Warner and Mikayla, they're all going to be great leaders," Weir said. "They're just great leaders. I don't know how else to say it. They lead, they show by example. They're always so energetic and positive and really helping those underclassmen."
Syryczuk averaged a modest 5.0 points per game, but contributed 2.8 assists and 1.4 steals per game and is the spark of Gilman's defense. Waichulis has been part of the varsity's guard rotation for two seasons.
"Lydia is such a good defensive player and her shot has come around so well the last couple years," Weir said. "I expect we'll be getting some points out of her. The steals and defense alone from that kid is all I can ask for. She's just a little Energizer bunny."
Sophomores Aubrey Syryczuk and Emma Grunseth had good scrimmages Monday and figure to be key pieces to the puzzle. Grunseth averaged 6.6 rebounds per game as a freshman and figures to increase her 3.9 points per game scoring average from a year ago. Syryczuk chipped in 3.2 points, 3.9 rebounds and 1.1 steals per game last year and gives the Pirates another athletic presence.
"Aubrey and Emma played a lot of AAU this summer and you can definitely see they had a ball in their hands throughout the summer," Weir said. "It was good to see."
Junior guard Katelynn Schmitt has caught the coaches' attention in the early going and is another player who fared well Monday. Madisyn James, Ava Gunderson and Hannah Vick are just some of the sophomores who got varsity minutes as freshmen and Weir said there's a freshman or two on this year's roster who could crack the varsity rotation.
"They just need to get the experience," Weir said. "It's unfortunate we have to play Colby, Neillsville and Loyal right away because those teams will attack them mentally and physically. We'll do our best. We're going to have to throw them in and see how they handle it."
Weir said she found it interesting when she asked the team to write down its goals for the season that most centered on the ideas of improving communication and work ethic and having fun. Few mentioned wins, championships or the post-season.
But, that could be a good thing. As several players experienced during the volleyball season, improved communication and attitude were keys to that championship season.
"I think they've realized if they can grow together and communicate and become more of a team that that's going to take them to the level they want to be at," Weir said.
Climbing the Eastern Cloverbelt ladder won't be easy. The Pirates tied Columbus Catholic for fifth place last year at 7-8. Colby went 16-0 and won its first 25 games last year before falling in a WIAA Division 4 state semifi nal, while Neillsville was 13-3 in league play, Owen-Withee was 11-4 and Loyal was 10-6.
Colby lost first-team All-ECC picks Ashley Streveler and Alyssa Underwood and secondteam pick Vanessa Lopez, but senior guard Hailey Voelker, another first-team pick, gives the Hornets a great player to build this year's club around. Loyal brings back first-team senior guard Remi Geiger and Neillsville has been a model of consistency for years in the conference.
Owen-Withee will be an interesting team to watch following the retirement of the state's girls basketball record holder in wins, Al Guthman, and the loss of center Jennifer Wendler, the league's three-time Player of the Year. Columbus Catholic doesn't figure to be a pushover either.
"These first four games are big," Weir said. "We've gotta get 'em."