Posted on
Defense sets second-half tone as Raiders rally past Hornets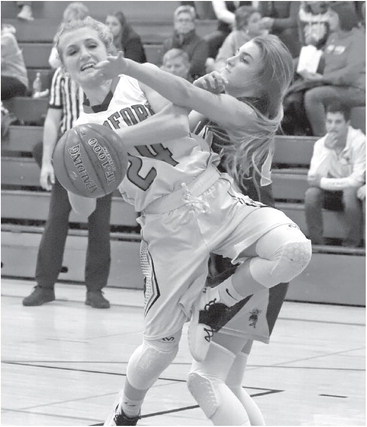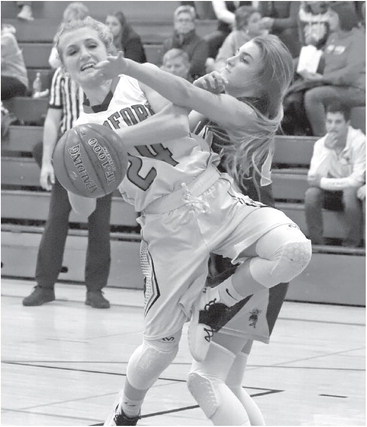 MEDFORD 44, COLBY 40
Typical of most season-opening basketball games, Medford and Colby each had their rough moments Tuesday at Raider Hall.
But a strong second-half performance by Medford's Raiders provided encouraging signs of what's to come this winter as they battled back from multiple fivepoint deficits in the half and impressively closed out a 44-40 non-conference win over the Hornets.
Down 22-17 to start the half, Medford got two buckets off full-court pressure as part of an opening 8-0 run that briefly put the Raiders up 25-22. Down 36-31 later in the half, the Raiders put Colby in severe foul trouble and closed the game with a 13-4 run that put their first win of 2019-20 in the bank.
The strong second half followed a first half where Medford moved the ball relatively well on offense for an opening game, but shot poorly from the field and allowed the Hornets to lead by as many as seven points on two occasions.
"In the second half, I feel like we controlled the pace of the game a lot better," Medford head coach Jessica Faude said. "We played more composed. We worked our offense. We talked at halftime that we knew we were just a little out of our normal pace and forcing things and I think that's why our shots didn't fall."
"We focused more on our defense," senior Brynn Rau said of the second-half improvement. "I feel like we communicated a lot better too, understanding where everybody else was on the floor."
"Composure was big," senior Sierra Hanson said. "We stayed composed on offense and weren't going 100 miles an hour."
Hanson finished with 14 points and added six steals and two assists in the win. Junior Marissa Fronk led all scorers with 17 points, 11 of which came in the second half.
Defensively, Medford got the year off to an encouraging start, holding Hailey Voelker, a standout returning senior from Colby's state qualifying-team of last year, to 10 points before she fouled out with 53.9 seconds left, and forcing the Hornets into 32 turnovers.
"That was key for us being able to execute both presses that we're doing a little bit," Faude said. "The girls did a good job of getting where they needed to quickly, especially that second half. They were there and they knew where they needed to be. It helped get the momentum back into our hands after being down at the half."
Hanson's steal led to a Fronk basket that cut Colby's halftime lead to 22-21. Rynn Ruesch scored inside then Rau got a steal off the ensuing inbound to put Medford up by three.
"When (Hanson) gets a steal, it just brings everybody up. We all just gain energy from that," Rau said.
Colby restored order temporarily after a timeout, getting a pair of 3-pointers from Emma Peavey in a 10-2 run that put the Hornets back up 32-27. Voelker's score from the block later gave Colby a 36-31 lead with just over 10 minutes left, but that's when Medford took over.
Ruesch scored off a Rau assist, then Hanson got a wide-open drive to the hoop off a high-post handoff from Ruesch to pull the Raiders within one. Ruesch got the go-ahead basket at 37-36 off a well-executed give-and-go with Autumn Krause. Hanson's score off a steal made it 39-36 with 8:30 to go.
While Colby's turnovers mounted, one of the bright spots for Medford was its lack of miscues for a first game with a young lineup and its overall execution in half-court sets. Medford turned the ball over just 13 times. The Raiders made just six of 30 first-half shots from the field (20%), but hit 11 of 24 (45.8%) in the second half to finish 17 of 54 overall (31.5%).
"I felt like we handled the ball well," Faude said. "In the first half, I don't think we turned the ball over a lot. We just couldn't make shots. We had so many opportunities. In the second half, we made better decisions. We made good decisions with the ball and weren't turning it over."
"We knew that we could definitely beat this team," Hanson said. "We just had to do what we needed to do. For only having one week of practice all together, I think we did pretty darn good."
While Medford's grip on the game strengthened late, foul trouble doomed the Hornets as their top two threats fouled out. Down four, they lost Lexi Underwood (11 points) with 1:45 to go and Voelker shortly after that.
Ruesch finished with six points for Medford. Rau, Katie Brehm and Lydia Pernsteiner had two points each and Krause added a first-half free throw.
Colby held a big 40-24 advantage in rebounding. Voelker had 12 boards for the Hornets. Brehm had seven rebounds for Medford, while Ruesch had six and Fronk had four.
Medford has a tough test at Marshfi eld tonight, Thursday, at 7:15 p.m. and then goes to Wittenberg-Birnamwood Tuesday for a 7:30 p.m. tip before starting Great Northern Conference play at home against Antigo on Dec. 6.