Posted on
A STRONG FINISH TO A MEMORABLE FALL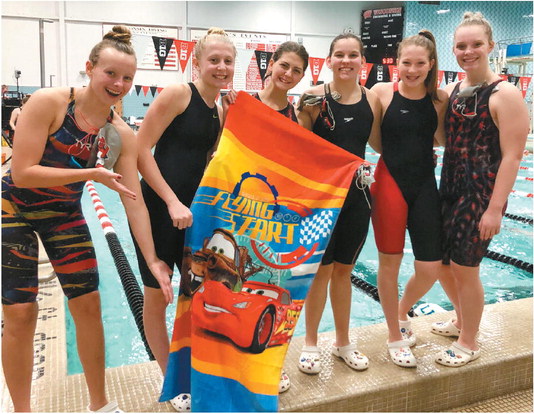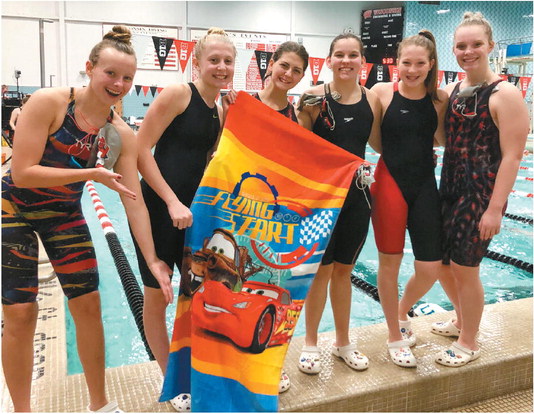 WIAA DIV. 2 GIRLS STATE SWIM CHAMPIONSHIPS
Medford swimmers cap season with 6th, 16th in Madison
The annual goal for the Medford Raiders under head coach Betsy Berends is to get girls to the WIAA Division 2 state swim meet. Once they earn their spot or spots at the UW Natatorium in Madison, whatever happens, happens.
What happened Friday was solid races by the 200-yard medley relay team and Erin Bergman, who took sixth place in the 100-yard backstroke, marking the junior's third straight podium finish in the event at state.
For the Raiders that was a great way to end a fine 2019 fall season.
"It was a great meet," Berends said. "The girls swam well. We didn't cut any time this meet but after the drops we had last week (at the sectional), I wasn't expecting too much. Erin was able to maintain sixth place for another podium finish. The relay team looked amazing. Their exchanges and turns were spot on, which is what we had been working on all season."
With Bergman's sixth-place time in the backstroke and the 16th-place finish from the medley relay team of Bergman, Faith Piller, Morgan Ball and Kami Razink, the Raiders scored 15 points to place 29th out of 38 teams in the final standings and hopefully set a tone for when the Raiders reconvene next August.
Bergman was seeded sixth going into the fast heat of Friday's backstroke race and that's where she finished, though there were some positional upsets around her.
Bergman posted a time of 58.88 seconds at the Wisconsin Rapids sectional on Nov. 9 and nearly equaled that with a time of 59.0 seconds on Friday. In her heat, she comfortably beat seventh-seeded Ella Gorski of Edgerton, who slipped to ninth overall at 59.9 seconds, and eighth-seeded Claire Sweeney of Madison Edgewood, who slid to 10th overall at 1:00.01.
Monroe-New Glarus sophomore Morgan Erstad won the slower heat and jumped up from the 10th seed to seventh place with her time of 59.79 seconds.
The Great Northern Conference had three representatives in the race, including the new state champion, Rhinelander sophomore Malia Francis. The GNC Swimmer of the Year entered as the second seed and then won the backstroke state title in 54.72 seconds, beating topseeded Mara Freeman, a sophomore from McFarland and the defending champion, by 0.96 seconds. Edgewood sophomore Anna deTuits, last year's runner-up, was third in 55.97 seconds. Rhinelander junior Lisa Kennedy was 13th in 1:01.02. Also of note locally, Wausau East's Emma Clifford was eighth in 59.82 seconds, jumping up two spots from her seed.
Earlier in the meet, Francis won the state championship in the 100-yard butterfl y with a time of 56.23 seconds, 1.38 seconds ahead of runner-up Hallory Domnick of Ashwaubenon.
Bergman was just a shade behind her school-record time of 58.53 seconds, set in her sixth-place finish at state last year, and her fourth-place time of 58.9 seconds set in 2017.
The relay team was seeded 15th going into its race with a sectional time of 1:53.66. Its state time Friday was 1:55.5, 1.46 seconds behind 15th-place Whitefi sh Bay (1:54.04), who had a seed time of 1:53.97. It was easily the group's secondbest time of 2019.
Bergman started the race with a backstroke split of 28.02 seconds, followed by Piller in the breaststroke at 34.24 seconds, Ball in the butterfly at 27.16 seconds and Razink in the freestyle at 26.08 seconds. Piller is the lone senior in that group. Ball is a junior and Razink is a sophomore.
Edgewood claimed the first of its three relay wins in the meet by taking the race in a state-record time of 1:44.51. The Crusaders beat the record of 1:44.59 set by their 2017 team.
McFarland was a distant second at 1:47.2, followed by Baraboo (1:48.59), Ashwaubenon (1:48.67) and Rhinelander's team of Kennedy, Francis, Makenna Winnicki and Noelle St. Pierre (1:49.08).
Edgewood won its fifth straight team championship, blowing away the field with 290 total points. McFarland was the runner-up for the second straight year with 163.5 points, while Ashwaubenon (141.5), Shorewood (125) and Rhinelander (118) rounded out the top five. Lakeland (38) and Tomahawk (37) were 22nd and 23rd in the team standings.
The Great Northern Conference was represented in every event of Friday's meet, including diving, where Tomahawk's Karlie Woodall finished 10th. Joining Bergman, Francis and Rhinelander's medley relay team as podium finishers from the GNC were Tomahawk's Kylee Theiler, who was third in the 200-yard freestyle (1:52.98) and fifth in the 100-yard freestyle (52.02); Rhinelander's Winnicki, who was fourth in the 500yard freestyle (5:15.55) and Lakeland's sixth-place 200-yard freestyle relay team of Brie Wescott, Naomi Hamerla, Mariah Angove and Rylee Ahlborn (1:40.5).
"It's sad to see it end, but it was a good way to go out this year," Berends said of the season, which included a 5-2 record in GNC duals and three new school records. "I'm excited to see what next year brings. With us only losing two girls to graduation, we are going to come back faster and better than ever."