Posted on
Spencer girls program gets fresh start under Rocket alumna coach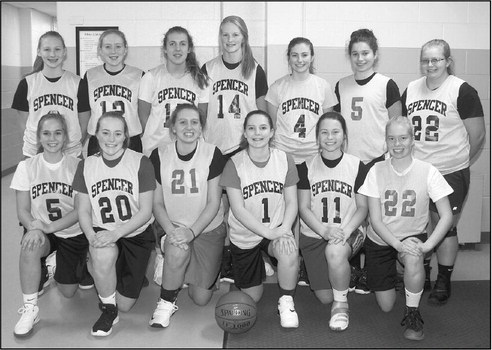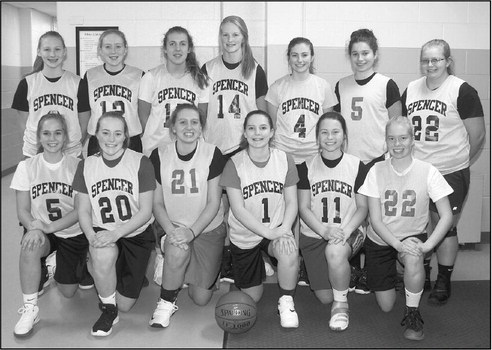 In early March of 2012, the Spencer girls basketball team lost a close game to Eau Claire Regis in a WIAA regional championship. The high scorer for the Rockets that night was one Krystal Weier.
Now back in Spencer as a first-year teacher and head girls basketball coach, Weier plans to do whatever she can to help the Rocket program regain the prominence it once enjoyed. In her senior season, Spencer went 11-5 to finish in third place in the Eastern Cloverbelt Conference, a position it has not been able to regain since, and came within four points of knocking off Regis to reach the sectional level. The path back toward that level starts this season with a young varsity team Weier hopes to build into a winner.
Weier's path has taken her quite far away, to Brigham Young University's Hawaii campus for a year, and then to the main campus in Utah. For the past two years, she was the head freshman and assistant varsity girls basketball coach at a large Utah high school.
But now she's back in RJ Tack Auditorium in Spencer, with the excitement looming of soon playing in the dome gymnasium structure approved by local voters in April. Weier began last week to coach the 2019-20 version of the Rockets, a group that will be seeing its third head coach in the past three seasons.
Weier is uncertain what this season will bring, as she has been out of touch with central Wisconsin basketball for some time. She's also learning each day about her team, and was still not sure on Monday of who would start in the next night's season opener against Weyauwega-Fremont.
One thing Weier knows about this group is it is still green. With only one senior and five juniors on the varsity roster, the squad has considerable time to not only adapt to a new coach, but to improve on skills. It has some of the intangibles that will help along the way.
"I know that we have a good, hard-working group of kids," she said. "They're willing to try new things. They're willing to work the extra mile to get better."
Another factor in Spencer's favor is the relative experience of such a young group. Last year's Spencer team had no seniors, so sophomores and even freshmen got their feet wet in the varsity game. Only three of the varsity players this year have no prior varsity experience.
Key players returning from last year include senior Aryiah Schuh and juniors Elexa Post, Zalexis Mannigel, Cassidee Widmann and Faith Miller. Sophomores on this year's squad who also played varsity last year are Heavyn Kind, Jorie Meyer, Madison Knecht, Becca Mlsna and Amber Becker. Junior Haylee Hopperdietzel and sophomores Emily Wehrman and Emily Klause are the newcomers to this team.
Weier is trying to instill a competitive atmosphere in the Spencer practices so players will know they have to perform to see game time.
"Every time is a competition," she said. "My starting five might not be the same every game."
That spirit plays well for this team, as the players want to improve. They played in an off-season league and have put in time to improve both their skills and their basketball knowledge.
"There are girls that worked hard over the summer," Weier said. "They are hungry. They all come to practice. They are hungry and want to get better." One of the team's strengths so far is its cohesiveness. Perhaps because it has a year together already, the teamwork is strong. "They're very good at working together," the coach said. "A lot of these girls played last year at the varsity level." Weier said her players are also adept at seeing the floor as they play and are not afraid to shoot when the opportunity arises. Hustle is another strength. "They give everything they have," she said. Weier is keeping some of the plays the team ran last year, but is also inserting her own style. The youth of this team will help in that adjustment period as the players will have time to grow in a new system. "Every coach is different," Weier said. "I'm bringing in things that I've learned from coaching. We're still young. We only have two seniors and one is a foreign exchange student (who is not on the varsity team). We have a lot of potential to grow and get better, for sure."
Another focus for Weier will be building some consistency into the girls basketball program from the bottom up. She's talked to the coaches at lower levels to let them know what the expectations are and has been going to open gyms to work with kids.
"I believe that a program starts young," she said.
For this year's varsity team, Weier said it will take some time to gauge it against competition in the Eastern Cloverbelt Conference. The team's willingness to do what it takes to compete should help.
"I'm hoping with our work ethic, we'll fall right in with everybody," she said. "I know our expectations are very high. I'm excited to see what the season brings."
And not just for 2019-20, but beyond. Weier said one of the things that brought her back to Spencer was a chance to repay a community that was so supportive of her in her high school days.
"It is great to be back," she said. "I'm happy to make a difference in the basketball program and the community."
DEAN LESAR/STAFF PHOTO