Posted on
Schmidt signs with the Warriors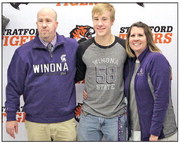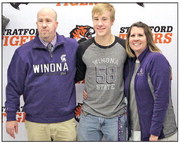 He will play D-2 college baseball
By Casey Krautkramer
Most people think the Winona St. baseball program recruited Stratford senior Chandler Schmidt for his stellar pitching; after all he tossed a completegame 9-4 win in the WIAA Division 3 state title game against Markesan last spring.
People forget Chandler also led Stratford in hitting in the state title game, by batting three for five with three RBIs to help lead the Tigers to their first baseball state championship in school history. Division 2 Winona St. of Minnesota recruited Chandler as an infielder, and the Warriors coaching staff indicated he could be playing numerous infield positions like shortstop and third base. The Winona St. coaching staff probably just wants to get Chandler in the starting lineup any way it can to take advantage of his big bat at the plate.
Chandler's hard work during his high school baseball career paid off last Wednesday when he signed his letter of intent to play college baseball at Division 2 Winona St. in Minnesota next year. His baseball coaches, family and classmates gathered outside the Stratford High School gym to witness Chandler's monumental moment that he'll cherish the rest of his life.
The pressure is off Chandler's shoulders now that he's made a decision on which college to attend to extend his SPORTS
days of playing baseball.
"The Winona St. baseball coaches made me feel at home while on my first visit to the college," Chandler said. "Our Winona St. baseball team seems to have a bright future ahead of us, because the program brought in five freshmen who are good pitchers. Winona, Minn. is close to where I have some family living, so attending college here and playing baseball just seemed like the right fit. It was a tough decision but a good decision."
Chandler was the Stratford baseball team's Most Valuable Player last season, along with being selected as a unanimous first team all-Marawood South baseball player. Besides winning state, he was also an integral player who helped Stratford's baseball team win its first Marawood Conference championship in 15 years.
He took pictures with his classmates, baseball coaches and family members including his parents, Curt and Missy Schmidt, and his siblings Brady and Gracie, after signing his letter of intent in front of the new Stratford Tigers' backsplash. Chandler said it would be neat if his Tigers' football, basketball and baseball teams all won state championships this season.