Posted on
Loyal girls have mix of returning players and newcomers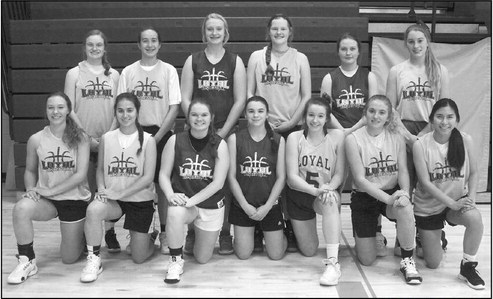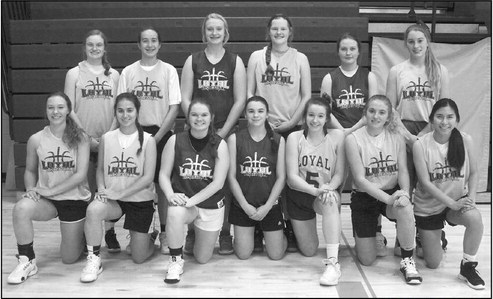 Loyal head girls basketball coach Mike Rueth has a philosophy on building a program that can be successful year in and year out. If you do it correctly, he says, when older players graduate and leave, there should be some younger ones ready to step in and win.
That idea will be put to the test this season as Rueth and his Greyhounds replace four starters from a 2018-19 team that finished with a 15-9 overall record. The good news is that Rueth gets back not only one of the Eastern Cloverbelt Conference's best players in point guard Remi Geiger, but several other players who have strong leadership skills and quite a bit of varsity experience under their belts.
Last year's team included Hailey Rueth and Amanda Krasselt, who both played key roles in the 2017 state championship season, and Hannah Peroshek and Emily Goodbrand. They all started a year ago and saw considerable floor time, but not so much that some underclassmen never saw the floor. While their scoring potential and rebounding will be missed, Rueth said he has players coming along who will pick up the slack.
For Loyal, it all starts with Geiger. Now in her fourth year as starting point guard, she brings the ability to create her own offense off the drive, shoot from 3-point range, handle the offense, and play tough defense.
"The bottom line is, we still have Remi for another year," Rueth said. "I just feel like she's ready to take her game to another level. She's an outstanding basketball player and a really good leader. She's gonna be counted on to do a lot of things."
With opposing defenses likely to focus on stopping Geiger, that should open things up for her teammates. Rueth said she's smart enough and wants to win badly enough to have no problem with handing out assists.
"She's a really good team player," he said. "She knows she's gonna draw a lot of attention."
There to benefit from Geiger's passing skills will be two post players who will be keys to Loyal's season — senior Bailey Bravener and junior Kayla Bremmer. They both have good height and will need to establish themselves in the lane.
Bravener played mostly at the junior varsity level last year, but is one of those players Rueth said a good program has waiting in the wings.
"Bailey is gonna play a bigger role this season. She had a nice summer," he said.
Bremmer saw a lot of time in the post as a sophomore, and can establish position for scoring and rebounding.
"Her maturity level is a lot better than it has been," Rueth said.
On the perimeter, juniors Katlyn Lindner and Savannah Schley will be the go-to players. They also played a lot last year and even as freshmen, and they have put in the off-season time and effort to get better at their games. It's showing.
"Their perimeter play has gotten better," Rueth said. "Their shot has been more consistent."
Sophomores Paige Smith and Abrial Kubista are two more players who are ready to take their turns in line for Loyal. They'll be full-time varsity players, in part because of how well they played in a summer league and tournaments.
Also vying for varsity time will be a group of sophomores in Tylee Brecht, Haven Peroshek, Zaida Brock, McKenna Schley and Natasha Tellock. Rueth still needs another reliable guard, and is waiting to see which one of those players will step up to take the position.
While Rueth fits together the pieces for this year's Greyhound team and finds ways to generate offense, he sees some intangibles developing that will be team strengths. One of them is leadership, starting with the senior trio of Geiger, Bravener and Keralin Genteman. At the junior level, Lindner, Bremmer and Savannah Schley are also take-charge players.
"Our juniors are great leaders, too," Rueth said. "We have three seniors, but it's almost like we have six."
This team also gets along together well, which can be a great asset as a season moves along.
"I think our strength right now is out team chemistry," the coach said. "I think they enjoy basketball. They enjoy each other's company. The team chemistry is really good right now. That's where we're way ahead of where we were last year."
Loyal will open its season on Nov. 22 against Neillsville, which is again expected to be very good and a likely ECC title contender along with Colby. Rueth would rather play them a bit later in the season, after his team has had a chance to find its identity. Loyal will also play an improved Gilman team before it plays in a holiday tournament at Wisconsin Rapids Assumption on Nov. 29-30.
Rueth thinks this year's Greyhound team should be solid, and it should improve as the season develops. The group has some qualities that will help it grow.
"These kids are really smart kids. They're very coachable," Rueth said. "If they don't understand what's going on, there are questions asked."
This group of players has also proved its determination during summer camps and during practice.
"I think they're a tough group of kids. I think we have some grit to us," Rueth said.
As always, Rueth said the goal is to get better as the year progresses. Last season, that wasn't necessarily the case, which resulted in the season ending in the second round of the playoffs.
"We didn't peak last year," the coach said. "We went the opposite way. Early in the year we have to find ways to get through, and hopefully get better every week."
DEAN LESAR/STAFF PHOTO