Posted on
Edgar returns for rematch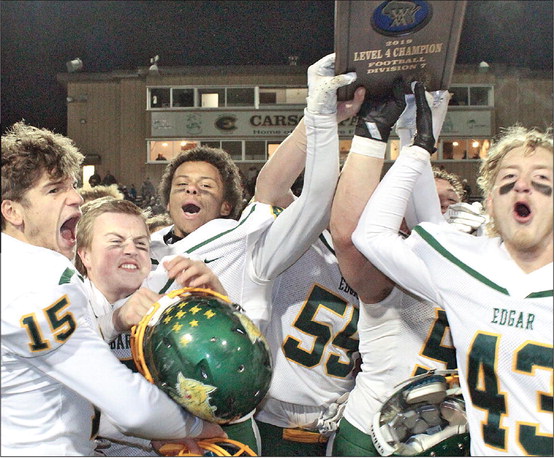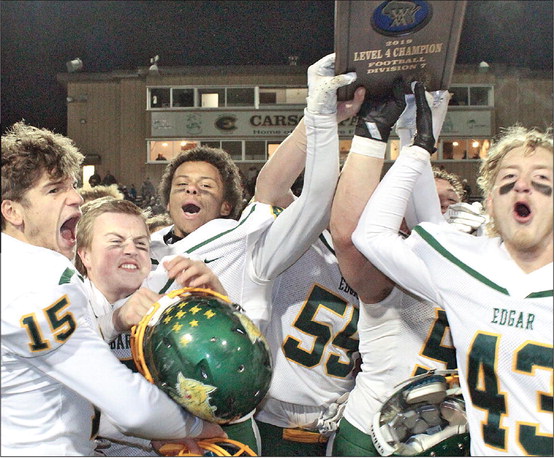 Wildcats ready for redemption shot at Warriors
By Ross Pattermann
y memdgar hey or d When the 2019 football season began there was just one word that was on the lips of every member of the Edgar Wildcats as they suited up for practice, and that word was redemption.
After suffering a 22-15 loss to Black Hawk in the WIAA D-7 state championship s s wkA mme game the year before, the 'Cats were determined to return to Camp Randall, and to trade that bitter memory for a better one.
Edgar (12-1) is now one step closer to getting its wish after riding a suffocating defense and punishing ground game that proved too much for the second ranked Bangor Cardinals (12-1) as Edgar won its Level Four playoff game on Friday night at Carson Park 27-7.
Now, not only do the Wildcats get another chance to bring back a gold football to Edgar, they'll square off against last year's opponent for a slice of revenge.
"It means so much to get back to state," senior lineman Zachary Schutte said after Edgar punched its ticket to state. "They nipped us last year and that really hurt."
Schutte is hoping that history is on Edgar's side when they return to Madison for their state title rematch with Black Hawk, who formed a co-op this year with Warren, Ill.
"My brother (Brett Schutte) was a senior when he made it to state, and they played Bangor on this same field when they won," Schutte said. "Hopefully we have the same results."
Before they could think of playing for the title, they had to get through their Level Four game on Friday.
Standing in the way of Edgar's return to Camp Randall, a place that's as familiar to these players as the halls of Edgar High, was Bangor tailback Carter Horstman, he of the 2,116 rushing yards and 33 touchdowns.
It helps that Edgar has a dynamic offense that's capable of putting up gaudy numbers - and a defense that's delivered its share of goose-eggs to opponents.
Eight times the 'Cats have shut opponents out, and even though Bangor came into the contest averaging north of 40 points a game, Edgar's defense forced three turnovers and did a stellar job holding Horstman in check, limiting one of the state's most explosive rushers to 118 yards and no touchdowns on 24 carries. Horstman's 4.9 yards a carry was a season low.
The 'Cats played a fairly clean game, and capitalized off big plays on both ends of the ball.
"We had a couple big penalties, and we had big plays, but overall we played hard and we played pretty smart," Edgar head coach Jerry Sinz said about his players' efforts. "We didn't make any crucial blunders. I was pretty proud of the guys. I thought they played tough and they played hard the whole game."
Bangor moved the ball into Edgar territory on a series of big runs on their opening drive. Edgar weathered the runs, and soon found Bangor quarterback Mathieu Oesterle to force a fumble that Kyle Brewster recovered.
Four plays later Edgar found paydirt, with a 40-yard pass play from Edgar quarterback Konnor Wolf to Drew Guden setting up the first score of the game.
Guden missed several games with an ankle injury, and his return to the starting line-up was an instant difference maker for Edgar. Guden was quick to shrug off any attention, stating that he was just glad to be back.
"Everyone's doing their jobs and I just got to go out there and do mine," Guden said. "Konnor threw a great pass, and all I had to do was run under it, and catch the ball. I got behind the defense, caught it, and we just kept rolling from there."
The drive culminated with a 21-yard scoring strike from Wolf to Brewster that put the Wildcats up 7-0.
Bangor had chances to take back the momentum after intercepting a deflected pass inside the Cardinals' 15-yard line. Horstman sprang loose for a 30-yard run, but a bobbled hand-off on the next play resulted in a loss of ten yards. This was followed by a false start, and what could have been a scoring drive resulted in Bangor coming up empty-handed.
The 'Cats held the Cardinals to just 105 yards of offense in the first half, but had their own struggles with penalties, and after one half of play, the score remained 7-0 in favor of Edgar.
Hafferman provided the spark, opening the second half with a 45-yard kickoff return. He capped off the drive with a one yard touchdown, part of a night
"My brother was a senior when he made it to state, and they played Bangor when they won. Hopefully we have the same results." Zachary Schutte
Edgar senior where he led the offense with 118 yards and two scores on 20 carries. The PAT made it 14-0.
Bangor did what it could to hold Edgar in check, limiting the 'Cats to just 222 yards of total offense on 44 plays, but Edgar returned the favor, giving up just 175 yards of total offense. Carson Lemmer was a beast on defense, tallying 22 tackles. Hafferman added 20 and Korbyn Bauman added 19.
The 'Cats had nine different players notch double digit numbers on tackles, making the Cardinals one dimensional something Edgar is not.
"We don't just run it, run it and run it," Guden said. "We got deep pass, short pass, mid-field pass. It's hard for defenses to stop us."
The Cardinals forced another turnover off a Hafferman fumble late in the third quarter, and Bangor quickly used it to their advantage, though it wouldn't be easy. The 'Cats forced a fourth-and-11 situation, and Bangor took to the air, scoring their only TD on a 15-yard pass play. The PAT was good, and suddenly it was a one possession game.
It didn't stay that way for long. Edgar marched downfield midway through the fourth quarter. Hafferman knifed his way through key blocks up front to score from two yards out, giving the 'Cats a 21-7 advantage.
For Schutte and his teammates in the trenches, the game was just another example of their grit. After facing off against Stratford this season, they weren't fazed by the size of the Bangor's defensive linemen, which boasted several players 6'3" or taller.
"Playing that close game with Stratford, even though we lost, it let us know we could play with caliber teams like Bangor," Schutte said. "Getting the win tonight, it feels good, and we're all looking forward to playing Black Hawk again."
With time running out, and a run game bottled up and made largely ineffective, Bangor took to the air. It proved to be a costly mistake.
Just seconds after scoring on his two yard carry, Hafferman read the eyes of Bangor's Ashton Michek, and jumped the route for an 11-yard Pick Six that made it 27-7.
From there, it was just a waiting game as the seconds ticked off the clock, and Edgar stood victorious for the second time in three years against the Cardinals.
When it was over, the 'Cats roared in triumph, soaking in the moment. But the word redemption continued to hover in the air.
It could be heard in between handshakes and hugs. It was there, underneath the smiles and grins. For next week's clash with Black Hawk/Warren (Ill.) will give Edgar a chance to bring an eighth state title back home - and earn that much desired redemption.
"We've had our eyes on that gold ball since the start of the year," Guden said. "To get a chance to bring another state championship to Edgar is sweet, and to get to play Black Hawk makes it even better. We're definitely going to be ready. I hope they are too."