Posted on
Bulldog girls are putting in the effort to improve team success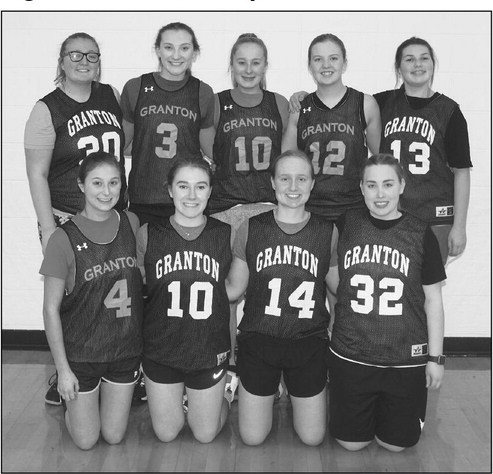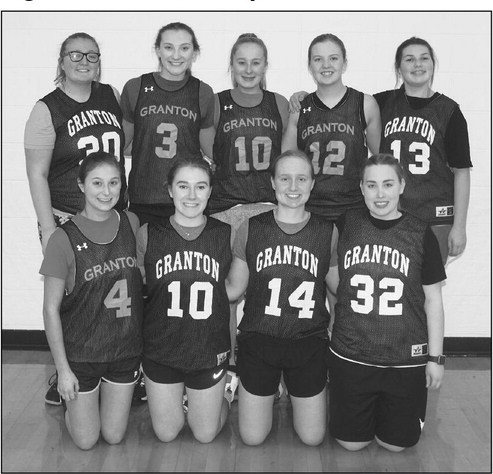 An increase in players and work on improvement in the offseason by coaches and athletes will give the Granton Bulldogs some additional strengths coming into the 2019-20 basketball season. Once again under the direction of coach Jason Strey, he said the team is expecting to be more of a challenge to opponents this year despite competing in a highly skilled conference field.
A total of 10 girls make up the team this year. Losing two players to graduation and gaining three, Strey said even though they are only gaining one player when comparing numbers to last year, having even just one player more is already making a significant difference.
"It's a huge advantage," he said. "We can actually run five-on-five plays and work on defense. We had to do a lot of four-on-four plays last year. The only time we could run five-on-five plays was if one of the coaches filled in. It's a big advantage."
The team will also have benefits during games. Already experienced in having a small bench of players and its problems, Strey said the Bulldog players will now be able to get in a little more rest between substitutions with more players. This will allow them to compete in games longer than they were able to before without leaving the players dead on their feet.
"The depth on the bench is nice. Before the girls were forced to play for a longer period of time," he said. "We get more substitutes in, we get more breaks."
Besides having more players, Strey said there have been improvements all across the board for the Bulldogs. Many of the girls, knowing they needed to continue working in the off season, practiced their skills during the summer. And as a coach, he said he has taken some coaching courses and will be implementing the things he learned into the practices.
"I went to some coach camps this summer to improve myself in the off season. There's a lot of new things I learned in coaches' camp, different drills, life lessons; not just basketball, and how to connect them together," he said. "There has been some impact with the girls. A majority of them played in the summer league so that was nice to see."
Strey said he has also noticed how connected the team has been in their practices and their positivity, especially among the older players who have faced a lot of adversity in games. As this perseverance is a defining trait among the Granton players, he expects the girls will do better this year with the skills they have picked up.
"One of our strengths is we never give up. We've been beat pretty hard, but we always play until the buzzer," he said. "It's been very positive, the attitude has been great. They're working with the underclassmen really well, they know each other. It's a good thing to have more kids here, they know they have to work more to get playing time."
While there has been a lot of improvement on the team in Strey's eyes, he said there are still things they need to work on. Shooting is one skill he noted the team is struggling with right now and in a competitive sport where the Granton girls are at a disadvantage due to their smaller numbers and general make-up, that positive attitude is an important thing to hold on to.
"We definitely need to work on shooting, we need to work on that quite a bit," he said. "We need to keep the positive attitude, the kids get down at times. Bad attitude is contagious, we need them to think positive. With disadvantages in numbers and actual age we can't be beating ourselves up too much."
There are three seniors leading the team: Hannah Walter, Rhiannon Reimer and Jaden Gardner. There are also three juniors in Kristin Strey, Makenzie Muraski and Joi Riemer. Sam Martin and Megan Walter are the sophomores on the team and Abby Woller and Alexis Pongratz are the freshmen.
As of right now, Strey said he is not sure which of the girls will be on the final starting line-up, but will determine it before the Bulldogs' first game on Nov. 21, a non-conference game against Whitehall. For the rest of the season, with so many state-qualifying teams in the conference, he said they may not be able to beat them all, but he hopes the Granton girls will make every team they come up against have to earn their win.
"We have a tough conference, Neillsville, Loyal and Colby have all been to state recently. We play some of the best teams in the state. I think we keep with them well into three quarters of the game, we now want to stay with them the whole game," he said. "There's potential, we expect to compete. We've been working really hard. We want other schools to know it's not going to be just an automatic win against us, we want them to be like, 'Whoa, these girls mean business.'" After their non-conference game against Whitehall, the Granton girls will next play at home against Owen-Withee on Nov. 22 and again at home against Spencer on Nov. 26.
CHEYENNE THOMAS/STAFF PHOTO