Posted on
Turnovers fuel decisive run that sends Edgar past Pirates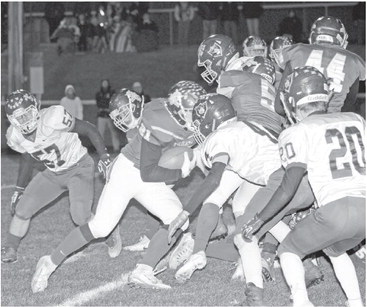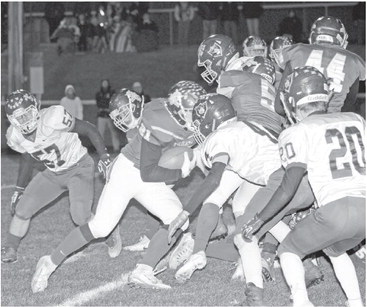 DIV. 7 LEVEL 3: EDGAR 47, GILMAN 0
Beating the Edgar Wildcats is hard enough when you play good football. Turn it over three times in a quarter and it becomes virtually impossible.
The Gilman Pirates hung in there for the first quarter and a half in Friday's WIAA Division 7 Level 3 battle against the top-seeded Wildcats, but an aggressive play call turned bad and the momentum swung in a hurry, resulting in an insurmountable 27-0 halftime deficit and, eventually, a 47-0 season-ending defeat.
Gilman's seven-game winning streak was snapped and its season ended with a solid 9-3 record. Edgar improved to 11-1 and will face Bangor (12-0) Friday in Eau Claire in a state semifinal game.
"This is my 27th year involved with small school football and I think that's probably the best defense as a coach I've ever had to go against," Gilman head coach Robin Rosemeyer said. "They're good, they're fast, they're physical. They really have no weak spots on their team. And to top it off, they're very wellcoached. Their kids know what they're doing. It's going to take a good team to beat them and they're going to have to get some breaks."
Going into the contest, this was viewed as a potential battle between topnotch defenses and for the first 16-17 minutes, it was.
The Pirates got one first down on the game's opening possession before punting. Brayden Boie forced a fumble that Gilman recovered for its only takeaway of the night, but the Wildcats didn't bend and forced the Pirates to punt again. Edgar responded with a scoring drive that ended in a 4-yard touchdown run by Kaleb Hafferman and a two-point conversion pass from Konnor Wolf to Kyle Brewster that made it 8-0 with 3:44 left in the first quarter. But then the defenses went back to work.
Edgar forced another punt. Gilman got a third-down stop with Edgar sitting on the Pirates' 35 and the Wildcats elected to punt and pin the Pirates deep in their territory. Gilman wound up punting it back and then stopping Edgar again.
Then Edgar's defense came up with the play that started Gilman's demise. Cade Higgins intercepted a deep ball thrown by Pirate Gabe Gunderson and returned it inside the Pirates' 10. That led to Hafferman's 1-yard touchdown run that made it 15-0 with 7:00 left in the second quarter. The Pirates then fumbled away the ensuing kickoff, leading to Hafferman's third touchdown, a 6-yard run, that pushed the lead to 21-0 with 5:54 still left in the half.
Rosemeyer said he thought the Pirates had a shot for a big play on the interception, but it backfired when Higgins diagnosed the play.
"It was a bad play call," Rosemeyer said. "I thought we had a little trick play, but their cornerback sat right there and picked Gabe off. I thought it was something where we could run their guy off. ... It was my mistake on that play call. I really regret that. That kinda opened things up."
Edgar got another interception before the half, leading to Wolf's 1-yard touch- down pass to Austin Dahlke with 1:31 left that put the game out of realistic reach.
"That was a very defining moment of the game, those three turnovers on three straight possessions," Rosemeyer said. "We hung in there for a quarter and a half. We were struggling to move the ball and they had one nice drive. But at least we stopped them a few times and got them to punt. We got the turnover on downs and forced a fumble. So we were doing OK. But then the floodgates opened in a hurry."
Edgar put the running clock into effect in the third quarter, getting a 46yard touchdown pass from Wolf to Dahlke just over three minutes in to extend the lead to 33-0. Brewster's 23-yard touchdown run at the 6:12 mark made it 40-0. Austin Weisnberger capped the scoring with a 1-yard touchdown plunge late in the fourth.
Gilman could do little with Edgar's defense, managing just 50 total yards on 39 offensive plays. Edgar had just nine more plays but piled up 346 yards. Kade Kroeplin led Gilman with 28 rushing yards in nine attempts. Boie added 16 yards on eight carries. Gunderson was three for 13 through the air for just 8 yards.
Rosemeyer said the Wildcats alternated between their base 5-2 look up front and a 4-3 look. With a blitzer in the four- man front, they're always bringing five men hard at the line of scrimmage, but it's not easy to decipher where the pressure will come from.
"They're always bringing five guys whether it's the 40 or the 50," he said. "They did (the 4-3) a lot more than we were expecting so we really weren't as prepared for it as we probably should have been. It is a hard thing to prepare for because they have guys flying all over. You have to be lucky to catch them and have the right play call against it."
Edgar rushed for 219 yards and spread the wealth with nine players getting at least one carry. Hafferman led the way with 80 yards on 13 carries and scoring three times. Brewster added 46 yards on just three carries. Wolf, was five for 10 through the air for 127 yards and the two scores to Dahlke. He was picked off once by Gilman's Blake Wisocky.
"They don't do anything real fancy offensively," Rosemeyer said. "At times we stopped them fine, but then at times their physicality showed up there and their speed. They were able to complete some passes. They did a lot of first-down passing. They didn't really show that before, but boy they sure did it a lot. I bet about eight times, they threw on first down. Not always successful but enough to keep you guessing."
The Pirates say goodbye to a senior class that played a big role in Gilman making the playoffs in back-to-back seasons after a five-year absence. The 18man team overcame some early obstacles to put together a memorable 2019 season that included a 5-2, second-place finish in the CloverWood Conference the team's furthest playoff advancement since the state championship season of 2010.
"There really were a lot of unknowns going into the year," Rosemeyer said. "We knew we could be a nice team, but we knew a lot of things would have to happen positively with injuries, especially when you only have 18. Fortunately, we were able to get over the hump a little bit with some injuries and adversity stuff early in the year and then were able to put together a nice seven-game winning streak at the end.
"I don't think we outdid our expectations because we thought we had the potential to be pretty good," he added. "But with that many kids, you need things to go your way with injuries. Fortunately the last half of the year we were able to do that. It was nice to put together a couple of playoff wins and put yourself in a position where you're in a Level 3 football game."
The future of Gilman football is the eight-man game, which the Pirates will begin playing next fall. It's something Rosemeyer said the coaching staff hasn't done a lot of research on yet because it was still focused on this year's team and the season at hand. But that will change this off-season.
"It's still football," Rosemeyer said. "It's just in a much more confined space and it's eight on eight instead of 11 on 11. Hopefully we'll be able to develop offensive and defensive schemes where we won't have to change our terminology much.
"One good thing is we know we have some good athletes coming back, and the bottom line that is still the name of the game. We have some kids who can play."