Posted on
Times take a nose dive as Raiders finish strong at Rapids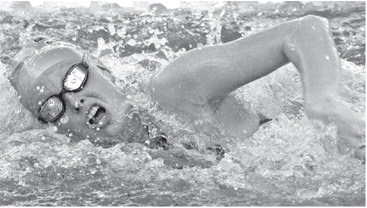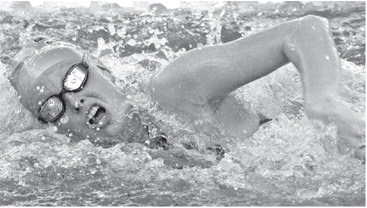 WIAA DIV. 2 WISCONSIN RAPIDS SWIM SECTIONAL
Not only did the Medford Raiders send two qualifying entries to state and set three new school records at Saturday's WIAA Division 2 Wisconsin Rapids girls swim sectional, but they also shattered most of their previous season-best times while placing ninth out of 14 teams.
"There were so many highlights, I don't even know where to begin," head coach Betsy Berends said.
Berends said she and assistant coach Morgan Wilson took a different approach to this year's sectional. With just two seniors on the squad and the chances of qualifying for state minimal for most Raiders, they felt it was important to give more girls the experience of swimming in the sectional meet and not focus quite so much on state chances.
"With only 18 individual entries, we had to make the decision how we wanted to use them," Berends said. "Morgan and I decided to bring everyone to sectionals this year for the exposure, unlike in years past where a few tapered for conference. This type of meet is unlike any other they will swim in and with our team being made up of mostly freshmen and sophomores, we wanted them to get this experience before next year. Light the fire for the off-season if you will. After losing such a dominant class last year, we considered this a rebuilding year, but they came back stronger and even faster than I could have ever imagined."
Erin Bergman earned Medford's top placement in the meet and qualified for state with her second-place time of 58.88 seconds in the 100-yard backstroke behind Rhinelander's Malia Francis. Raider Maddie Williams was 20th in 1:11.92, dropping 3.14 from her previous best time. Alicia Venzke dropped 5.46 seconds while taking 29th in 1:18.83 and senior Savannah Brandt cut 1.88 seconds while placing 31st in 1:25.71.
"Alicia and Maddie placed well in the backstroke," Berends said. "This was Alicia's first year and it was nice to see it end on such a high note. She has a lot of potential. Savannah ended her high school career with two great swims as well. She has been a steady swimmer the last four years and we will miss her depth next year."
Bergman set a Medford school record of 54.62 seconds while placing sixth in the 100-yard freestyle. She missed making it to state by one place and 0.11 seconds, while dropping from 58.02 seconds a week earlier. Freshman Olivia Rau was 34th in 1:12.37, knocking 2.56 seconds off her previous best time.
Morgan Ball set a new school record in the 100-yard butterfly at 1:02.15. That was good for fifth place and represented a 2.36-second drop. Savannah Brandt was 22nd in 1:24.06.
The first new school record went to the 200-yard medley relay team of Bergman, Faith Piller, Ball and Kami Razink, who finished fourth in 1:53.66 and qualifi ed for state. Those same four swimmers took sixth in the 400-yard freestyle relay in 3:54.74, dropping almost 10 seconds with their time. The team of Williams, Aiden Denzer, Piller and Razink was 11th in the 200-yard freestyle relay at 1:51.56.
Piller posted a season-best time of 1:14.24 in the final 100-yard breaststroke race of her prep career. That was 2.51 seconds faster than any time she had this fall. Denzer, a freshman, got the last top-10 spot in the 200-yard individual medley at 2:30.4, cutting 2.64 seconds off her previous best.
Ball swam to 14th place in the 200-yard freestyle in 2:09.67, a huge drop of 6.75 seconds. Sophomore Lacey Brandner cut 0.13 seconds to take 22nd in 2:21.51 and Shaniah Brandt dropped four seconds while taking 28th in 2:42.12.
Brandner added a 15th-place time of 6:17.68 in the 500-yard freestyle, while freshman Kirsten Weix was 19th in 6:33.81 and Shaniah Brandt was 24th in 6:57.31.
"All of the girls in the 500 cut signifi cant time again this week," Berends said. "Shaniah finally broke the sevenminute barrier and Lacey was able to crash through her 6:23 block. Kirsten has dropped almost 18 seconds in the last two meets in that event. She will definitely be swimming that next year again."
Razink added to her strong day in freestyle sprints with a 16th-place time of 26.48 seconds in the 50-yard freestyle race, a season-best by 0.94 seconds. Freshman Brooke Wegerer was 30th in 29.19 seconds, cutting 1.31 seconds.
The Raiders scored 137 points to beat Wittenberg-Birnamwood (122.5), Tomahawk (114), Colby-Abbotsford (59), Antigo (38) and Mosinee (20). Great Northern Conference champion Rhinelander pulled out a dramatic 264-263 margin over Rice Lake to win the team championship, while Wausau East (257.5) and River Falls (257) weren't far behind.
"Team scores were very close this year, probably the closest I've ever seen them," Berends said. "But team scores were not our main goal. We got back to state. That was enough for us. Ironically Ladysmith finished seventh overall and didn't have anyone qualify for state. They just missed it on every event. So I'll take our outcome over a higher team finish any day."