Posted on
Dominant season produces plethora of All-GNC awards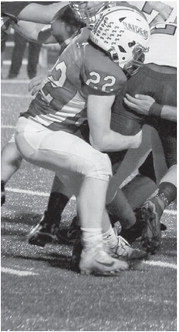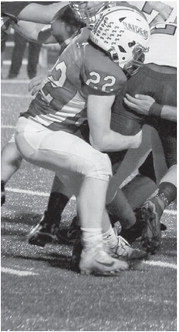 ALL-GREAT NORTHERN FOOTBALL
A dominant season-long performance on the field by the Medford Raiders logically led to a dominant showing by them in the voting for the 2019 All-Great Northern Conference football team.
After a 6-0 record in conference play, where the Raiders' closest game was a 21-point win over Mosinee, Medford took an amazing eight first-team spots on defense, five more on offense and landed all three of the GNC's major awards.
Senior Ean Wilson shares this year's Offensive Player of the Year award with Mosinee quarterback Trey Fitzgerald after his record-breaking season at running back. Junior inside linebacker Blaine Seidl earned the Defensive Player of the Year award. Not surprisingly, Ted Wilson got the nod as the 2019 Coach of the Year.
The perception in August was Medford was going to have a solid squad and was going to battle Mosinee for this year's GNC championship. But it didn't take long to see Medford was going to do much more than that when the Raiders shut out Big Rivers Conference rivals Rice Lake 14-0 and Chippewa Falls 42-0 in their first two non-conference games.
The Raiders then tore their way through the league, destroyed Hayward 53-0 in Level 1 of the Division 3 playoffs and earned a satisfying 16-14 win over River Falls in Level 2 before finally falling 34-8 to Menomonie Friday in Level 3. The Raiders finished 11-1, equaling the school's record win total, originally set in 2003 by a squad that finished 11-2.
The first-team defense was not scored upon until Mosinee got two touchdowns in Medford's 35-14 week-eight win. The Raiders easily led the GNC by allowing 196.5 yards per league game. Overall, they allowed just 8.7 points per game, even with allowing 34 at Menomonie. That success was reflected in the eight Raiders getting first-team nods.
Senior nose tackle Clay Bowe, senior end Doug Way, Ean Wilson at inside linebacker and senior defensive back Justin Sullivan were all unanimous selections by the conference's coaching staffs. Seidl, junior defensive lineman Joe Gierl, junior end Emett Grunwald and junior defensive back Colton Surek were the other first-team picks, joining three Rhinelander Hodags, two Antigo Red Robins and Mosinee defensive back Drayton Lehman.
Seidl was, by far, Medford's leading tackler and was simply a disruptive force that gave every GNC offense trouble. Statistics through 11 games showed he was involved in 105 total tackles, including 52 solo tackles, 13 tackles for loss and two interceptions, both of which he returned for touchdowns. One was at Lakeland, the other was at Merrill. He recovered a fumble, forced a fumble and blocked numerous punts. He recovered a blocked punt for a touchdown in the week-two win over Chippewa Falls.
Surek ranked second in tackles through 11 games with 69 total stops from his safety position. That included 25 solo tackles and two tackles for losses and a forced fumble. Wilson was credited with 58 total tackles through 11 weeks, including 24 solo tackles, five tackles for losses, two sacks, a fumble recovery and a forced fumble.
Sullivan led the Raiders with 12 passes defensed and four interceptions, two of which he returned for touchdowns. One pick-six came in week three against Ashland. The other sealed Medford's 27-0 week-seven win at Antigo. He was credited with 46 tackles through 11 games, 31 of which were solo stops. He also returned a punt 44 yards for a score in the playoff win over Hayward.
Way, Bowe, Gierl and Grunwald all did their damage on the line of scrimmage. Way, a two-way first-team pick a year ago as well, and Grunwald became a dominant duo at the defensive end positions. Way's size and length made him tough to block, while Grunwald's strength and quickness gave offensive tackles fits. Way had 33 total tackles in weeks three through 11 with 23 solo stops, 11 tackles for loss, four sacks and a forced fumble. Grunwald tied Seidl for the team lead in tackles for loss through 11 games with 13 and led the team with six quarterback sacks. He had 43 total tackles with 24 solo tackles and a forced fumble.
Bowe's relentless work at the nose tackle position led to 28 total tackles, including seven solos, three tackles for loss and two sacks. He forced two fumbles and recovered one and his play may have been a factor in several poor snaps by River Falls in the second half of that playoff game. Gierl, a first-year starter at tackle, had 35 total tackles in the first 11 games with 10 solo stops, two tackles for loss and a sack.
Defensive backs Blaze Kesan and Carson Church were part of the All-GNC honorable mention list. Church, a junior, had 47 total tackles in the first 11 games with 17 solo stops, a fumble recovery and two interceptions, the biggest of which came in the third quarter of the River Falls playoff game, which he returned to the 4-yard line and set up an Ean Wilson touchdown that put Medford up 14-6 at the time. Kesan missed time with a severe ankle sprain but still managed to compile 45 tackles through week 11, 23 of which were solos. He blocked the punt Seidl recovered for a score against Chippewa Falls.
Offensively, Medford ranked second in the GNC in total offense at 346 yards per game, just behind Mosinee's 374 yards in league play. But no one stopped the Raiders' ground attack, which piled up 1,801 yards in league play, almost 600 more than any other team. Medford averaged 34 points per game overall and 39 points per game in its six GNC contests.
Running backs Wilson and Grunwald were unanimous first-team picks on that side of the ball, as was senior tackle Zac Breneman. Senior guard Isaac Zepeda and Way at tight end also were firstteam selections. Junior tackle Jarod Jochimsen made the second team and senior Austin Waldhart was named the second-team kicker while Sullivan got honorable mention at receiver and junior guard Abe Miller also got honorable mention.
Breneman, Zepeda, Way, Jochimsen and Miller were among the key blockers that led to Medford's 3,271 total rushing yards and 592 passing yards in 12 games. It's the first All-GNC recognition for Breneman, Zepeda, Jochimsen and Miller. Wilson rewrote Medford's rushing record book as he
Great Northern Conference Coach of the Year Ted Wilson addresses his Medford Raiders after their season-ending loss to Menomonie Friday night.
finished the year with a single-season record of 2,183 yards and a career rushing record of 4,285 yards that beat the previous mark held by Cole Garczynski by over 1,100 yards. He scored 29 rushing touchdowns and was three carries shy of a state record when he had 57 attempts for 311 yards in the win over Mosinee. Wilson is planning on continuing his football career at UW-Stout next fall.
Wilson's 192.3 rushing yards per game in league play, easily led the GNC, while Grunwald ranked fourth at 82.2 yards per GNC contest. The junior finished with 493 yards in GNC games and 761 yards with seven touchdowns overall. Way added three receptions for 45 yards and two touchdowns in GNC play and had five catches for 91 yards and three scores overall. Sullivan was Medford's biggest receiving playmaker, pulling in 11 receptions for 333 yards and four touchdowns, two of which came in the win over Antigo. He had four catches for 141 yards and the two Antigo touchdowns in conference play. Waldhart came to football from soccer and filled a valuable role as the place kicker. He hit 23 of 27 extra points in league play and 38 of 44 overall.
All-Region
Medford added to its award total Monday when the Wisconsin Football Coaches Association released its All-Region teams for 2019.
Wilson, Way, Seidl and Breneman all made the Region 1 Large team, which consists of players from the Great Northern, Big Rivers and Mississippi Valley conferences along with the Valley Football Association's West, North and South divisions.
Wilson made it as both a running back and linebacker. He joins D.C. Everest's Delton Zuleger, Kimberly's Alec Martzahl and Caleb Frazer, Onalaska's Nathan Lubinsky, Wausau East's Donovan Leverette, Holmen's Brett Holden and Fond du Lac's Zavier Ellis as running backs on the All-Region team.
Wilson and Seidl both made the team as inside linebackers. They are joined by Fond du Lac's Fletcher Haus, Neenah's Reid Koeppel, Kimberly's Caleb Obermann, Menomonie's Will Ockler, Wausau West's Nolan Seipel, Holmen's Dylan Westcott and Appleton North's Wilson Zuck.
Way's All-Region honor is for his play at defensive end. The All-Region list at that position includes Dylan Boecker of Menomonie, Conner Haggerty of Onalaska, Cade McDonald of Hudson, Joe Stoffel of River Falls, Logan Wilson of Kimberly and Sam Wood of Fond du Lac.
Breneman is one of 11 offensive linemen on the Region 1 team and the only one from the Great Northern Conference. The rest are Evan Buss of Kimberly, Dane Demuth of Hudson, Andrew Fenton of Menomonie, Ethan Krueger of Sparta, Luke Perssons of Superior, Moses Riehl of Fond du Lac, Matthew Schooley of Wisconsin Rapids, Ryan Seidl of Appleton East, Max Sullivan of Hortonville and Paul Thielman of Fond du Lac.