Posted on
Big pass plays end Medford's outstanding year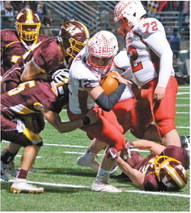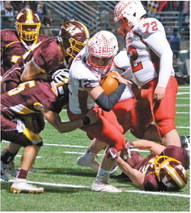 MENOMONIE 34, MEDFORD 8
When the Medford Raiders allowed 23 completions and 284 passing yards Oct. 11 against Mosinee, it was considered a job well done because they kept the Indians in front of them throughout the game and never gave up a home run play over the top.
In Friday's WIAA Division 3 Level 3 matchup at Menomonie, the Raiders allowed 15 fewer completions and 115 fewer passing yards. But four of those completions were the big plays the Raiders couldn't allow to stay in the game and were the ultimate difference in their season-ending 34-8 defeat.
"They didn't just come out and roll it right down our throat running it," Medford head coach Ted Wilson said. "Our run defense played well. We just let three or four go over the top and that's too bad."
All of that damage was done in the first half, putting Medford in a 28-0 hole it's not built to come back from. The Raiders' memorable 2019 season ended with a school-record- equaling 11 wins and an 11-1 record, an outright Great Northern Conference championship and many team and individual accolades. Menomonie improved to 11-1 and earned a spot in Friday's WIAA Division 3 state semifinal against 11-1 Menasha, who knocked off unbeaten West De Pere 24-14 in Level 3.
"They're a really good football team," Wilson said of the Mustangs. "We didn't play the greatest, but speed kills. ... They're quite a bit faster than we are. They're really good. I think our kids, the whole year, played pretty well. We did a lot of great things."
The Raiders certainly looked like a contender early, getting a first down and getting into Menomonie territory on the game's first drive. A fourth-down deep pass fell incomplete, giving the Mustangs the ball at their 45, but Medford forced a quick punt. Peyton Kuhn picked up 8 yards on third and eight, Ean Wilson and Emett Grunwald picked up enough yards for another first down before the Raiders were stopped and had to punt. Mustang Davis Barthen returned Logan Baumgartner's punt 20 yards to the Medford 45, but the Raiders were on the verge of forcing another punt and possibly getting to the second quarter at 0-0 when quarterback Tyler Werner's underthrown heave down the right sideline on third and nine got through two Raider defenders and into Barthen's lap for a 27yard gain to the 17. Again, on third and nine, Werner hit Dylan Boecker over the middle for 10 yards. That was followed by Thomas Poplawski's 5-yard touchdown run with 55 seconds left. Poplawski's kick bounced off the upright, keeping it 6-0.
The game swung Menomonie's way for good in the next three minutes.
First, the Raiders were stuffed on fourth and one, a rarity for this season. Wilson was denied as he tried to bounce outside to the left on the second play of the second quarter, giving Menomonie the ball at Medford's 49. The Mustangs needed just one play to capitalize as Werner hit Barthen in stride on a fly pattern for the touchdown. Werner ran in the two-point conversion for a 14-0 lead.
A 32-yard punt return by Jed Ogea, thanks to a well-blocked wall by his teammates as he ran right to left, set up Werner's 39-yard touchdown pass on the next play to wide-open tight end Kaleb Kazmarek on a busted coverage to suddenly make it 21-0 with 9:32 still left in the half.
The Raiders made a run at cutting into the lead by going on a 15-play drive that took over seven minutes off the clock. Wilson converted a must-have fourthand- one in Medford territory with a 4-yard gain. Kuhn hit a wide-open Doug Way for 20 yards for Medford's only pass completion of the game. Grunwald ran for 11 on third and five. Wilson gained a first down with a 7-yard gain. But a false start but Medford behind the chains and the Raiders turned it over on downs at Menomonie's 19 with 2:13 left in the half.
Memononie hit the Raiders with the knockout by driving 81 yards and scoring on the final play of the half. It was a score the Raiders felt shouldn't have happened for two reasons. One, the Raiders were in position to get Barthen to the ground or at least out of bounds on his 31-yard touchdown reception but he escaped. Secondly, the play might never have happened had the officials not incorrectly stopped the clock with eight seconds left after inadvertently giving Menomonie a first down, then deciding the Mustangs, who were out of timeouts, were actually short of the line to gain on a short completion to Brock Thornton. In the confusion, Medford ended up burning a timeout, allowing the Mustangs to set up their final play.
"That's kind of an unfortunate thing where the refs play a role in what happens at the end of a half in a Level 3 game," Wilson said.
With the Mustangs going to the ground in the second half, the Raiders bent but didn't break until Menomonie turned an interception into a short 31 yard drive and a 3-yard score by Zach De Marce with 5:03 left in the game. The Mustangs pulled their defensive starters, and the Raiders took advantage with a quick, four-play, 55-yard scoring drive that ended with Wilson's 39-yard touchdown burst off left tackle with 3:30 to play. It was Wilson's 29th and final touchdown of a record-setting season for the senior. He finished with school records of 2,183 yards in 2019 and 4,285 yards for his career, which included three years as a starter in the backfield.
Wilson had 158 yards on 29 carries in his finale, while Grunwald had 37 yards in 10 attempts. Medford had 206 rushing yards on 45 attempts and 226 total yards.
"I thought we did OK," Ted Wilson said. "We ended up with 200 yards of rushing offense. We knew all year at some point teams were really going to load the box and we were going to have to come up with some big plays. We just couldn't come up with enough of them. We didn't throw the ball particularly well. Going in I knew it was going to be tough sledding, but I thought if we could prevent them from getting the big play that we'd be right in the game and that it'd be kind of a slugfest. The second half proved what it would've been if we wouldn't have allowed them to get over the top of us three or four times."
The Mustangs finished with 322 total yards and a near-even split between run and pass. They had 153 rushing yards, led by 54 yards on 11 carries by Will Ockler, almost all of which came in the second half, and 48 yards on nine carries by Poplawski.
Barthen was the game's offensive standout with 112 receiving yards on four catches.
"I'm extremely, extremely proud of the kids, how hard they played and their willingness to latch onto the things we had to do to be successful which were really run the ball and play really good defense," Ted Wilson said of the season. "Everybody to a T had a great attitude. I'm extremely proud of the kids and what they were able to accomplish this year. It was well deserved."
While the Raiders graduate a strong 14-member senior class, they should also bring back several All-GNC award winning starters, including GNC Defensive Player of the Year Blaine Seidl.
"If our kids can make that next step of getting in the weight room, getting stronger and getting better, we should have a good chance of being an OK team," Ted Wilson said. "Every year is different. The way that the kids come in and play and the way the kids interact with each other, every team is a different team. They have to understand that just because we were good and 11-1 this year, doesn't mean that's what's going to automatically happen next year."