Posted on
A RECORD-SETTING SECTIONAL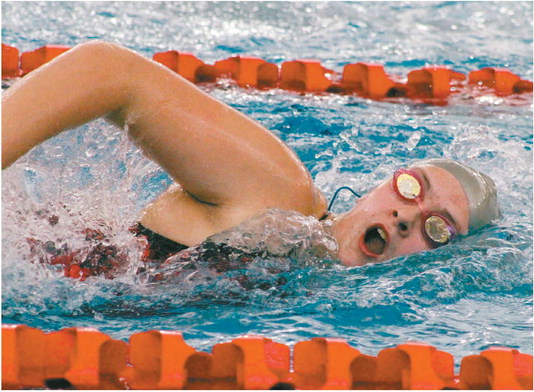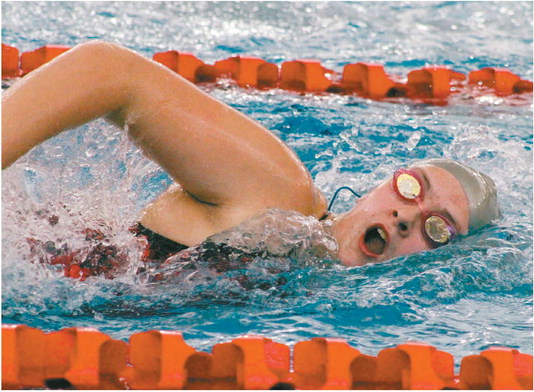 MEDFORD GIRLS SWIMMERS HEADED TO STATE
200 medley team, Bergman going to state
It didn't become official that Medford's 200-yard medley relay team was going to state until Saturday night.
But in the Raiders' minds, they knew all the way back on Saturday, Aug. 24.
The team of Erin Bergman (backstroke), Faith Piller (breaststroke), Morgan Ball (butterfly) and Kami Razink (freestyle) made it official Saturday with a school-record time of 1:53.66 at the WIAA Division 2 Wisconsin Rapids sectional. That was good for fourth place in the meet and was 11th among non-winning sectional times statewide, putting the Raiders into this Friday's WIAA Division 2 state meet at the UW Natatorium in Madison.
"We were all sitting at Applebee's (in Marshfield) doing the math and once we figured out we were going to get in, we had to contain our excitement because we were in public," Piller said. "We were so excited."
It will be the first state swim for everyone but Bergman. Medford's junior standout is aiming for a third straight podium finish in Madison in the 100yard backstroke after she took second in Saturday's sectional race at 58.88 seconds, which was a season-best and just a shade off the school record of 58.53 seconds she set last year while finishing sixth at state. "I'm just trying to get better every year as we go back to state," Bergman said. "It was pretty close (to school record Saturday). I had a couple of bad flip turns, but it will be better this Friday. We're just going to work on it this week over and over again until I get it down."
The sectional meet was yet another example of the power of the taper, which the Raiders seem to have mastered under the direction of fifth-year head coach Betsy Berends. Virtually every one of Medford's 18 entries set a season-best time. The Raiders set three school records. The medley re­lay was the first. Ball set a new record in the 100-yard butterfly and Bergman followed that by breaking the record in the 100-yard freestyle, where she missed qualifying for state by one place and 0.11 seconds.
"Every year I get nervous going into this meet until we get through the 200 individual medley (the third event) wondering how our taper is going to play out," Berends said. "The girls swam really well last week at conference so I wasn't expecting our usual huge time drops, but they surprised me again. It was nice starting off the meet with a school record and a good feeling we would be going to state. It really set the tone for the rest of the meet and got all the girls excited."
The girls also had some anxiety wondering how fresh and strong they would feel on sectional Saturday. It took only one race, the medley relay, to realize it was going to be good.
"Once you know your taper is pretty spot on, it just makes you feel good," Bergman said.
"It just gets rid of your nerves," Razink said. "That whole time you're just hoping your taper works. You're just nervous."
"It gets you pumped up for the rest of the meet," Ball said of knowing after one race the taper was working.
With their time of 1:53.66, the Raiders finished behind Rhinelander (1:49.65), Merrill (1:51.49) and Wausau East (1:51.69), who are all also statebound. Medford's quartet was 5.7 seconds faster than it was at the Great Northern Conference meet eight days earlier. They broke the 2012 record of 1:54.1 that was held by Mara Schumacher, Kate Homeyer, Abbie Bergman and Alyssa Loertscher.
It also was the culmination of something that started with the first meet of the fall, the Menomonie Relays, where this group set an opening time of 2:00.8 and won the race.
"I knew from the first time we swam the medley relay at a relay meet that it was going to be good like right away," Bergman said. "We got done with the event and we were staring at it and saying that's our time? Already? This is the first meet and we're already swimming that?"
"I looked at Erin and I said, 'we're going to break that record,'" Piller said.
"I turned to (assistant coach) Morgan (Wilson) and I said, 'that's our state team,'" Berends recalled.
Now that the goal of making it to state has been achieved, the Raiders hope to take a pressure-free approach to their state race. They are seeded 15th out of 16 medley relay teams and they'll be swimming in lane one in the first heat.
"I hope we get out of the pool knowing that we gave it our all," Piller said. "No matter what the time is, no matter how we place, we got there. We did it. And I want to get out of the pool knowing that was the best I could do and the best we could do."
Bergman hadn't really hit her stride yet in the backstroke this season, coming in with a seed time of 1:03.94. But she found it Saturday, cutting 5.12 seconds off her time from the Nov. 1 GNC meet and taking second behind Rhinelander's Malia Francis (56.43). She beat thirdplace Emma Clifford of Wausau East by 1.06 seconds.
"It's pretty cool," Bergman said. "I've been looking forward to that event all season. I was getting really, really nervous and anxious before my event even started because I don't know how well my taper works until my 50 back in the relay. Then when I figure out that's what time I'm at I can kinda go off that to see maybe what I'll do later on that day. So it kinda calmed down my nerves a little bit."
Bergman said she got an extra push during the race from her teammates.
"I was in lane one and I was swimming right alongside of the whole team," she said. "I could see everyone running back and forth on the pool deck, especially Betsy. I thought she was going to fall into the pool. It was so loud."
Along with her sixth-place time last year, Bergman was fourth at state as a freshman with a time of 58.9 seconds and has participated on several state relays and a couple of other individual state races. Bergman has seemed to thrive off her nervous energy in these big meets.
"If anything it just gets worse knowing that I have the expectation, I guess, from others, my coaches, my teammates and especially just from myself knowing that I went there two years before this and now this is going to be my third year," she said. "I guess I just try to do better than I did the year before. So my senior year I'll probably have even more nerves trying to get better than I did this year."
While these four girls didn't get to state in other individual events, it wasn't without a great effort.
Bergman's new record in the 100yard freestyle is 54.62 seconds, beating Markki Farmer's 2016 record of 55.78 seconds. She easily won her heat and was sixth overall behind state-qualifying Ellery Ottem of River Falls (51.59), Evelyn Blennert of Merrill (53.07), Kylee Theiler of Tomahawk (53.62), Faith Forsberg of Rice Lake (54.35) and Rylee Ahlborn of Lakeland (54.51).
"The freestyle made me really nervous this year, probably more nervous than the backstroke because a lot of people don't see me as a freestyle sprinter," Bergman said. "They see me more in the backstroke. Even other coaches will be like, 'you're swimming 100 freestyle?' and I'm like, 'yeah I'm swimming the 100 freestyle and I'm hoping to do pretty good at it.' I was hoping to maybe get to state in that one. I wasn't really sure if I would go and I ended up 17th and it's top 16 that go. But it was still a personal best from like anything I've ever swam before so I was really happy with that."
Ball said from day one this season her goal was to break Medford's 100-yard butterfl y record. She got it Saturday with a fifth-place time of 1:02.15, breaking the 1993 record of 1:02.93 set by Colleen Salo. It was, by far, Medford's longest-standing school record.
"I was super excited," Ball said. "I was really nervous going into it. Betsy was like, 'Morgan we're on a record streak and we've got to get this record' and I was like, 'OK, let's do it.' I finished and I looked at my time and my mom's screaming so I'm thinking, 'oh my gosh, I got it.'" "Morgan has been working so hard all year for that fly record," Berends said. "It was amazing to watch her finally achieve it. That was also the last of the Colleen Salo records that many of us over the last two decades grew up racing towards, so it will always be a special one."
"We were all screaming," Piller said.
"You could see her smile all the way across the pool," Bergman said.
Ball's time was 2.16 seconds shy of qualifying for state, mainly due to insane times set at the Baraboo and Jefferson sectionals.
"I thought I (had a chance), but I knew that times in the fly were getting really fast this year and it keeps on getting faster," Ball said. "So I just have to keep on working hard. Every lap counts."
Piller, the lone senior in the foursome, set her season-best time in the 100-yard breaststroke at 1:14.24, almost equaling the 1:14.23 she set at last year's sectional. Piller was seventh Saturday in a race won by Merrill's Amber Winter in 1:08.89.
"I was really proud of how it came out actually," Piller said. "I knew going into it that I wanted a better time. But I got out knowing I could barely walk. So I was like if that's all I got, that's all I got and I'm going to be proud of it. I'm really, really happy with how I did."
"That was a tight race this year and she was able to work her way up to a podium finish," Berends said.
Razink was 16th out of 35 sprinters in the 50-yard freestyle, but she set a personal- best time of 26.48 seconds, almost a full second ahead of her GNC time.
"The whole season you're like, 'I don't know how this is going to work,'" Razink said of her taper. "Even the last week of taper, I was like, 'I still feel slow.' Thursday night, I said, 'I still feel slow. I don't know how I'm going to cut time at all.'" "Kami really had a stellar night with the sprints," Berends said. "She averaged high 25 seconds in the relay 50s, cutting almost two seconds from her PRs. We definitely have a strong sprinter in her next year. I'm excited to see how fast she can take it in medley this Friday."