Posted on
Raiders respond to early adversity, excel late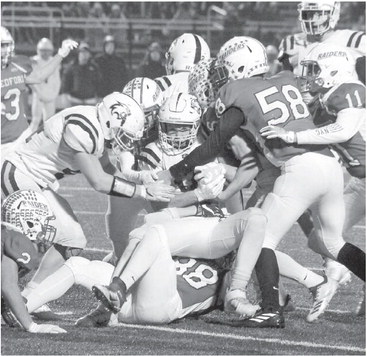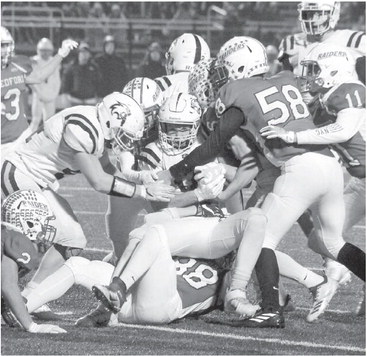 DIV. 3 LEVEL 2: MEDFORD 16, RIVER FALLS 14
BY MATT FREY
SPORTS EDITOR
It took 11 games, but the Medford Raiders got their first full 48-minute test of the 2019 football season Friday and, after some shaky moments early, came out with a passing grade in a thrilling 16-14 win over River Falls in their WIAA Division 3 Level 2 battle at Raider Field.
In playoff football, the grades are pass or fail, and the Raiders got the desired result by scoring 14 points off two gamechanging Wildcat turnovers, including a big touchdown just before halftime, running for 228 yards against a stout River Falls defense while erasing an early 6-0 deficit and playing much-improved second-half defense, particularly on two fourth-quarter stands.
The first of those stands ended in a high snap that Wildcat punter Joe Stoffel kicked out of the end zone for the tiebreaking safety with 8:59 left in the game that ultimately won it for the 11-0 Raiders.
"We've talked about that for quite a bit of the year, that at some point in time we're going to face some adversity," Medford head coach Ted Wilson said. "The way you respond to that adversity is going to decide how the outcome of that particular game is. I thought the kids did well. It's a statement to their positive attitude to stick with it and not get negative and to keep trusting the system and the process. I thought the kids responded well to facing down maybe the first significant adversity that we've had all year."
"I'm sure at the start, yeah I was feeling a little down but I realized we had to pick it up," said Doug Way, who got Medford on the board with a 26-yard touchdown reception in the final minute of the first half and sealed the win by pushing River Falls quarterback Peter Noreen out of bounds on fourth-and-nine with 1:12 to go. "We still had three and a half quarters to go. That can't stop us from going for our goal."
Both teams moved the ball well in a back-and-forth first half, but mistakes by each team in enemy territory kept it just a 7-6 game at halftime.
Medford's initial drive stalled at River Falls' 41 after two first downs and Logan Baumgartner's punt got into the end zone for a touchback. The Wildcats went 80 yards on just six plays with the big one being a 53-yard scamper by running back Michael Krueger. Krueger's 1-yard score made it 6-0, but the Wildcats botched the hold on the extra point, keeping it a sixpoint game with 5:39 left in the opening quarter.
Medford again drove into Wildcat territory, keyed by Ean Wilson's second run of more than 25 yards in the opening quarter, but a holding penalty set the drive back. On fourth down from the 21, Emett Grunwald was open at the goal line but slipped. Peyton Kuhn's pass bounced off Grunwald's chest and was intercepted by Arsenio Black, who returned it to the 18.
The Wildcats drove into the red zone, with Noreen running 37 yards on the big play of the drive, but a holding penalty got them into a third-and-long situation and Justin Sullivan was in the right place at the right time, intercepting a pass that was tipped by Wildcat receiver Payton Flood at the 19-yard line.
"We weren't doing a great job with some of their motion," Ted Wilson said of Medford's defensive first half. "Not that we hadn't game-planned for that, but we were allowing our eyes to go to different spots instead of trusting the keys and trusting the game plan as to who leads us to the ball. It took our kids a little while to settle down and come back to what we'd planned to do in the first place. Then they played much better."
"We didn't play very well at all," Ean Wilson said. "We weren't the defensive team we normally are. We found a way in the second half and picked it up."
After Sullivan's pick, Medford put together a typical Medford drive, going on a 14-play, 81-yard drive that chewed 6:16 off the clock. After 13 consecutive running plays, River Falls bit hard on Medford's backfield action and Way slipped out all alone on the left side for an easy touchdown catch with 56 seconds left. Austin Waldhart's kick made it 7-6. The Raiders then survived a Hail Mary pass to the goal line on the half's last play.
"I saw them all coming towards me, the safety and the corner, and I'm like, 'yes, here we go,'" Way said.
"You watch them start creeping and you can definitely tell their eyes are not on the tight ends, they're on the backfi eld trying to figure out where number one is," Ted Wilson said, referring to Ean Wilson. "It was a good throw, good route run by Doug, great catch."
The big play of the second-half was an interception by junior cornerback Carson Church, who didn't get fooled on some flea-flicker action in the backfi eld by the Wildcats. The Raiders got big pressure on Noreen when he got the ball pitched back to him and Church swiped his pass to the left flat and returned it 24 yards to the River Falls four. Ean Wilson scored on the next play for a 14-6 Medford lead with 3:29 left in the third quarter.
"I was in the right place at the right time," Church said. "I kinda saw the back coming out of the backfield and it was just kinda there. I just saw it out of the corner of my eye and started drifting that way."
"Carson Church did a nice job there," Ted Wilson said. "We were playing man coverage pretty much the entire game. His guy actually came down to block. He just came off that block and got some depth, read it and undercut it and made a nice play."
River Falls swiped the momentum back five plays later when Noreen made a beautiful throw down the left seam to Stoffel, the Wildcats' standout tight end. His 60-yard catch and run along with a razzle-dazzle two-point conversion tied the game at 14-14 with 47 seconds left in the third.
Medford went three and out, giving River Falls its chance to regain the lead. But the Raiders allowed nothing defensively, leading to the high snap over Stoffel's head that put Medford in the lead.
The Raiders would've come close to running out the clock after the free kick, but a lost fourth-and-one chance led to their drive stalling at the Wildcats' 32 with 4:51 left. River Falls got one first down, but another misplayed snap resulted in an 11-yard loss and ultimately put the Wildcats in the fourth-and-nine situation that Way foiled, shoving Noreen out of bounds before he could get off a throw while rolling to his right.
"I was just doing what I'm supposed to do," Way said. "I chased the quarterback and got him out of bounds before he could do anything."
"The defense played really well in the fourth quarter," Ted Wilson said. "We hardly gave up any rushing yards and got them into those third-and-long situations, second-and-long situations which teams like River Falls and ourselves don't want to be in."
River Falls (8-3) had a 301-259 advan-
See MEDFORD tage in total offense, but Medford had a 228-209 edge in rushing yards. Ean Wilson had 187 of those yards on 35 carries behind an offensive line that was missing junior Abe Miller and had junior Jarod Jochimsen playing through an ankle injury during the game.
"Those guys, our two seniors (Zac Breneman and Isaac Zepeda) on that offensive line, they stepped up a lot," Ean Wilson said. "Our juniors (Brody Doberstein, Joe Gierl, Dalton Krug, Jochimsen and Miller) are just competitors. They get after it and they want to get after it."
Next up for second-seeded Medford is a date with the region's top seed, the Menomonie Mustangs (10-1), who shared the Big Rivers Conference title with River Falls. Menomonie took care of fourth-seeded New Richmond Friday 3513. Medford and Menomonie have scrimmaged each other the past two Augusts but haven't met in the playoffs since 1996.
"They're a good team," Ean Wilson said. "It'll probably be the same as this one, a hard-fought battle that will come down to the last couple of plays."