Posted on
Pirates take down unbeaten Eagles to advance to Level 3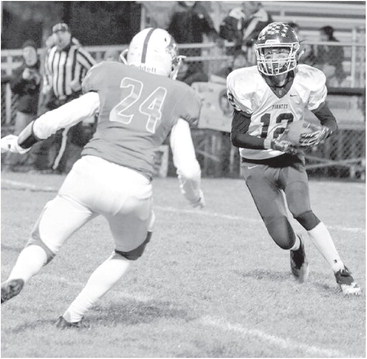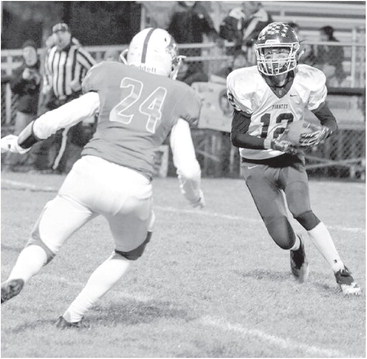 DIV. 7 LEVEL 2: GILMAN 35, ALMOND-BANCROFT 15
BY MATT FREY
SPORTS EDITOR
The Gilman Pirates stopped Almond-Bancroft's building momentum midway through the first quarter Friday, got momentum going their way after that and now look to keep it rolling right into Level 3 after their decisive 35-15 Level 2 win over the undefeated Eagles.
Third-seeded Gilman (9-2) scored 35 unanswered points on five straight touchdown drives from the end of the first quarter through the third to take down the second-seeded Eagles (10-1) and set up a Level 3 matchup this Friday at top-seeded Edgar (10-1).
Almond-Bancroft seemed to be the team that would roll to victory in the game's first six minutes. The Eagles recovered a Gilman fumble and turned that into a 40-yard touchdown pass from Dan Baumgartner to Matt Lukas on the next play. Jackson Beggs ran in the two-point conversion to make it 8-0 with 7:47 left in the first quarter. The Eagles, who never kick the ball deep, recovered an onside kick and were poised to score again.
But, after one Almond-Bancroft first down, Gilman stopped the Eagles on downs and that was the turning point.
"I thought our kids responded well after the fumble, the touchdown pass and the onside kick," Gilman head coach Robin Rosemeyer said. "They got three positive things happen for them. Then our kids did a good job of regaining control of the game a little bit."
Control of the game was accomplished both offensively and defensively. When they had the ball, the Pirates were able to run effectively, piling up 233 rushing yards on 40 attempts. They only completed three passes, but all three were key plays on touchdown drives.
Defensively, they absolutely shut down Almond-Bancroft's biggest weapon, Beggs, a senior running back who came into the game with 1,696 yards and 23 rushing touchdowns, got just 31 more yards on 16 carries against the Pirates.
The Pirates changed things up defensively for this game, using a five-man front, and it paid off nicely. Brayden Boie moved from end to nose guard and Bryson Keepers filled Boie's end spot.
"We went to a '50' this week," Rosemeyer said. "We've been playing a 40 all year. I thought we had really good gap control with our slants. We pretty much started head up and slanted to their strong-side gap and it really caused (Beggs) to stutter. He didn't get a good look at things. On the handoff, you could tell he couldn't run hard to the hole because there was no hole. We had a helmet in every gap. We made him cut it back and then we had linebackers sitting right there in the backside gaps."
Gilman's first touchdown drive got a nice start on a 16-yard pass from Gabe Gunderson to Ethan Person. Boie scored the first of his three touchdowns on a 3-yard run with five seconds left in the opening quarter. Kade Kroeplin ran in the two-point conversion to tie the game at 8-8.
Gilman's next drive ended in Kroep- lin's 14-yard touchdown run that made it 14-8 with 6:40 left in the first half. After a high punt snap gave the Pirates good field position near midfield, Gilman closed the first half with another scoring drive that ended with Boie's 20-yard touchdown run. Boie also caught the two-point pass from Gunderson, making it 22-8 with 1:02 left.
The Pirates got the ball to start the second half and drove the length of the field, scoring on Boie's 1-yard run, making it 28-8 with 8:06 to play in the third. The key play on that drive was a 33-yard catch and run by Blake Wisocky.
"On our sweeps we were getting double teams at the point of attack," Rosemeyer said of Gilman's rushing success. "We were double-teaming the nose on traps. That helped us too. That's where the big kid is. We didn't run a lot of great traps, but we had a couple. The guys did a good job of just getting their head in the hole and taking care of their guy. We won a lot of one-on-one battles."
A 17-yard reception by Keepers was a big play in Gilman's final scoring drive that made it 35-8 with 1:59 left in the third. Gunderson finished it off with a 1-yard touchdown run.
Almond-Bancroft didn't score until Lukas caught a 14-yard touchdown pass from Baumgartner with 45 seconds left. That followed a Pirate fumble. By then, the Pirates had reserves in the game.
Kroeplin ran for 100 yards in 15 carries for Gilman, Boie had 83 yards on 14 carries and Gunderson's 11 carries gained 50 yards. Gunderson was three for four in passing for 66 yards.
"We were pretty balanced overall," Rosemeyer said. "Kade had 100 yards, Brayden with 83, Gabe with 50 and had a couple of nice boot keeps. We were three for four, very efficient. It was just a good, efficient day overall offensively. We were able to run the ball and then hit a couple of pass plays."
Gilman's defense registered five sacks of Baumgartner and held him to 20 yards on 18 attempts. Lukas had 24 yards on seven carries, mostly on sprint sweeps that Gilman defended well. Baumgartner was four of seven through the air for 79 yards. Lukas caught three of those passes for 74 yards and the two touchdowns.
Now it's on to Edgar, a team the Pirates have never played. The Wildcats have won their two playoff games 43-12 over Greenwood, a team that upset Gilman 26-20 in overtime in week three, and 40-0 over Hurley.
The Pirates have reached Level 3 for the first time since 2010 when the program won its last Division 7 state championship. Friday's winner will face either third-seeded Turtle Lake (8-3) or top-seeded Bangor (11-0) in a state semifi nal on Nov. 15.
Kade Kroeplin