Posted on
LIMITS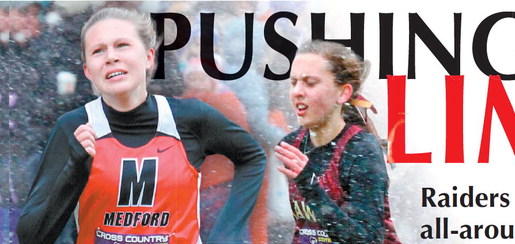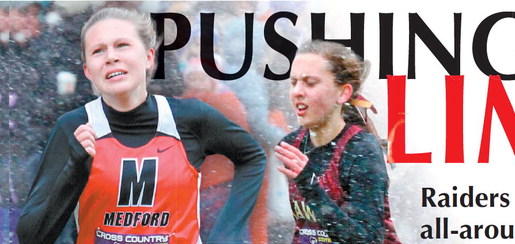 PUSHING THE
Raiders have successful all-around day at state
BY MATT FREY
SPORTS EDITOR
The Medford Raiders one-year reign atop WIAA Division 2 girls cross country ended Saturday, but there were few complaints when the 2019 state championship meet ended with the Raiders sitting in fourth place out of the 16 outstanding teams that qualified for this year's meet.
No one was going to catch the top-ranked Shorewood Greyhounds, who blistered the course at The Ridges in Wisconsin Rapids and finished with just 61 points to secure the school's first girls state championship. Osceola used a strong last team mile to jump into second place with 102 points.
By comparison, Medford had 106 points while winning last year's title.
This year, the Raiders totaled 152 points to fall three points behind third-place Freedom and 36 points ahead of fifth-
See RAIDERS
MATT FREY/THE STAR NEWS
Above: Medford's Alexis Fleegel makes one final push toward the finish line and a personal-best time of 20:52.8. Above right: Prentice-Rib Lake's Kylee Goodrich runs through blinding snow at the end of the girls Division 3 state race Saturday. Right: Medford's Joey Sullivan set a new personal-best time of 17:03.5 while finishing 31st in the Division 2 boys race. place Appleton Xavier.
Medford was in second place after all runners had crossed the two-mile marker, trailing Shorewood 82-121 and leading Osceola by five.
"I will take fourth at state every day," Medford head coach Kevin Wellman said.
"They did well," assistant coach Sherry Meyer said. "They ran well as a team. They were ready to race and they did a great job. They have nothing to not be proud of."
The girls felt the same way when all was said and done.
"I'm really happy with how we did," freshman Bryn Fronk said.
"It's good," sophomore Alexis Fleegel said. "We tried our hardest."
Medford's positive vibes continued later in the day when sophomore Joey Sullivan made his state debut in the Division 2 boys race and placed 31st out of 152 runners in a personal-record 17:03.5.
"I'm really excited," Sullivan said moments after his race ended. "I'm happy because I hit my time. I was going for right around that sub-17. So I was super excited to get 17:02, 17:03."
"He did great," Wellman said. "A good culmination to his season."
Ladies first
The Division 2 girls opened Saturday's festivities with a noon start and they may have enjoyed the best running conditions on a cold, gray day in Wisconsin Rapids. They got their race in before a brief snow burst affected the Division 3 girls race and the winds picked up in the boys races.
The Raiders hit the starting line with four returning members from last year's championship lineup and three newcomers.
Anna Gallagher of Two Rivers, Kayci Martensen of Southwestern-Benton-Cuba City and Molly Desotell of Green Bay Notre Dame quickly set a pace that no one else in the field was going to match. Medford veterans Franny Seidel and Alicia Kawa, both running at state for the third time, held steady in the third wave of lead runners, holding 22nd and 24th place at the mile marker at 6:04. Fronk, a freshman, got off to a solid start, sitting in 38th at the mile at 6:10 and Fleegel, on her way to a personal-best time, was 48th at 6:13. Seidel and Kawa were 19th and 24th at the twomile mark with times of 12:34 and 12:42 and they crossed the finish line in 17th and 25th places. Seidel's time of 19:39.8 was the best of her three state appearances, beating 2018 by 12.8 seconds when she finished 19th and 2016 by 42 seconds when she was 34th. Kawa's time was 20:02.5, her best of 2019. She was 17th a year ago in 19:44.4 and 27th as a freshman in 2017 at 20:22.27. "I felt good," Kawa said. "I felt like we had a good week of practice and I was all rested up. I didn't do as well as I did last year, which is disappointing, but I felt like the competition was also a lot harder this year. Otherwise it was good. I saw Fran and my goal was just to never lose sight of her."
"I just tried getting up there as far as I could," Seidel said. "I saw some Shorewood girls in front of me and I just knew I had to stay close to them. I'm proud of my race. I think I gave it my all."
"Franny ran a tremendous race, taking 17th place overall and passing five runners over the course of the race," Wellman said. "She just missed setting a new PR by less than 10 seconds, so she ran a great race for her last race of her career. Alicia ran a great race and ran a great time with a blistering first mile of almost six minutes flat."
Fronk's first state race was a good one. She didn't lose much ground after that fast first mile and took 46th in 20:27.8, her best time of 2019 by about 30 seconds. She finished one spot ahead of Great Northern Conference rival Meagan Berg of Tomahawk.
"I had a really good race today," Fronk said. "I felt really good. I didn't really feel cold that much."
Fleegel set a personal record on the state course for the second straight year. The sophomore was 79th last year in 21:01.5. This time, she finished 68th in 20:52.8, passing three runners down the stretch to get inside the top 70.
"I was really happy to finally get another PR, my first one all season," Fleegel said. "I hadn't had one since state last year. I think it's just knowing that I have to go fast here."
"She looked stellar today," Wellman said.
"She had a goal in mind and I'm pretty sure she accomplished that," Meyer said.
Freshman Brooke Rudolph had a solid state debut as well. She was Medford's fifth and final scorer and placed 89th overall in 21:18.1, her second-best time of the season.
"I feel like I did pretty good," Rudolph said. "My time wasn't my fastest but I felt like I gave it everything."
Sophomore Jennifer Kahn was Medford's sixth finisher, taking 92nd in 21:23.1, a bit off of last year's state time of 20:40.5. Junior Ellee Grunwald's first state race resulted in a 130th-place finish in 22:31.
"It didn't go as well as I would've like, but it's just great to be here," Kahn said.
"My first mile I was really good and I'd have to say the last mile was good," Grunwald said. "I caught some girls. I had a Tomahawk girl (Greta Tjugum) in my sight and I got her, passed her at the end. I was happy about that."
"Jennifer Kahn ran a gutsy race and pushed through some discomfort to help her team to its fourth-place finish," Wellman said. "Ellee Grunwald's work to get onto the state team began this summer with her running multiple times a week and striving to improve and she was able to run a great race as a result of her determination."
Martensen, a sophomore, took over in the second mile and won the race in 18:19.9, easily beating Gallagher (18:50.6) and Desotell (18:57).
Seidel nearly caught Great Northern Conference Runner of the Year Ashley Peterson of Lakeland, who took 15th in 19:34.5. Tomahawk's Haley Voermans-Dean was one spot ahead of Kawa in 19:59. Lakeland's Aubrey Anderson was 31st in 20:09.4. The Tomahawk Hatchets finished ninth in the team standings with 214 points while Wisconsin Dells, the sectional runner-up at Colby behind Medford, was 11th with 237.
With a third straight GNC title, a second straight sectional title and second straight top-four finish at state, there was little the Raiders would change about the 2019 season.
"I'm proud of the team," Seidel said. "It was a good year."
"Only three teams beat us," Wellman said. "We'll take it. If you keep going to state every year and you finish in the top five, that's OK."
"And we plan on coming back," Meyer said.
Sullivan's big run
In the mid-afternoon boys race, Sullivan made a big push in the second mile, going from 65th place to 40th and kept it going in the last mile-plus in the best race of his high school career thus far.
As most first-time state runners are, Sullivan said he was taken aback briefly by how fast the first mile was, but he felt the key to his race was not letting that get him out of his stride.
"There's a nice downhill after the mile," Sullivan said. "That was nice. It was a fast start. I wasn't quite ready for that fast of a start. I know now. Next year I'll have to keep it back a little bit just to run more consistently. You always know guys are going to fall back, so I was just really hoping and then it started to happen. Slowly throughout the race I'd just keep passing just one more, one more."
Sullivan hit the mile mark at 5:17, which was just 15 seconds behind the leader and eventual winner Lucas Florsheim of Shorewood. His split for the second mile was 5:42.
"Joe put in a blistering first mile in 5:17, which put him in 65th place and goes to show how fast the competition at state is," Wellman said.
Sullivan picked off two more runners, Grady Davis of New Berlin West and Dylan Mitchell of La Crosse Logan, just before the finish line to post a split of 6:06 in the last 1.1 miles.
"I got passed by a couple, but I ended passing two at the end so I kinda made up for that," Sullivan said. "It was tough coming up that hill at the end. Once I got to the top I knew I could just sprint all the way to the end and finish strong."
"His stride, his length, his turnover. He's just fun to watch," Meyer said. "He's just going to get faster and he knows it and he wants it. And he's a great kid. Happy for him today."
"Today was a dress rehearsal for next year," Wellman said.
"The competition here is great," Sullivan said. "This is the place to do it. Everyone's so fast here. Just knowing it's your big race, your last race. You're happy, excited, a little nervous. I'm also really happy that the weather finally cleared up at the end. It was a little scary to start there."
Florsheim's winning time was 15:58.8. Leo Richardson of Madison Edgewood was second in 16:11.9 and Zach Slevin of La Crosse Logan, the sectional champion at Colby, was third in 16:16.6. Valders won the Division 2 team title with 78 points, well ahead of Notre Dame's 108 points.